The Biggest Scandals To Rock Good Morning America Over The Years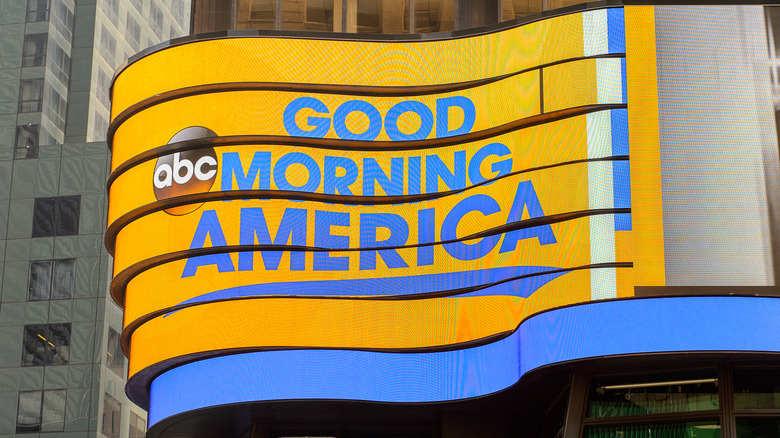 Anton_Ivanov/Shutterstock
Launched in 1975, "Good Morning America" was ABC's second attempt at a morning show — the first was A.M. America, a dismal failure that barely lasted 10 months. "GMA" was the first morning show to give NBC's "Today" a run for its money.
It only took four years for ABC to catch up with NBC, and by 1980, "GMA" started to eke out the top spot on some mornings. The initial success is credited to David Hartman, the actor turned morning host. His connections in Hollywood led to exciting — albeit less-newsy — interviews and the audience just couldn't get enough. Almost 50 years later, "Good Morning America" is a morning staple all around the country. But the show's success hasn't been without its fair share of scandal. From unexplained absences to behind-the-scenes feuds, the cast of the show has seen it all. Here are the biggest scandals to rock "Good Morning America" over the years.
T.J. Holmes and Amy Robach's romance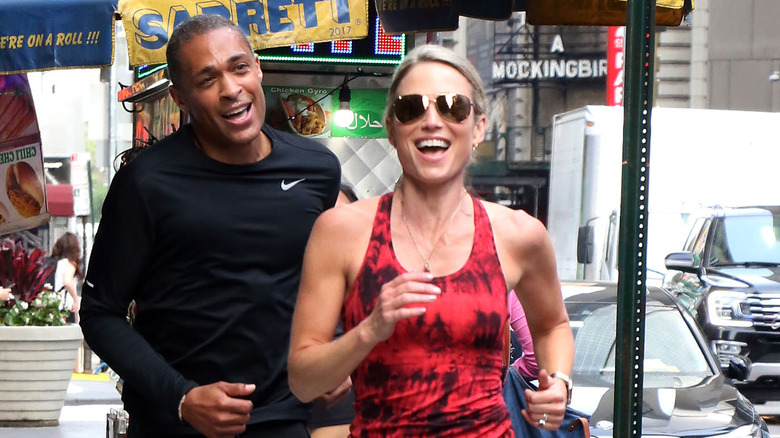 Mediapunch/bauer-griffin/Getty Images
Workplace romances are generally frowned upon — especially when the two coworkers are both married to other people. In 2022, hosts Amy Robach and T.J. Holmes were spotted getting cozy in a New York City bar followed by a cute pre-Thanksgiving weekend in an upstate New York cottage.
After the rumors hit the gossip pages, Holmes deleted his Instagram and Twitter accounts. Robach quickly followed suit ditching her Instagram page as well. The affair led to the pair being let go by ABC in January 2023 for violating the morality clause in their contracts.
At the time of the affair, Robach was married to Andrew Shue and Holmes was married to Marilee Fiebig. Both ex-hosts have since ended their respective marriages, and appear to be moving forward with their relationship. In exclusive images from the Daily Mail, Robach was spotted wearing an 18-karat gold ring around her neck — a gift that Holmes was spotted buying in New York City. As of publications, neither has found a new hosting gig.
George Stephanopoulos threatened to walk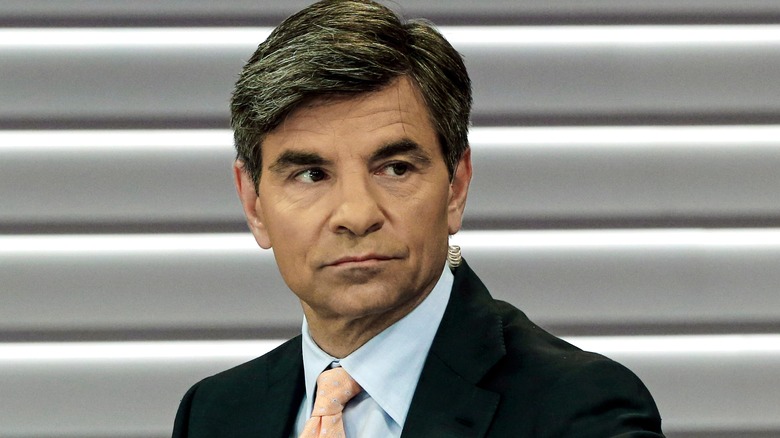 mark reinstein/Shutterstock
Angry that someone else was promoted to cover special events and breaking news, "Good Morning America" host George Stephanopoulos threatened to take a job with a rival network. Stephanopoulos has been an ABC staple since 1997, but he wasn't thrilled when David Muir was given the responsibilities of the Chief Anchor. Muir was not given the title.
In 2021, Stephanopoulos took his complaint up the chain — all the way to Bob Iger, Disney's CEO. In order to keep him, Iger flew from Los Angeles to New York to chat. The CEO promised him a production company and the opportunity to produce content for National Geographic and Hulu.
His fellow ABC coworkers were not impressed with his behavior. One vented to the Daily Mail about the situation: "George running to Bob [Iger] to complain is truly pathetic. There are over 500,000 Americans dead from Covid, millions of Americans out of work and this is what George has to complain about. "
Robin Roberts not coming out as gay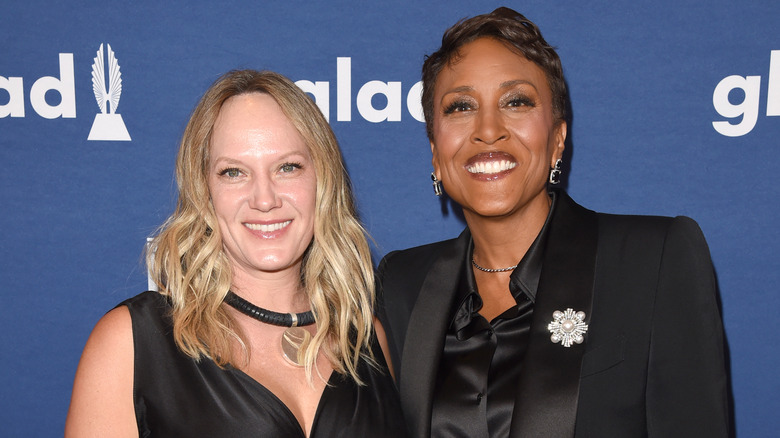 J. Merritt/Getty Images
Robin Roberts' sexuality was part of the rumor mill for years, but the "Good Morning America" host didn't officially talk about it until 2013. In a heartfelt Facebook post following her treatment for cancer, Roberts thanked her family, friends, hospital staff, and long-term partner, Amber Laign. It was a very casual coming out, and the response from her fans was mixed.
While most people offered words of support and encouragement, others felt like she took too long to recognize Laign. But Roberts wasn't phased by all of the controversy. "You can't get caught up in what someone is saying about you on Twitter," she told Good Housekeeping.
In 2014, Roberts sat down with Ellen DeGeneres, who famously came out on her ABC sitcom in 1997, to discuss the response to her sexuality and mentioned Laign's preference to stay out of the public eye (via YouTube). The social media post wasn't meant to be a declaration, but rather an acknowledgment of the support her partner offered throughout her health issues.
Michael Strahan chose a vacation over covering a hurricane disaster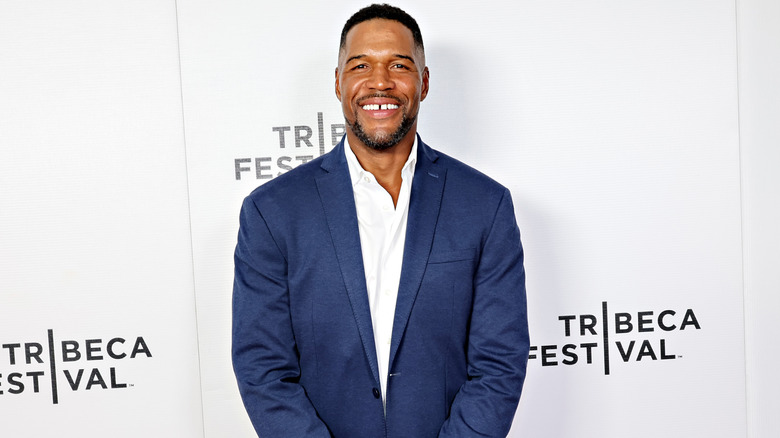 Cindy Ord/Getty Images
When Hurricane Harvey hit Strahan's hometown of Houston, Texas, ABC wanted him to cover the story for a more personal touch. However, the "Good Morning America" host had other plans — a vacation in Greece to be exact. Strahan was enjoying the second week of sun and surf on a yacht in the Greek isles when the category 4 hurricane hit Texas and Louisiana in 2017.
The hurricane news didn't go uncovered, of course. Robin Roberts cut a summer getaway short to pick up the slack. While Strahan missed the eye of the storm, he did participate in the relief efforts. Joining other A-list stars like Matthew McConaughey, Beyoncé, Reese Witherspoon, and Oprah, Strahan helped raise $44 million for those devastated by Harvey's wrath on the commercial-free "Hand in Hand" telethon. Hurricane Harvey was the first major storm to make landfall in southern Texas since the 1970s. It caused roughly $125 billion in damage and was responsible for over 100 deaths, according to World Vision.
The absence of Rob Marciano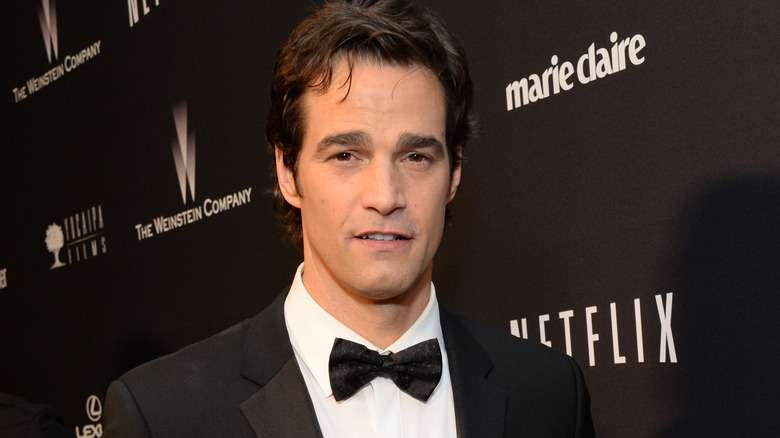 Michael Kovac/Getty Images
When weekend meteorologist Rob Marciano started racking up unexplained absences in 2022, fans of the show weren't too happy to keep seeing a substitute. The weekend meteorologist went missing without a peep from the network explaining why, causing fans to fly to Twitter to complain and demand answers.
It later came to light that Marciano was banned from the show's Times Square studios. The specifics of the situation have not been revealed, but ABC staffers have let a few details slip. The fingers have pointed to angry outbursts and improper behavior as the cause of his exile. "He was found to have done something ... that was improper, but he was punished for it," an inside source said (via OK Magazine). The emotional upheaval is said to be spurred by the separation from his wife Eryn who started divorce proceedings in June 2021.
The award-winning weatherman has since resumed his reporting duties for "Good Morning America," but his segments are all taped outside of the studio in other parts of the country.
Michael Corn's sexual assault accusation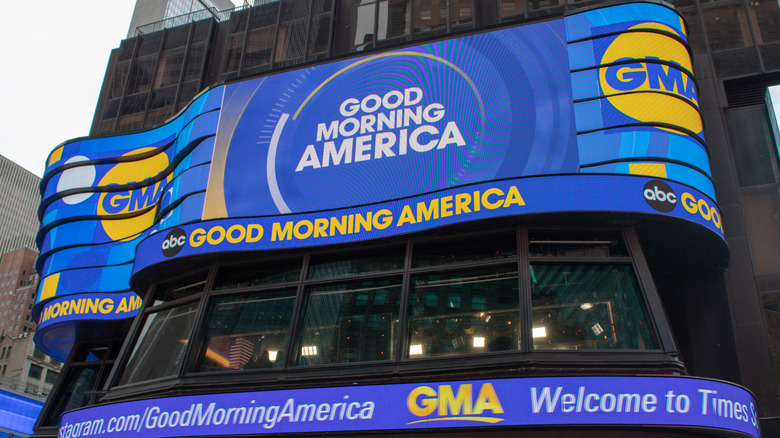 LD Media UK/Shutterstock
"Good Moring America" fans were surprised when producer Michael Corn abruptly left the network in 2021. Shortly afterward, news broke of a lawsuit filed by Kirstyn Crawford, a former staffer and producer. Crawford accused Corn of creating a toxic workplace environment and that he assaulted her on a business trip in 2015. The suit alleged that the pair were on a work trip to Los Angeles when Corn attempted to kiss her and rub her legs.
The filing also mentioned additional incidents involving a second woman, Jill McClain, a former producer at ABC. While McClain was not a plaintiff, the suit alleged that Corn assaulted her on two separate occasions.
The case was dismissed by a New York judge in 2022 because the 3-year statute of limitations had passed. Corn moved on from ABC to take up a position as the President of News for a Nexstar Media Group cable channel called NewsNation. He denies the allegations.
Robin Roberts modeled for Mississippi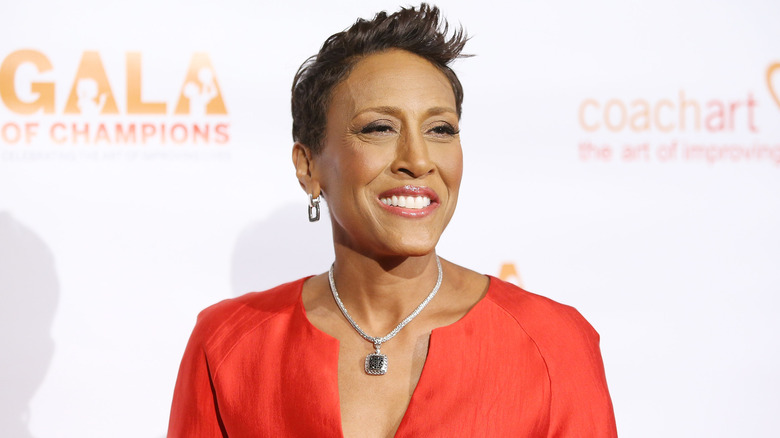 Michael Tran/Getty Images
When Robin Roberts adorned the cover of the state of Mississippi's tourism guide, many people criticized her for it. The state had just passed some discriminatory legislation that was particularly harmful to the LGBTQ+ community when the magazine was released. The state's governor, Phil Bryant, signed House Bill 1523 — aka the religious liberty bill — into law in April 2016. Roberts had long since left the photoshoot by that point, but she told The Advocate the decision "hurt my soul" and made her very disappointed in the state she loved so much.
In addition to the cover of the guide, Roberts appeared on the official tourism site and MississippiTourGuide.com. Her cover story interview discussed her "Good Morning America" coverage of Hurricane Katrina and its effects on Mississippi.
The legal battle to challenge HB1523 was denied certification by the Supreme Court in January 2018 as the court determined that LGBTQ+ advocates challenging the law did not have proper standing to do so.
Amy Robach's racial slur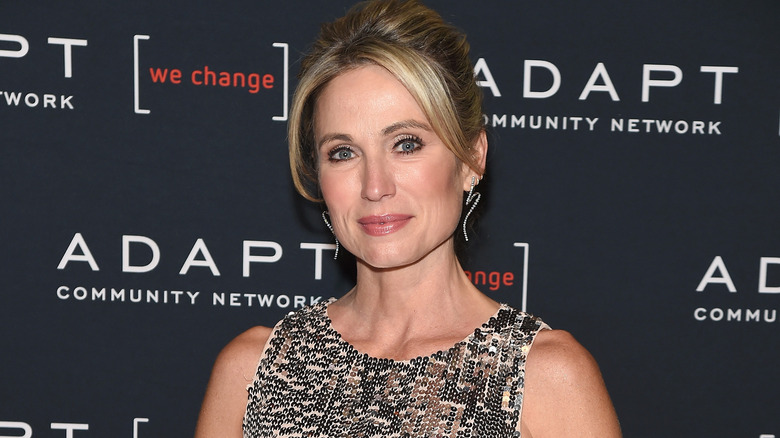 Gary Gershoff/Getty Images
Amy Robach was standing in for Robin Roberts on a Monday morning episode in 2015 when she used the term "colored people." Robach was covering a segment on diversity in Hollywood and the casting of Zendaya in "Spider-Man: Homecoming" when she spoke the offensive and outdated phrase.
As a result, she faced a fair amount of social media backlash, especially on Twitter. Fans of the show expressed their disgust and threatened to find another morning program to watch instead. Robach later apologized for the slur and claimed she misspoke and meant to use the term "people of color" asserting that it was a "mistake ... not at all a reflection of how I feel or speak in my everyday life" (via The Daily Beast).
Robach's mistake came at a time when conversations around diversity had reached a head. In 2015, the #OscarsSoWhite movement kicked off on social media. The hashtag began trending after the nominees were announced for the 87th award show and only about 5% of the nominations went to minority groups. Several industry professionals also began using the hashtag #BoycottOscars that year, including director Spike Lee and actress Jada Pinkett Smith.
Lara Spencer and Amy Robach's distaste for each other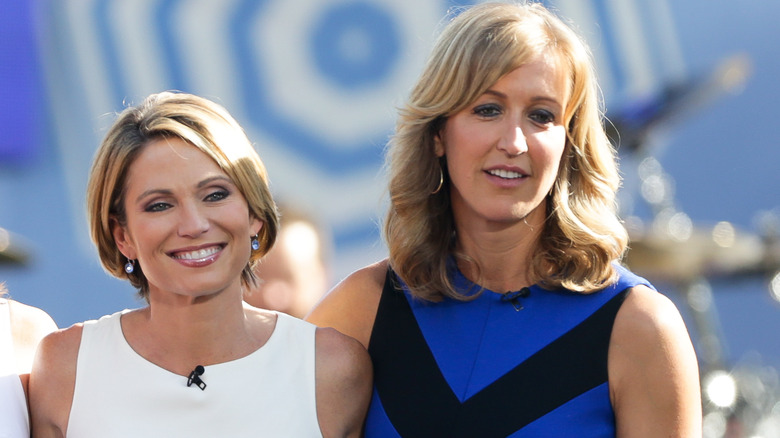 Debby Wong/Shutterstock
"Good Morning America" tensions were high in 2012. Robin Roberts took a break to recover from a bone marrow transplant, and Lara Spencer apparently didn't care for Amy Robach being seen as Roberts' replacement. There was talk that Spencer wanted that role for herself, but she shut down the animosity rumors boasting of their friendship to TMZ in 2014.
But rumors swirled again in 2022 with people blaming Spencer for Robach and T.J. Holmes getting the boot when their liaison came to light. The affair became common knowledge on November 30th, and the happy pair were front and center on the show over the next couple of days. But come December 5th, they were given the boot. Speculators place the blame for ABC's change of heart on Spencer saying she pushed for their removal. However, there are others who don't think she has enough influence with the network to get Robach or Holmes kicked off the show.
Michael Strahan called out racism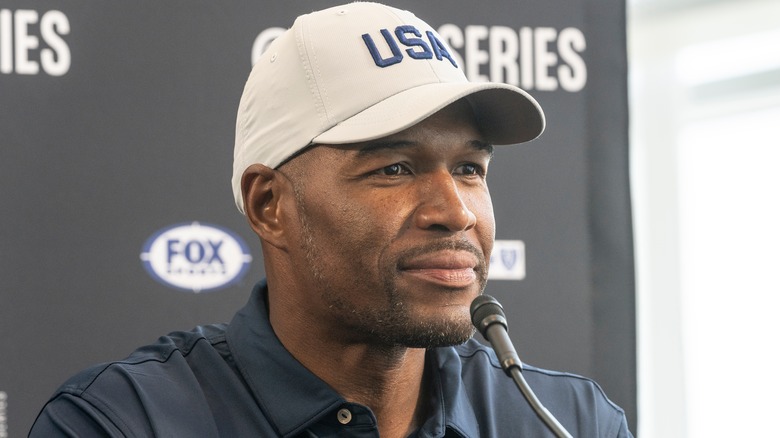 lev radin/Shutterstock
In the wake of nationwide Black Lives Matter protests, ABC had a town hall for its employees and staffers. Michael Strahan spoke up about his experiences as a Black man hosting ABC shows, such as "Good Morning America" and "Live with Kelly and Michael." Strahan didn't name any shows specifically, but he commented that he couldn't use his voice and speak his mind about projects he was involved in at the network.
WarnerMedia, Condé Nast, and CNN also had similar town halls. Current and former employees of various media companies began speaking out about their experiences in the industry.
Days after the ABC town hall, an investigation of top executive Barbara Fedida was launched. Fedida was placed on leave while the network looked into allegations of racism and abusive language used against her staff. The investigation substantiated claims made against her including making racially-charged comments, using crass language, and making inappropriate remarks. Fedida was permanently let go, and her position at ABC was restructured.
Robin Roberts and Michael Strahan were threatened with violence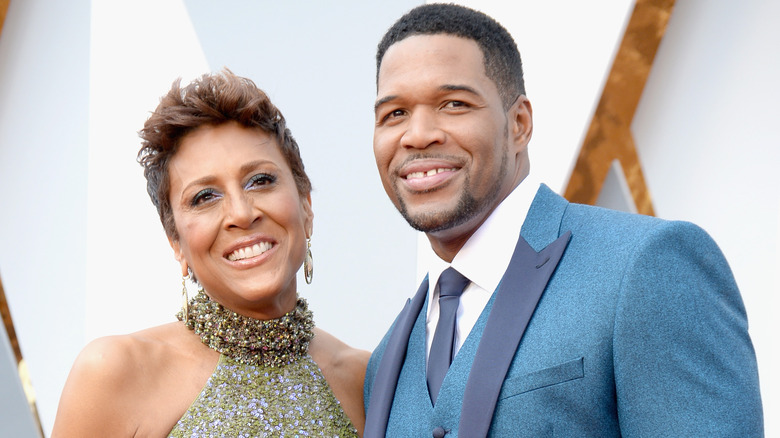 Jeff Kravitz/Getty Images
On separate occasions in 2014, hosts Robin Roberts and Michael Strahan received violent threats. Roberts had a stalker, 43-year-old Troy Warren, show up at the studio eight different times causing her to fear for her well-being. One incident escalated after Warren was asked to leave but refused to vacate the premises and instead told the show's security director that he was going to "punch her in the face" when he saw Roberts, per Page Six. The man was arrested and charged with misdemeanor stalking and harassment.
Strahan was threatened by a 25-year-old homeless man named Andre Johnson who showed up at the studio demanding to see the former NFL player. Johnson was asked to leave but later returned to the studio with a knife. He attempted to stab one of the security guards before he was arrested. Johnson confessed to investigators his intent to kill Strahan.
Neither host was hurt in the respective incidents.
George Stephanopoulos made political donations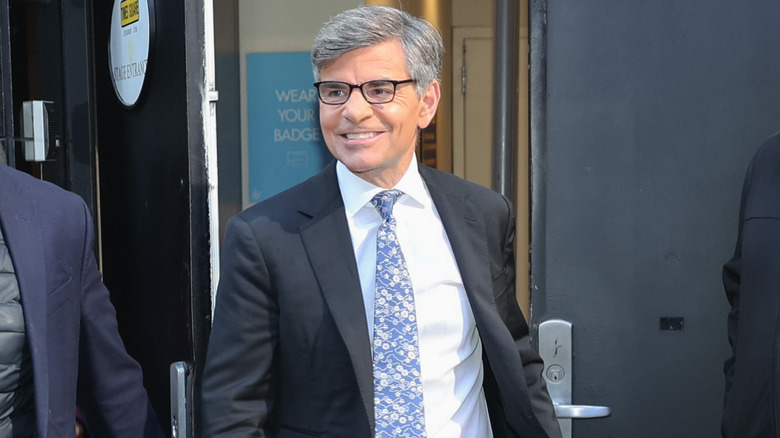 Jose Perez/bauer-griffin/Getty Images
When news broke that George Stephanopoulos donated $75,000 (via Politico) to the Clinton Foundation, many feared ABC would be displeased. The charity donations were made in 2012, 2013, and 2014 at increments of $25,000. The worry was support for a political candidate would mar his ability to be objective in his reporting of the 2016 election. The host was under fire for failing to disclose the donations to viewers, but Stephanopoulos likened them to philanthropic gifts as opposed to campaign contributions.
The "Good Morning America" host apologized twice on air, once on "GMA" and another time on "This Week." ABC stood by him and did not take any action against the longstanding host. However, Stephanopoulos voluntarily withdrew from moderating a Republican debate a few months later. Republican candidates wanted him to recuse himself from campaign coverage altogether.
Stephanopoulos reportedly gives to many charities each year. His contributions total in the millions.