Hallmark Star Chad Michael Murray Is Expecting A Daughter With Wife Sarah Roemer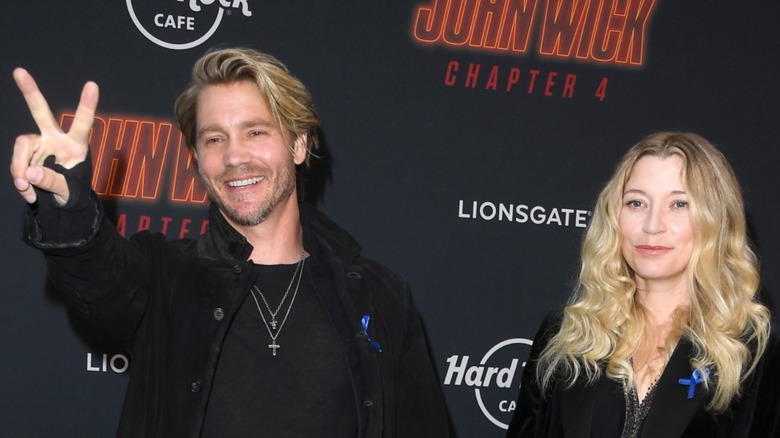 Steve Granitz/Getty
Chad Michael Murray and Sarah Roemer made their marriage public in 2015 and have two children so far — one born in 2015 and the other in 2017. Now, they are expanding their family by one more member. Murray made an official announcement on Instagram by posting a photo of a smiling, pregnant Roemer. He captioned "Baby #3 loading..." with a heart emoji. He added, "Anyone know any new gadgets for babies? It's been a bit since we had one," referencing the fact that their last child was born six years ago. Murray added a quip in his caption about the quality of the photo, remarking that he still has an iPhone 8 because "I love the button and won't trade it away."
Murray also shared a slideshow of photos and videos featuring him, his wife, and his children. The slideshow shows the Murray-Roemer family traveling all around the world. In the caption, Murray said, "This baby's been everywhere already, and she's not even on the outside yet."
Murray and Roemer are private about their family
Sarah Roemer recently posted a pregnancy announcement on Instagram as well. In her post, Roemer was side-by-side with her friend, who also happens to be pregnant. The photo was captioned, "Pregnancy with my childhood bestie," and included heart-hand and sparkle emojis, along with the hashtag "#3." In addition to this daughter on the way, Chad Michael Murray and Roemer currently have one son and one daughter. The parents are careful not to share their children's full names or faces online but do post photos of their family's adventures often. 
Roemer is an actor like Murray. They met and started dating after working on the show "Chosen." Their wedding was not a big affair — instead, the duo married secretly. When their surprise wedding and Roemer's first pregnancy were announced, Murray's representative told Us Weekly, "Chad and Sarah are extremely happy and excited and enjoying their life together. We please ask that their privacy be respected at this special and personal time."
Murray was previously married to a co-star Sophia Bush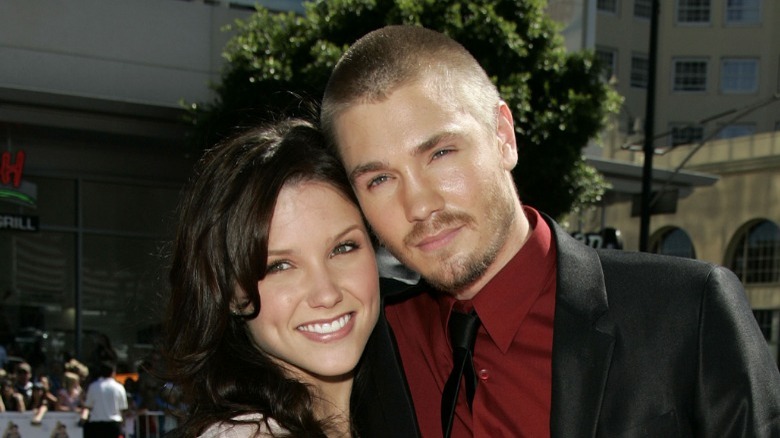 DFree/Shutterstock
Before marrying Sarah Roemer, Chad Michael Murray previously had a short marriage to "One Tree Hill" co-star Sophia Bush. They wed as young adults in April 2005, but by December 2006, their divorce was already finalized.
In 2018, Bush spoke about her short-lived marriage to Murray with Andy Cohen on his "Radio Andy" show. She said, "It was not a thing I actually, really wanted to do." When Cohen pressed for more details on how she ended up married to Murray in that case, Bush said, "Because how do you let everybody down ... when you have bosses telling you that you're the only person who gets a person to work on time and 200 people either get to see their kids at night or they don't because our days start on time."
After that interview, Murray's representative called Bush's take on things "ludicrous," per People. Roemer joked about Bush's comments in a since-deleted Instagram post, saying, "Wait a second ... my producers also made me marry Chad Michael Murray!" Bush made it clear that she will not talk about ex-husband Murray anymore because her words will be misconstrued.