Meghan Markle And Michelle Obama Bonded Over Shared Passions The First Time They Met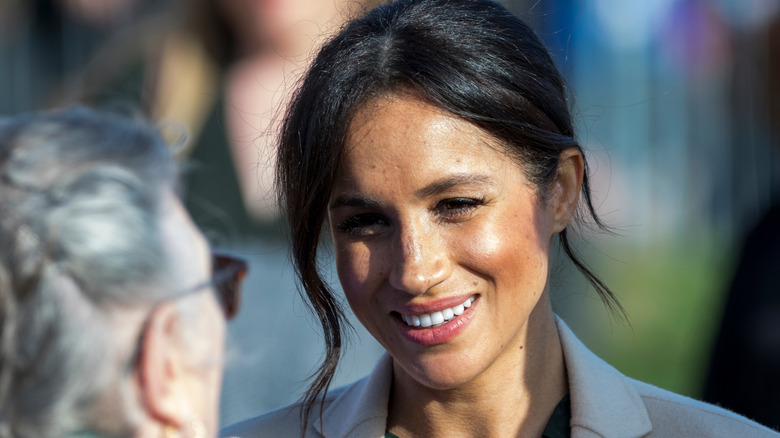 Alan Fraser Images/Shutterstock
To launch her highly anticipated memoir, the former first lady Michelle Obama was traveling the world on a book tour. One stop landed her at London's Royal Festival Hall, and a famous face was in the crowd. The Duchess of Sussex, Meghan Markle, was among those excited by the release of Obama's "Becoming." While the 44th FLOTUS already met the royal's husband, Prince Harry, on several occasions, this was the first time she and Markle got a chance to mingle.
"They spoke at length about the importance of supporting and empowering women across all cultures and communities," a source told the Evening Standard. Both women dedicate their time, energy, and resources to advancing girls' lives all over the world.
With Markle four months pregnant at the time, "they also talked about shared experiences of pregnancy and raising children." Since then, the two have publicly supported one another in their personal life and causes near and dear to their hearts.
Meghan Markle and Michelle Obama are advocates for education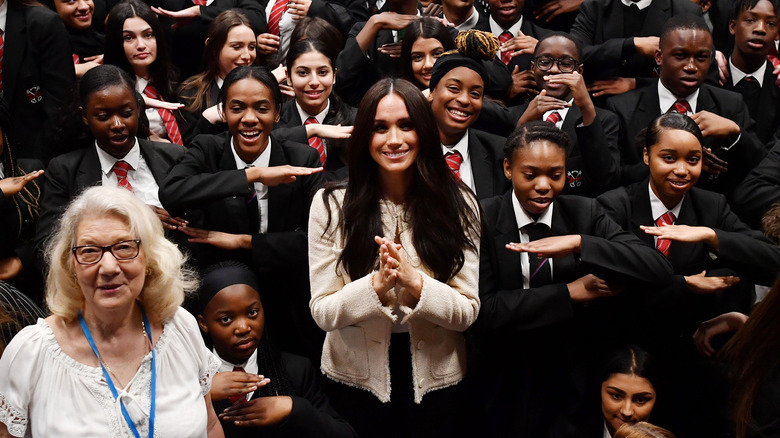 Wpa Pool/Getty Images
Michelle Obama's humanitarian efforts did not end when she left the white house. In 2018 she founded the Girls Opportunity Alliance as a continuation of her first lady duties in the global initiative Let Girls Learn. Meghan Markle actually got the chance to interview Mrs. Obama for British Vogue and asked about the organization. "I formed the Girls Opportunity Alliance because I've seen the power of education in my own life," the Havard Law School alum said. "And I believe that every little girl, no matter her circumstances, deserves the opportunity to learn, grow and act on her knowledge."
Access to education is also a priority for the Duchess of Sussex. She is the patron of the Association of Commonwealth Universities. In a published letter of support, she said it is important "for all people, regardless of gender or socioeconomic background, to have the opportunity to access this higher education. Because education expands mindsets, and those minds can then expand the scope of the world at large. From a micro to a macro level, it is with education that we see great change."
Apart from their push for change, Obama and Markle are authors, mothers, public figures, and seemingly friends.
Michelle Obama's relationship with Prince Harry and Meghan Markle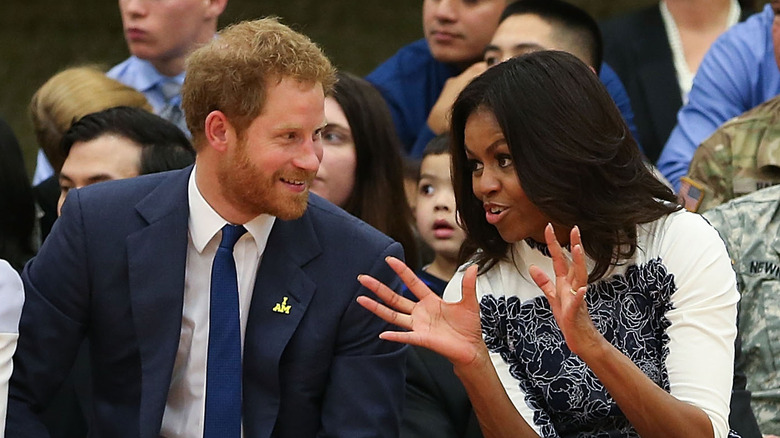 Leah Puttkammer/Getty Images
After meeting in London at the "Becoming" book tour, Meghan Markle and Michelle Obama's relationship seemed to flourish. Just a year afterward, Markle was dining with Obama over chicken tacos, asking for a favor.
The former first lady has only had positive things to say about Markle. In an Instagram post, Obama described the duchess as "a thoughtful leader who is breaking the mold and making our world better for it." She also wrote, "Whether meeting with our @ObamaFoundation Leaders or helping girls around the world seek the education they deserve, she is an inspiration to so many."
Obama has been friendly with the royals for years — even back when Prince Harry was still a bachelor. In June 2015, the duke hosted Mrs. Obama, her daughters, and her mother for tea at Kensington Palace. Prince Harry also joined the former first lady to visit a high school in Chicago for the Obama Foundation's inaugural summit. Perhaps we'll see Obama and Markle link up for a world-changing initiative.