The Truth About Michelle Obama And Meghan Markle's Relationship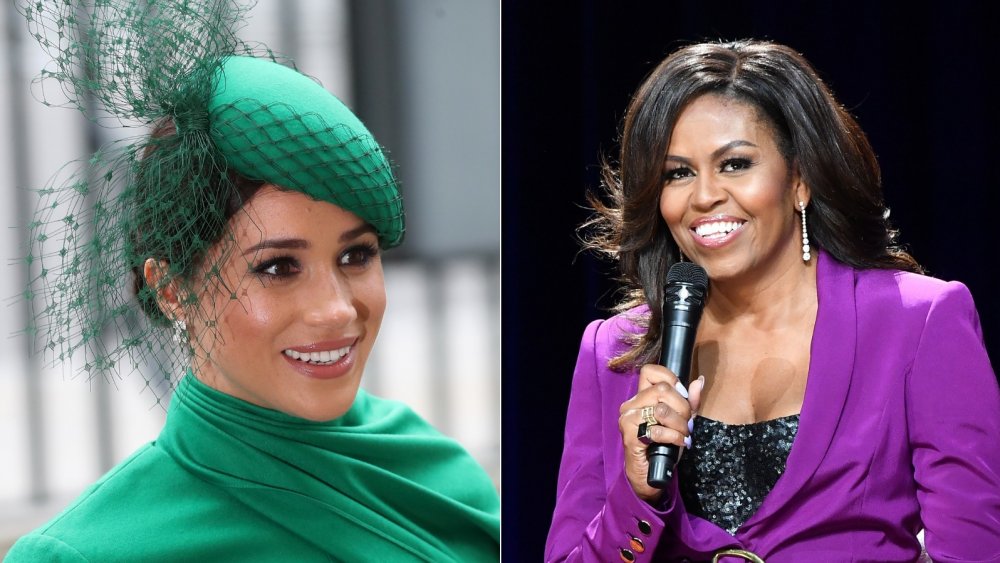 Chris Jackson, Paras Griffin/Getty Images
How did Meghan Markle convince Michelle Obama to do an interview with her for a July 2019 edition of Vogue? "Over a casual lunch of chicken tacos and my ever-burgeoning bump," Meghan Markle wrote. Chicken tacos with the former First Lady of the United States? The two are clearly tight. "There's something magical about the way in which [Michelle Obama] draws you in with her endearingly frank, down-to-earth personality," wrote Markle of her self-described "friend" in Vogue. That was about a half a year after their first, highly whispered-over meet-cute. In December 2018, the Evening Standard reported that the two had bonded during a "secret power meeting" in London. 
It's not just Markle who is taken with Obama; Michelle Obama also clearly admires Meghan Markle. Just months after the Markle's 2019 Vogue interview, Obama gave Markle an Instagram shoutout for the humanitarian work she was doing in the capacity of Duchess in South Africa. "Thank you to my friend, Her Royal Highness The Duchess of Sussex ... a thoughtful leader who is breaking the mold and making our world better for it," wrote the First Lady. Gossip columns swooned over the burgeoning friendship (via Harper's Bazaar). 
Michelle Obama and Meghan Markle collaborated during COVID-19 quarantine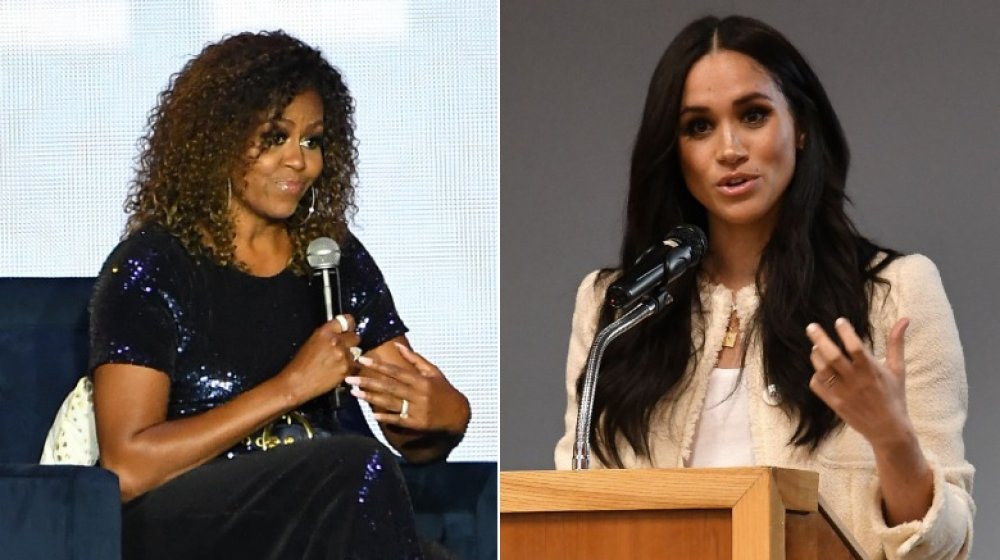 Paras Griffin, Wpa Pool/Getty Images
As the Evening Standard predicted in 2018, the Meghan Markle and Michelle Obama have clearly stayed in touch. While the world closed down in response to COVID 19, and around the time that the media was screaming, "Megxit!", the Duchess and the First Lady were busy working together towards female empowerment initiatives. 
In July 2020 both women spoke, virtually, at the United Nations Foundation's 2020 Girl Up Leadership Summit (via USA Today). "You are reforming the criminal justice system. You are telling your school boards we need more mental health resources for all ages. You are leading coalitions to end gun violence. You are standing up and demanding to be heard," Markle congratulated forum participants. Obama echoed Markle's sentiments, "Your determination over so many years has already helped countless girls create a brighter future for themselves and their families," said the First Lady, urging resilience through the pandemic.  
In August the two teamed up, again. This time, Markle joined a virtual event, called "When All Women Vote #CouchParty," an initiative organized by Michelle Obama's organization, When We All Vote, which is working to register voters before the November 2020 election (via Pop Sugar). "We can and must do everything to ensure all women have their voices heard," Markle spoke passionately during the event, "If we aren't part of the solution, we're part of the problem. If you are complacent, you are complicit."