How To Style Your Favorite Cord Necklace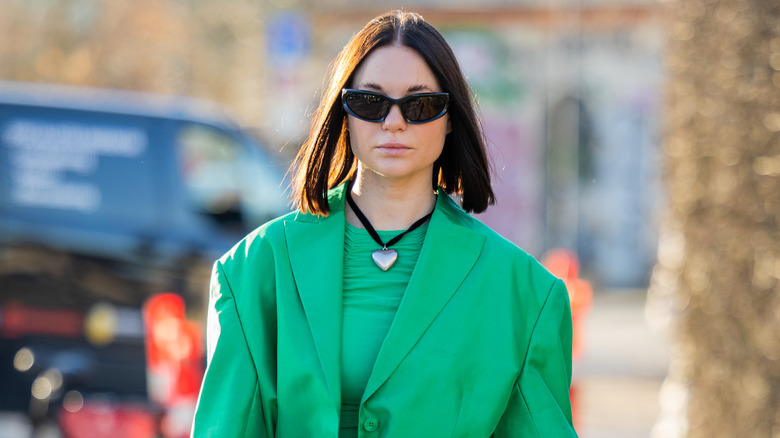 Christian Vierig/Getty Images
We've come a long way since the '90s. Landlines have become more or less obsolete, network shows were usurped long ago by binge-able Netflix series, and AI is part of our everyday lives (thanks, ChatGPT). Although we've cycled through over 30 different variations of the iPhone (and five presidents) in the last 30 years, the fashion world is still obsessed with the grungy aesthetic that dominated the '90s. It-girls like Bella Hadid and Zoë Kravitz wear baggy pants, low-rise patchwork skirts, and vintage oval sunglasses — not to mention combat boots, which will probably never go out of style.
'90s jewelry, too, is making a comeback; namely those versatile cord necklaces beloved by quirky characters like Phoebe Buffay, Cher from "Clueless," and Sabrina Spellman. "I think that [the] Gen Z [crowd] is loving this trend because of how fun and easy to style the necklaces are," Instagram creator Pia Mance, who also founded the vintage store Heaven Mayham, explained to The Zoe Report, adding, "The vintage nature of this style of jewelry makes each necklace feel timeless and special, almost like they are a piece of art." Whether you rock a starfish pendant, a classic heart design, or a meaningful crystal, here's how to style your favorite cord necklace for the 2020s and beyond.
Keep it classic
Start off with the basics. Pair a low-rise denim maxi skirt (or a simple pair of blue jeans) with a cropped tee. The jeans and white tee shirt combo have been around for decades — even longer than cord necklaces, as a matter of fact. First popularized by the likes of James Dean and Marlon Brando after World War II, it was pretty much the uniform for bad boys across the country. Now's your chance to channel your inner '50s greaser. To complete your fit, match a black cord necklace with black shoes and a simple black handbag.
Dress like your favorite '90s TV star
Phoebe Buffay was known for being the quirkiest of the "Friends" cast, sharing curious tidbits about her past and entertaining Central Perk customers with a selection of original songs. She also had a distinctive style, often opting for floral maxis, overalls, and sometimes even a hint of fringe. Pay homage to Phoebe, and pair a vintage button-down maxi dress with layered pendant necklaces. Alternatively, give the look a Monica Geller-inspired twist, and match a solid-colored bodysuit with high-waisted mom jeans.
Witchy vibes only
TikTok is jam-packed with hyper-specific style niches, from "Cottagecore" to "Barbiecore." The so-called "Whimsigoth" aesthetic is a recent addition, influenced by Stevie Nicks and fictional '90s witches like Nicole Kidman's character in "Practical Magic." As TikTok creator Sophie Seddon explained to Nylon, certain trademarks of the style include velvet and lace fabrics, corsets, and celestial jewelry. Pair a sun, moon, or star pendant necklace with chunky boots and earth-toned prints. Tie your hair back with a scarf, and add stacks of rings for good measure. All that's left for you to do is hop on a broom and take flight. 
Rose goes well with leather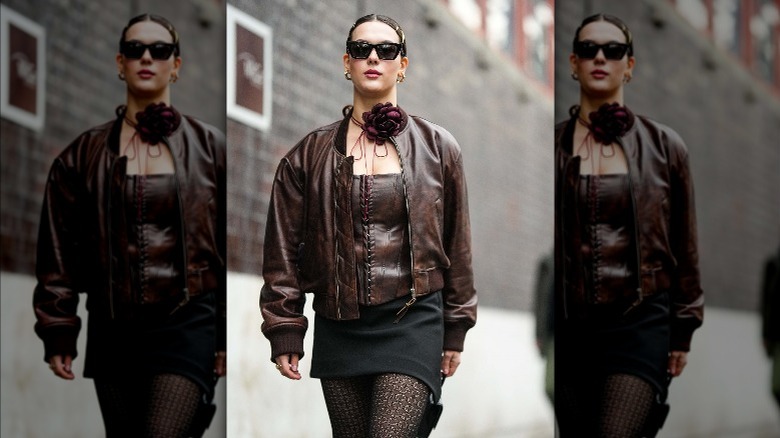 Edward Berthelot/Getty Images
Rosettes are all the rage, decorating red carpet wear and even showing up in the form of chokers. Although this trend may seem like it emerged from nowhere, its origins can be traced all the way back to the late 1800s and 1920s. Just look to flappers for inspiration. Make it your own by pairing a delicate rose cord necklace with a brown leather corset top and jacket — sometimes the best outfits are full of contradictions. Finish off the look with a mini skirt, textured tights, and slicked-back hair; skip the tights in warmer weather. 
Don't shy away from patterns
As the era of social distancing comes to a close, some of us have traded in our sweatpants for loud colors, mix-and-match patterns, and playful textures. It's the era of maximalism. Start by styling complementary colors like orange and blue. Wear a patterned wrap skirt with a bra top, tying it all together with something unexpected — a fur collar and metallic cowboy boots, for instance. Finally, add an Urban Outfitters orange wrap choker to your cart.
Channel the rockstar girlfriend aesthetic
With celebrities like Megan Fox and Kourtney Kardashian at the forefront, the "Rockstar Girlfriend" aesthetic has amassed hundreds of millions of views on TikTok alone. The style incorporates lots of leather, corset tops, mini skirts, and platform shoes. As for the color palette? Stick to deep reds and black. When it comes to jewelry, you can't go wrong with a blood-red heart necklace. "The rockstar girlfriend is basically an it-girl," @notsixela explained in her TikTok. So smudge your eyeliner, lace up your combat boots, and turn up that music. 
Turtlenecks are timeless
Turtlenecks are the definition of cozy. Although they're pretty much a no-go during summer heat waves, there's nothing better than a thick sweater when the weather turns cold. Like style icon Dwayne "The Rock" Johnson, pair a black turtleneck with blue jeans and add your pendant necklace on top. Alternatively, give the look a modern it-girl twist and wear a patchwork midi with knee-high boots. Pro tip? Flip the turtleneck inwards rather than out, allowing your necklace to lay flat.
Black pairs with any primary
At a loss for what to wear? Whether you're headed to a work meeting or meeting up with friends for a night out, black bottoms are one of the most versatile bases. Keep it simple by pairing a black mini-skirt with a primary-colored top. What's more, the string of your necklace will tie together the two halves of your outfit. Use two ribbons to tie back your hair; bonus points if you can match them to your shirt.
'70s-inspired disco fit
It's true that cord necklaces gained popularity in the '90s. However, there's no reason why you can't combine fashion timelines and dress up your favorite pendant with a disco-inspired outfit. Match '70s flared jeans with a sparkling halter top. Finish off the look with trending metallic makeup, adding '90s-era butterfly clips for good measure. Given today's world of social media micro-trends, mixing and matching decades is a given. "TikTok has a weird way of making every single thing in style at once," Rebecca Jennings, an internet culture correspondent at Vox, told NPR. Don't be afraid to take a risk.
Get crafty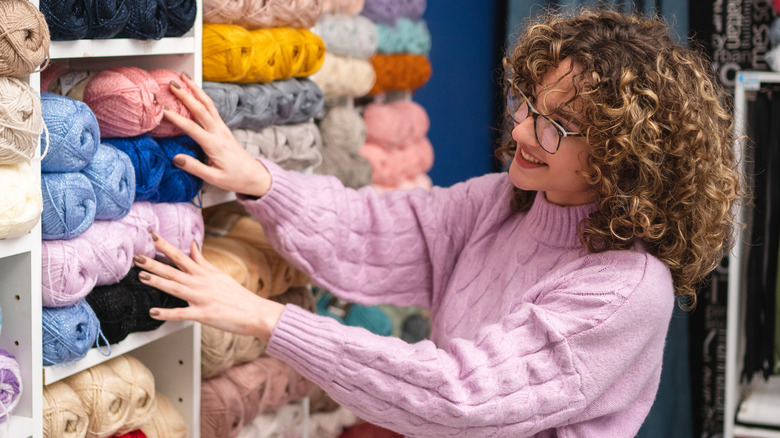 Fluxfactory/Getty Images
Can't seem to find the perfect cord necklace online? Make your own. As @barbiebri777 demonstrates on TikTok, the process is pretty simple. Head to your local craft store and pick out a pendant. Next, loop it onto your choice of string, playing with layers and lengths — a suede cord of a sheer ribbon usually does the trick. If you're looking for something a bit more unique, scroll through Etsy to find a vintage pendant. Not only will a DIY project save you a few dollars in the long run, but it will also give you a steady supply of one-of-a-kind accessories.
You can't go wrong with cowboy
Whether you're going square dancing or enjoying an outdoor dinner in the park, cut-off denim shorts, a crop top, and distressed cowboy boots make for an ideal hot-weather outfit. "There's something about the subtly elevating heel height and flattering shape that is sophisticated yet fun, and feels like a perfect wear-all-day transition shoe between sneaker and summer heel," British Vogue editor Laura Hawkins noted. A silver, heart-shaped cord necklace is the perfect way to spiff up your country Western attire. Simply add a cowboy hat, and you're good to go.