The Unexpected Person Ivana Trump Included In Her Will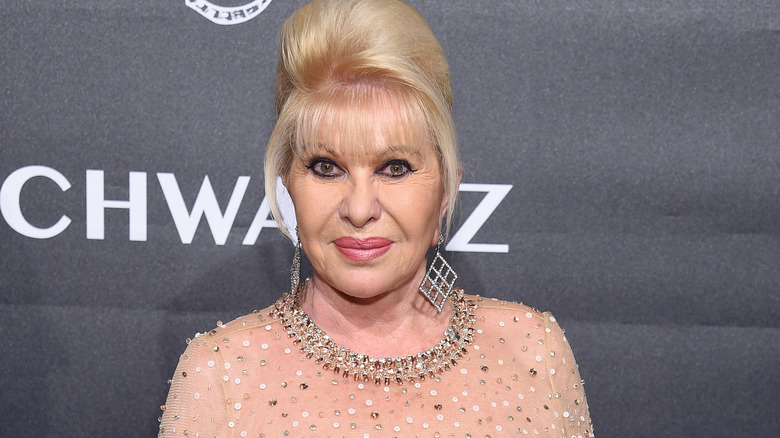 Jamie Mccarthy/Getty Images
Donald Trump's first wife, Ivana Trump, unexpectedly died in July 2022 at her palatial home in New York City after an accidental fall down the stairs. When news of her death was announced, the former president shared, in a sweet statement about his ex-wife, "She was a wonderful, beautiful, and amazing woman, who led a great and inspirational life." 
Ivana's net worth at the time of her death was around $34 million, according to Forbes, and in her expansive will, she spelled out exactly who should get what from her multi-million dollar estate. While Ivana's three children — Donald Trump Jr., Ivanka Trump, and Eric Trump — received the largest portion of her fortune, there was an unexpected person included in Ivana's will as well.
It seems the prolific businesswoman also left some valuable assets to someone important not just to her but to her entire family, too. Funnily enough, it was someone who otherwise has kept a low profile — the family nanny.
Dorothy Curry helped raise the three Trump kids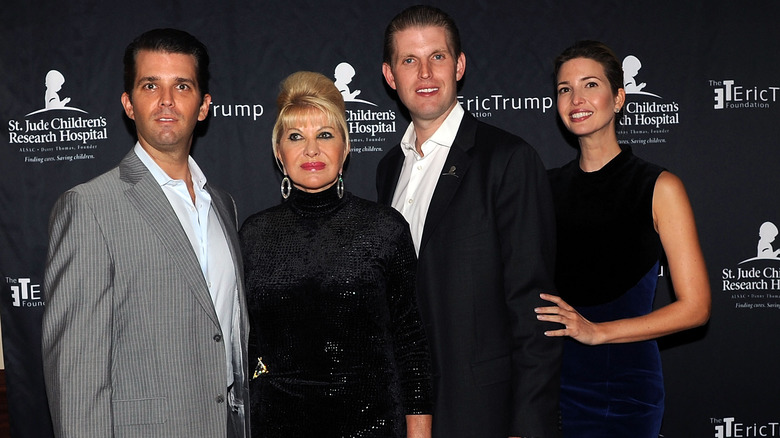 Bobby Bank/Getty Images
Dorothy Curry worked for Ivana Trump for decades, including as a nanny and an assistant, and her service and friendship seem to have been rewarded in a very significant way — Ivana bequeathed her Miami condo to Curry in her will. The one-bedroom, 1.5-bath luxury condo is located at Murano at Portofino, in South Beach. It measures 1,008 square feet, and, according to Zillow, the property was sold in February 2023 for a whopping $965,000.
Ivana herself described the family nanny, in her book "Raising Trump," as possessing "a sparkle in her eye and plenty of nervous energy." Curry was close to Ivana as well as the entire family; she helped raise Donald Trump Jr., Ivanka Trump, and Eric Trump. On a family trip to Ireland in 2014, which is where Curry is from, Don Jr. reportedly said, "We spent a lot of time here growing up and [Curry's] an amazing woman," per the Irish Mirror.
Eric has also sung Curry's praises. In "Raising Trump," he even referred to her as his "second mother." Eric shared, "She's raised me since I was a baby," adding, "and we are incredibly close — inseparable. I love her immensely." Clearly, she was a vital part of the Trump children's lives. And after the kids were grown and out of the house, Ivana noted in her book that Curry continued working for the family for over 30 years.
Ivana Trump also left her dog to her former nanny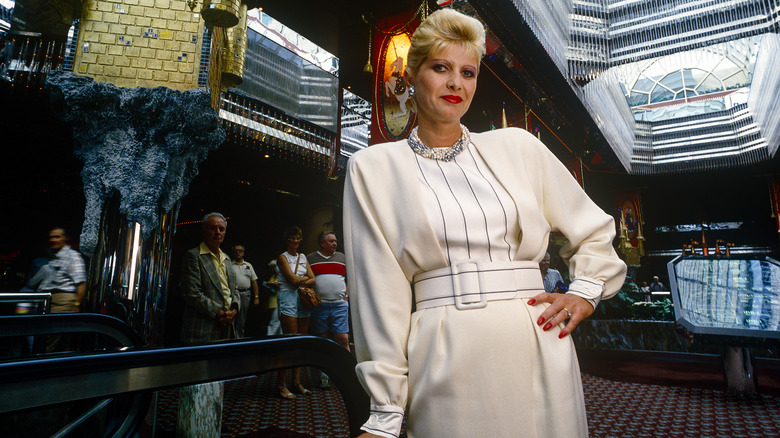 Joe Mcnally/Getty Images
Dorothy Curry wasn't just given a condo in Ivana Trump's will either. Donald Trump's former wife also left her beloved Yorkshire terrier, named Tiger Trump, to Curry too. It seems the family nanny was truly someone whom Ivana valued if she was entrusted with her pet. One person who was notably left out of Ivana's will, on the other hand, was her famous ex-husband. 
Donald was just one of Ivana's ex-husbands, of course. She did leave something to her fourth husband, Rossano Rubicondi. Ivana gifted him one of her houses in St. Tropez, France, but Rubicondi died the year before Ivana did so sadly he won't be able to enjoy it. Her New York City townhouse, meanwhile, was left in equal parts to her three children.
Curry hasn't publicly commented on Ivana's gift to her, but she did speak briefly at her funeral. Curry mentioned Ivana's isolation in her final months (she had become a veritable recluse during the COVID-19 pandemic). "Ivana, we have reached out to you many, many times, but obviously we didn't reach out far enough," Curry said. "We all basically let go and let God, and now you are totally in God's hands," (via The New York Times).