Kody Brown Drove Janelle Away Years Before Officially Splitting
The long-running TLC reality show "Sister Wives" centers around the lives of the polygamous Brown family, headed by patriarch Kody Brown. Kody initially had four wives, colloquially known as sister wives; Meri, Janelle, Christine, and Robyn Brown. However, he was legally married only to Robyn and in a spiritual union with the other three women.
The plural family had many onscreen ups and downs, but the biggest blow to their way of life came when Christine, Kody's third wife, decided it was time for her to leave the controversial patriarch. Soon after Christine, Janelle also found it necessary to break free from Kody, which she did in 2022. The couple first got together in 1993 but never legally married. Rather, Kody and Janelle were in a spiritual union for almost 30 years and share six children. However, it seems that the pair had some serious issues way before then. Janelle even moved out at one point, years prior to their split. 
Additionally, when Christine broke up with Kody, Janelle admitted to having doubts about whether she should stay with him, which she shared during an episode of the show. "I've had to really think; my children are almost grown, and there's not a huge necessity anymore to stay," Janelle shared with TLC's cameras, adding that it wouldn't be hard for her to walk away from Kody, which she eventually did (via The Sun).
Janelle wasn't happy with Kody in the early 2000s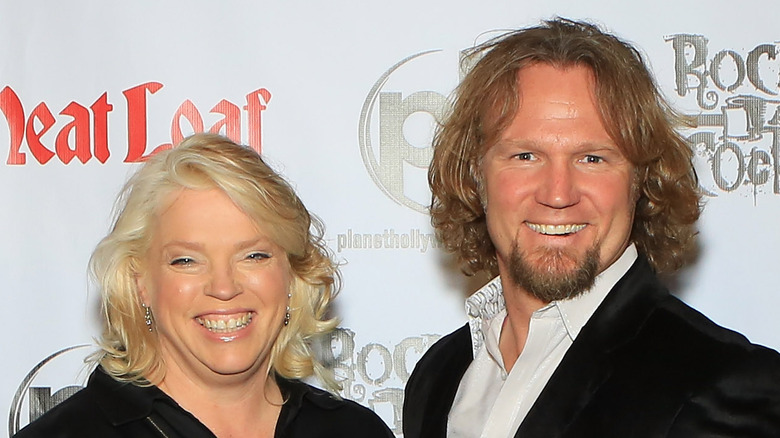 Gabe Ginsberg/Getty Images
Kody Brown is known for his candid comments about polygamy, but the reality star has also been dubbed controversial for the way he treats his wives. After Kody and Janelle Brown called it quits, it resurfaced that the infamous polygamist actually drove his second wife away years before officially splitting. In the special sit-down episode for Season 17, Kody revealed that Janelle wasn't happy with the family dynamic in the early 2000s when the Browns lived in Wyoming. 
At that time, Robyn Brown, Kody's fourth wife, wasn't in the picture yet, and the family consisted of Kody, Meri, Janelle, and Christine Brown. According to the patriarch, Janelle didn't get along with her two sister wives and felt like Kody wasn't supportive enough. "[Janelle] and I were constantly working things out," he told the confessional host, Sukanya Krishnan, also noting that "[She] couldn't abide being with Christine and Meri any longer," per Us Weekly. 
Janelle then moved in with her mother, according to Kody. After a while, the patriarch decided it was time for the family to move to Utah, but his estranged second wife wasn't interested in relocating. "She says, 'I'm not moving with you. I finally got my life together here,'" Kody recalled during the tell-all. "That was a real shock to me. That was not healthy." Janelle ultimately changed her mind and rejoined the plural family, but the tensions between them persisted.
Kody's strained relationship with his sons was the last straw for Janelle
During the COVID-19 pandemic, the Brown family had to separate for a short while since there were so many of them. Janelle Brown made it clear that she didn't want her husband around their children at the time because he posed a threat as he was constantly shuffling between families. Kody Brown wasn't happy with how Janelle handled their living situation and accused her of disrespecting him.
Seemingly in return, Kody later forbade his sons, Gabriel and Garrison Brown, whom he shares with Janelle, to attend a Thanksgiving celebration as they both worked at jobs that could easily expose them to the virus. According to Gwendlyn Brown, Kody's daughter, whom he shares with Christine Brown, this was the tipping point for Janelle. In a YouTube video, Gwendlyn confirmed that the cold relationship between Kody and some of his children was definitely the reason Janelle finally decided to leave him.
When host Sukanya Krishnan asked her about the split in the exclusive sit-down for Season 17, Janelle acknowledged she was very happy with her decision. "I don't know, things just really became sort of indifferent, like I just didn't care anymore," she explained, adding that she "doesn't want [Kody] to come back," per People.