Rosie O'Donnell And Barbara Walters Had A Screaming Match Behind The Scenes Of The View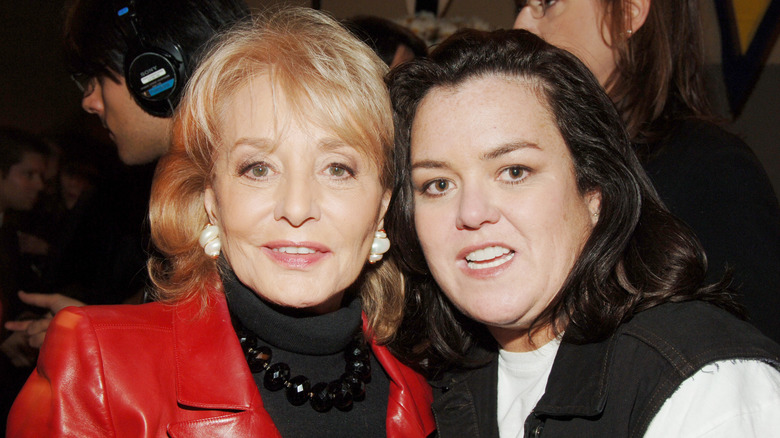 Stephen Lovekin/Getty Images
Rosie O'Donnell co-hosted ABC's "The View" and appeared on over 120 episodes between 2005-2016. During that time, she naturally formed a bond with the show's creator and host, Barbara Walters. While the women were close for many years, they also butted heads from time to time — but never as fiercely as when they engaged in a screaming match right before a show aired in 2007.
It's pretty well known that there is no love lost between the "League of Their Own" star and Donald Trump, and the shouting incident backstage at "The View" stemmed from a letter written by Trump to O'Donnell in which he claimed that Walters defamed her then co-host.
Per CBS News, Trump wrote, "After your maniacal and foolish rant against me two weeks ago, Barbara called me from her vacation (I did not call her) in order to apologize for your behavior." He continued, "She had heard that I was going to retaliate against you and tried to talk me out of it." The former president also penned that Walters said working with O'Donnell was like hell, and she alluded to the fact that O'Donnell wouldn't be on the show for very long.
The argument began over Donald Trump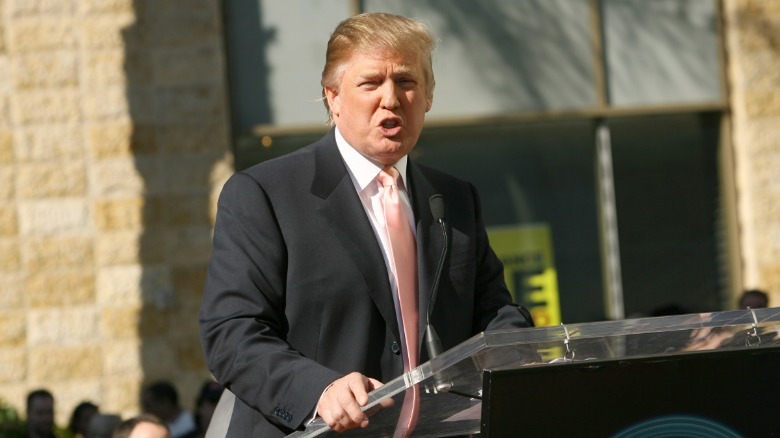 M. Tran/Getty
O'Donnell opened up in an interview with The Hollywood Reporter about the argument that ensued between her and Walters following the letter. "Barbara and I got in a huge fight, and it was about the Donald Trump thing," the former talk show host said. "He published an open letter to me in the Post. In it, he wrote that she'd called him 'to apologize for my behavior.'"
O'Donnell explained that the argument began in the makeup room. She said she verbalized to Walters her disbelief that although she hadn't been able to speak to her directly, Barbara had been communicating with Trump. 
The star recalled, "It got loud, and people were in shock because nobody talked to her like that." The pair were live on air in less than 30 minutes, and O'Donnell noticed the tense nature when watching it back. With feelings hurt on both sides, the women tried their best to maintain composure on the show.
There was great respect between Rosie O'Donnell and Barbara Walters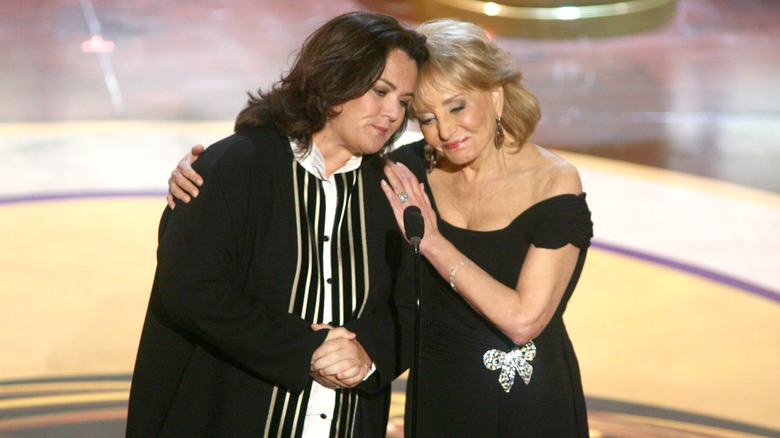 Mathew Imaging/Getty Images
Barbara Walters addressed Donald Trump's comments on the show. She made it quite clear that she had never once regretted hiring Rosie O'Donnell and was very happy to have her there. 
Though the backstage argument was intense, it didn't sever the bond between the two women. Rosie O'Donnell apologized to Walters several times for the outburst and they overcame it and retained their friendship. The actor told The Hollywood Reporter of Walters, "She was one of the archetypal women that I grew up to and wanted to be around, especially after the death of my mom."
Walters' heartbreaking death in 2022 at the age of 93 led to O'Donnell posting a video on Instagram where she spoke about the broadcasting legend. "What a long and eventful legendary life she had, spoke to every prominent world leader in memory, interviewed everyone who's anyone, and I was lucky enough to be in her orbit for a good many years." She continued, "May she rest in peace, and may everyone remember just what barriers she broke down for women."