One Life To Live Alum Nathan Fillion Snags Major Role In The DC Universe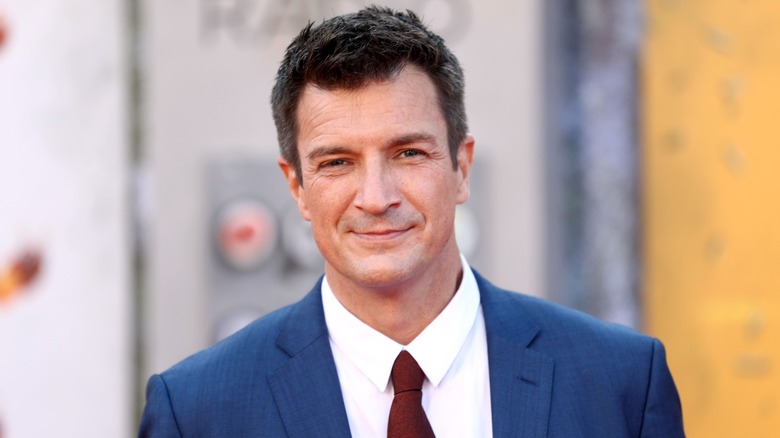 Matt Winkelmeyer/Getty Images
Nathan Fillion has been a beloved fan favorite ever since he played Captain Malcolm "Mal" Reynolds in the cult classic TV series "Firefly." One of his first acting gigs was as Joey Buchanan on the soap opera "One Life To Live" from 1993 to 1997, with a surprise return in 2007. The show gave many actors, including Hayden Panettiere, their showbiz start. Fillion would go on to do superhero voiceover work, as well as star in the hit series "Castle" from 2009 to 2016. He has fondly remembered his soap roots, crediting sudsers as one of the best places to learn acting. He is currently producing and starring in the hit ABC series "The Rookie." 
Fillion once showed fans his interest in playing a DC superhero when he had a guest appearance on actor Tim Daly's YouTube Series "The Daly Show" in 2012. In it, Daly — who gained fame doing the voice of Superman in several DC animated shows — has a break from reality, and his concerned son, Sam Daly, contacts his father's good friend Fillion for help. However, things go hilariously awry as Sam peers into his dad's bedroom to see Tim dressed as Superman, and Fillion as Green Lantern, as the two battle imaginary villains. Fillion would then go on to voice the Green Lantern Hal Jordan in several DC animated movies.
Now it seems like Fillion is moving to live action, as he's been tapped to play the Green Lantern, Guy Gardner.
Nathan Fillion is becoming one of DC's greatest heroes
Much like former fellow soap star Sasha Calle (Lola, "The Young and the Restless") — who recently celebrated her debut as Supergirl in the movie, "The Flash" — Nathan Fillion joins the ranks of DC Comics' live-action superheroes. Director James Gunn had previously worked with Fillion on the horror comedy, "Slither" (2006), "The Suicide Squad" (2021), and "Guardians of the Galaxy Vol. 3" (2023), and is now working on a new film called "Superman: Legacy." He announced on Twitter, "Welcome to the cast of Superman: Legacy: @NathanFillion as Green Lantern Guy Gardner, @isabelamerced as Hawkgirl, and @iamedigathegi as Mister Terrific."
In the comics, Green Lantern's alter ego is Hal Jordan who was portrayed in the 2011 film "Green Lantern" by Ryan Reynolds. Because the hero is part of an intergalactic law enforcement group called the Green Lantern Corps, there are several other characters who take on the mantle. Although a hero, Guy Gardner isn't always the nicest person, so it will be fun to see Fillion's take on the character. While some Twitter fans were concerned that Hal Jordan wouldn't be the Lantern that's portrayed, many were thrilled at Fillion's casting and that it will be the hot-headed Guy Gardner. 
It's unknown whether or not production of Fillion's current hit series, "The Rookie" will be impacted in any way, but fans are looking excitedly forward to the release of "Superman: Legacy" in 2025, and so are we!