Everything To Know About Call Her Daddy Host, Alex Cooper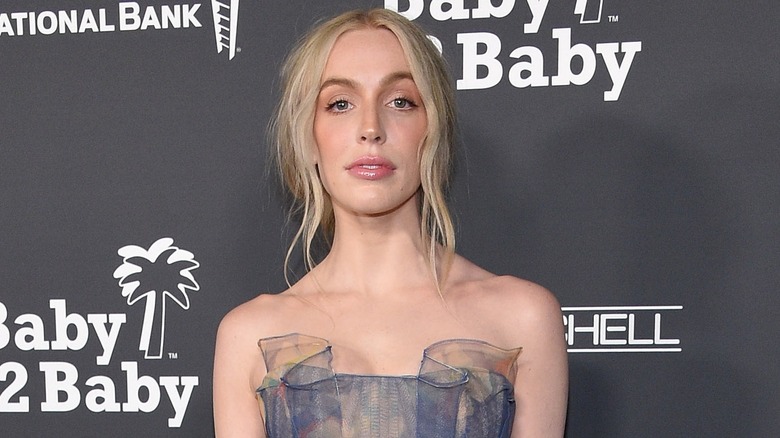 DFree/Shutterstock
Joe Rogan might have had the top-performing Spotify podcast in 2022, but "Call Her Daddy" was a close second. Pennsylvania native Alex Cooper and her former co-host, Sofia Franklyn, started the podcast in 2018 as part of the Barstool Sports network. According to People, it began as "female locker-room talk," between two best friends, centering sexually explicit discussions, tips, and tricks. When Alex Cooper signed a deal with Spotify and became the show's sole host in 2020, "Call Her Daddy" expanded to include interviews with big names like Gwyneth Paltrow, Miley Cyrus, and Amanda Knox. "People will tell me they miss the old 'Call Her Daddy,' but that show was dying," Cooper told The Los Angels Times, adding, "We were getting lower numbers than we'd ever gotten. It was like, 'How many times can we talk about sex?' I was getting a little bit bored."
Inspired by years of therapy, her psychologist mother, and an overarching interest in female empowerment, Cooper began talking about mental health and feminism on the podcast. "I'm trying to make 'Call Her Daddy' like a friggin' HBO show, where you're like, I cannot miss this week because I don't know what's about to go down," she excitedly explained to The New York Times. With millions of weekly listeners and a steady stream of viral TikTok clips, "Call Her Daddy" has definitely made it into the podcast big leagues. And she's not afraid to ask uncomfortable questions.
Alex Cooper was on unemployment checks before co-founding 'Call Her Daddy'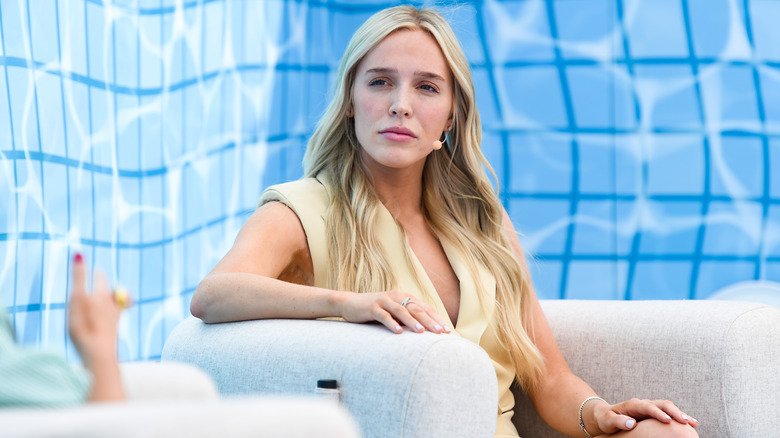 Antony Jones/Getty Images
The podcast landscape wasn't quite so inundated in 2018 when Alex Cooper and Sofia Franklyn pitched "Call Her Daddy" to Barstool Sports. In fact, Cooper wasn't even sure what a podcast was. At the time, she was living off unemployment checks and trying to make it as a YouTube Vlogger. She had graduated from Boston University the year before with a film degree, a Division 1 soccer career, and plenty of Premiere Pro experience. "My friend [Sofia Franklyn] who had just started at a start-up reached out to me and was like 'Hey Alex, do you want to do a podcast?'" Cooper recounted in a YouTube tell-all. According to Cooper, it wasn't long before she was putting in (a lot) more hours than Franklyn, spending days on end editing episodes and promoting their brand on social media.
After disagreements surrounding the future of their podcast, Cooper and Franklyn broke off their partnership and their friendship. The former signed a $60 million three-year contract with Spotify, launching the version of "Call Her Daddy" we know and love today. Spotify has even praised Cooper for being one of their most "hands-on" hosts, per Time. She's also one of their top-earning personalities.
These days, the internet's self-proclaimed "father" has well over 2 million Instagram followers, two very fluffy dogs, and a fiancé.
Alex Cooper is engaged to Matt Kaplan
From talking to Hailey Bieber about her marriage to Justin to asking Gwyneth Paltrow why she rejected Leonardo DiCaprio in the '90s, Alex Cooper knows how to uncover all the juicy tidbits. She's a lot more private when it comes to her own relationships, preferring to stay home in one of her famous sweatsuits.
Since 2020, she's been dating film producer and ACE Entertainment CEO Matt Kaplan — he's been referred to exclusively by the name "sexy Zoom man" on the podcast for the past three years. The couple got engaged in March 2023, and Cooper announced the news on Instagram in April. "I bet no one had this on their 2023 bingo card lol," she wrote, posting a snapshot of the proposal. According to the podcaster, she wasn't always sure that she wanted to get married. "Growing up, I never wanted to conform to something that society is telling us: to get married to a man and live happily ever after," she told W Magazine.
Unlike other men she's gone out with, Cooper says Kaplan isn't intimidated by her success. "Matt is so private, but he also loves the Daddy Gang (aka fans of the "Call Her Daddy" podcast)." Kaplan was previously married to "Vampire Diaries" star Claire Holt, and even dated Ashley Olsen in the early 2000s.