The Story Behind Marilyn Monroe's Iconic 'Happy Birthday JFK' Dress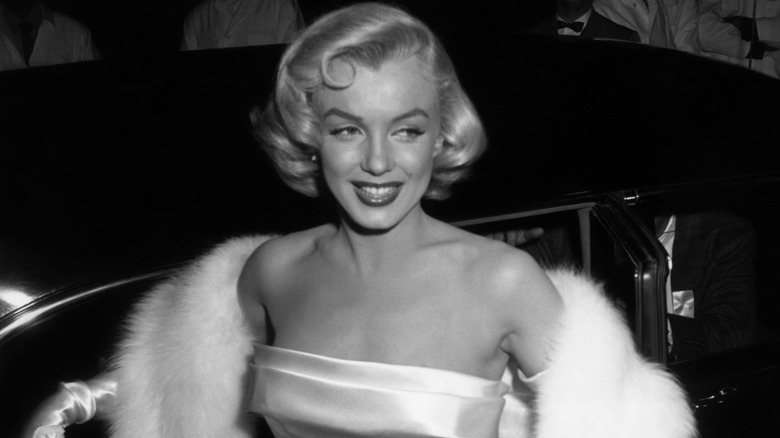 M. Garrett/Getty Images
Marilyn Monroe was known for her beauty; a blonde bombshell with a to-die-for figure who captivated audiences like few others could. It wasn't just her films, like "Gentlemen Prefer Blondes," that gained her notoriety, but her advertisements, public appearances, and tumultuous life off camera. One of her most notable performances was her rendition of "Happy Birthday" in 1962 for then-president John F. Kennedy.
Few people know more than the day's most basic details, primarily the dress and the scandal. When the starlet appeared in a sheer, flesh-colored gown covered in 2,500 hand-stitched crystals, much of the audience thought they were about to see Monroe in the nude. The dress, combined with her seductive version of the well-known song, turned out to be quite scandalous, fueling rumors that she and JFK were having an affair. Decades later, we gained further insight into the momentous occasion when Kim Kardashian donned Monroe's one-of-a-kind dress (now a historical fashion piece).
It became common knowledge that Marilyn had to be sewn into the gown just before the performance because the fabric was so tight and delicate. And Monroe definitely wasn't sporting any SKIMS shapewear underneath. Reportedly, the skintight marquisette dress didn't allow her to wear anything but the gown itself.
How did the dress come to be?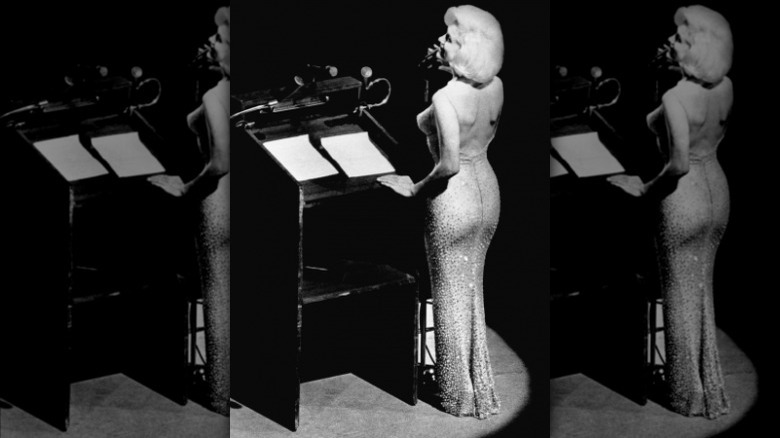 Bettmann/Getty Images
The dress was eye-popping, to be sure, especially for the nature of the event. Marilyn Monroe sang happy birthday to President JFK at a fundraiser for him and the Democratic National Committee. In 1962, Monroe was fresh off a movie that flopped, a divorce, and surgery followed by a stint in a psychiatric hospital. The performance was just as important for Monroe's professional life as for JFK's and the DNCs' prerogatives.
Monroe ordered a custom gown by French fashion designer Jean Louis for the occasion. The designer wasn't unknown, having previously designed outfits for the icon and received an Academy Award for Best Costume Design. Louis unearthed a sketch by Bob Mackie, another costumier and exceptional designer, done when he was 21 years old and brand new to the company. Reportedly, Monroe paid about $1,440 (around $14,500 in 2023) for the gown and kept it secret until the last possible moment, dropping her fur coat as she arrived on stage.
The gown was absolutely flawless, so much so that some spectators doubted Monroe was wearing anything but skin and beads. Everyone's effort and expense were well worth it, cementing the performance and the gown in history and making it one of the most valuable pieces in pop culture history. Not to mention getting everyone talking.
The sultry serenade that raised eyebrows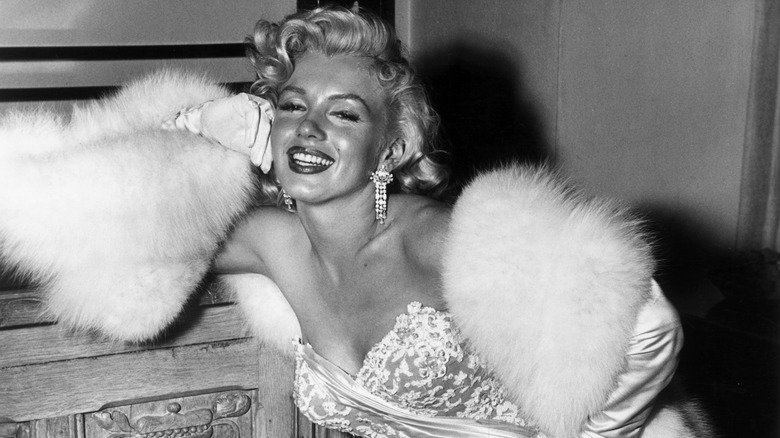 Darlene Hammond/Getty Images
The entire song lasted less than 30 seconds and was little more than a few piano chords and Marilyn Monroe's seductive crooning. But it was enough to have everyone speculating that she and the president were having an affair. JFK didn't help matters when he quipped after her performance, "I can now retire from politics after having had 'Happy Birthday' sung to me in such a sweet, wholesome way" (via Town & Country). Following the event, First Lady Jackie O. wasn't happy with JFK's brother Bobby Kennedy, explaining, "My understanding of it is that Bobby was the one who orchestrated the whole goddamn thing . . . The Attorney General is the troublemaker here . . . it's Bobby I'm angry at, not Jack."
In 2010 the only known photo of Monroe with JFK and Bobby was released, taken by Cecil Stoughton after the performance and having been kept secret for decades. Monroe can be seen wearing the figure-hugging dress responsible for so much gossip. A few months later, Monroe, the dress, and the Kennedys would again make headlines after the actor's heartbreaking, yet mysterious death.
It's overwhelming to think that a gown could make such an impression — but it's undeniable that it did, both then and now. Nude gowns are still incredibly popular, and sheer dresses, modern renditions of Monroe's OG ensemble, are making a statement. One could say that Monroe pioneered the barely-there dress.