Did Keanu Reeves And Sandra Bullock Ever Date?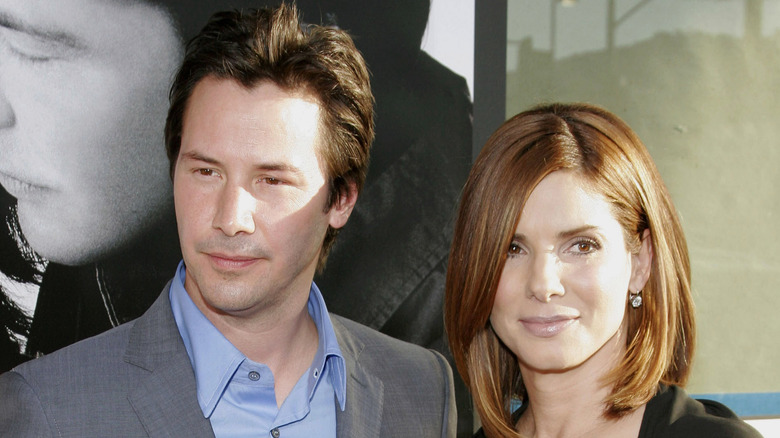 Tinseltown/ Shutterstock
In 1994, Sandra Bullock and Keanu Reeves' relationship began when they played the roles of Jack Traven and Annie Porter as love interests in the film, "Speed." The two's on-set chemistry was electric. Although their relationship was never romantic off-screen, the two have maintained a close friendship ever since. In an interview with Esquire, Bullock shared a story to express just how thoughtful of a friend Reeves has been to her.
According to Bullock, she and Reeves were talking one day, and for whatever reason she explained to him that she had never tried champagne or truffles. As a wildly successful superstar, you would have assumed she had plenty of opportunities to try these famously bougie treats. But that wasn't the case. So, just a few days later Reeves showed up on her doorstep to change that. 
Bullock told the publication that Reeves arrived at her house unannounced, holding flowers in one hand and champagne and truffles in the other. Bullock recalled him saying, "I just thought you might want to try Champagne and truffles, to see what it's like." Is that adorable, or what?
The actors claim they're just friends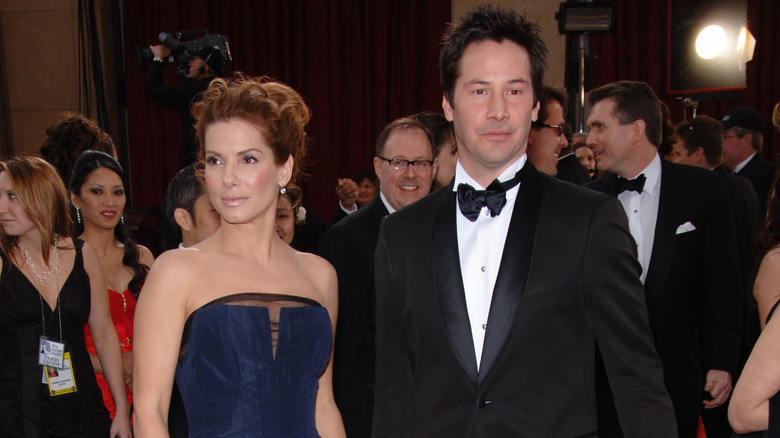 Featureflash Photo Agency/ Shutterstock
We don't know about you but showing up with surprise chocolates and champagne does not sound like something a friend would do. Keanu Reeves' gesture seems undoubtedly romantic in nature, but according to the two actors, it wasn't. While recounting the story to Esquire, Bullock was sure to include that Reeves was stopping by while on his way to a date with another woman. However in 2019, while appearing on an episode of "The Ellen Show," Bullock confessed that she did have a bit of a crush on Reeves back then.
When he would do something like that, could you blame her? Bullock told Ellen, "I think about how sweet Keanu Reeves is and how handsome he was. It was hard. It was hard for me to really be serious." She then jokingly suggested that the ball was in his court at the time. "Never dated him. I guess there was something about me, I guess he didn't like," she quipped.
Keanu Reeves is known for being extraordinarily kind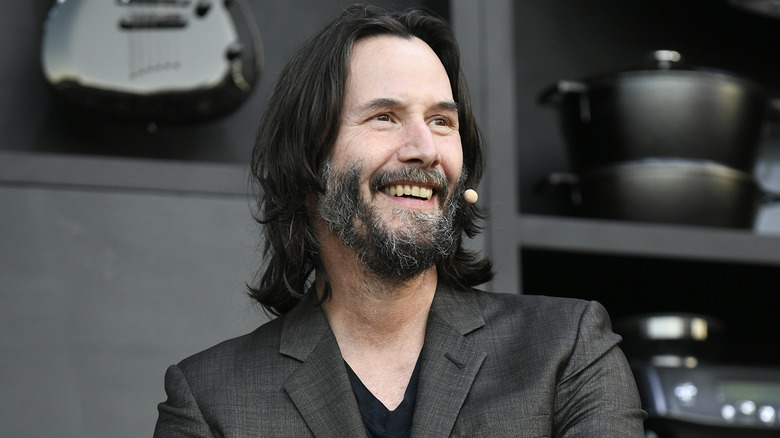 Tim Mosenfelder/Getty Images
We are still not quite sold that Reeves and Bullock's relationship was or is entirely platonic. However, to give them some credit, it is well known that those who are close to Keanu Reeves consider him to be a kind person. For instance, Reeves was all over the media when he gifted the entire stunt team on "John Wick: Chapter 4" with custom-made, Rolex watches costing up to five figures. He apparently has a track record of being generous and considerate even with people who he doesn't know.
While he was filming "Bill and Ted 3" in the neighborhood of mega-fan Stacey Hunt, she put a sign out in her yard that made a shout-out to Reeves. He then stopped at her house before his crew finished up to say hello and offer her his signature.
And while this might imply that Bullock's champagne and truffles surprise was not all that special, Reeves no doubt considers Bullock to be a special person in his life. After filming their 2006 romance film "The Lake House," Reeves told Entertainment Weekly, "I can't explain in words why Sandra and I have chemistry on-screen or why we work well together. We just do, and I'm glad because I like her tremendously as a person. I always enjoy watching her work. She is funny as all heck, smart as whip."