Khloe Kardashian Gets Painfully Real About A Difficult Part Of Her Surrogacy Journey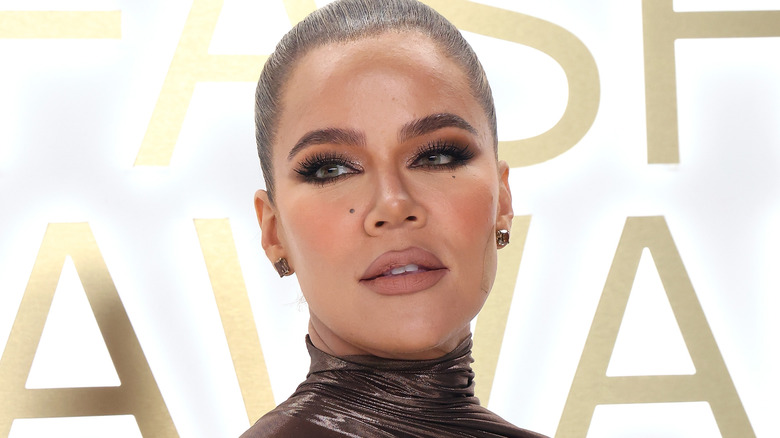 Taylor Hill/Getty Images
Khloé Kardashian's first pregnancy was shrouded in heartbreak after her older sister broke the news about Tristan Thompson's biggest scandal of multiple infidelities before Khloé gave birth. While Khloé allowed her now ex-boyfriend and father of her daughter, True Thompson, to be in the delivery room, their relationship would never be the same. And unfortunately, welcoming her second child seems to have been just as difficult.
The reality TV star and middle sibling of the Kardashian clan has never hesitated to keep it real — both with others and regarding the most intimate details of her life, like pregnancy, motherhood, and building a family. So, when the time came for Khloé to share her experience with bringing her son, Tatum Thompson, into the world, she didn't mince words either. 
The Good American co-founder described what it was like to have her second child via a surrogate on an episode of "The Kardashians." And while what she had to say was devastatingly vulnerable, it's important to note that her experience is not an uncommon or invalid one.
The reality star acknowledged struggling to bond with her son
Khloé Kardashian admitted that she found it more challenging to bond with her son than with her daughter in a Season 3 episode of "The Kardashians." The Good American co-founder shared, "I feel guilty. ... When you compare it between True and him, it's a very different experience, the connection. With True, it took me a couple of days. With him, it's taking me months. I love him, and I love kids, but I definitely still don't have that complete bond," (via the Daily Mail). 
According to Heatworld, Khloé cited medical issues as her reasoning for choosing a surrogate for her second child. Sources told the outlet that not only did Khloé struggle with complications during her first pregnancy but that she and Kim Kardashian (who had two of her four children via surrogate) are committed to getting in the best shape possible — Khloé's self-described secret to a happy life, in fact. Using surrogates allows them to remain dedicated to their goals while continuing to build their families.
Khloé's willingness to be so vulnerable shines an important light on an all-too-common hurdle many mothers face: Bonding with their children. The Guardian reports that 10% of women struggle to connect with their children, and Surrogate emphasizes the importance of patience as the bonding process can often take longer than expected. But if Khloé's relationship with True is any indication, she's a great mom and will overcome this hurdle with Tatum in due time.