Khloé Kardashian's Secret To A Happy Life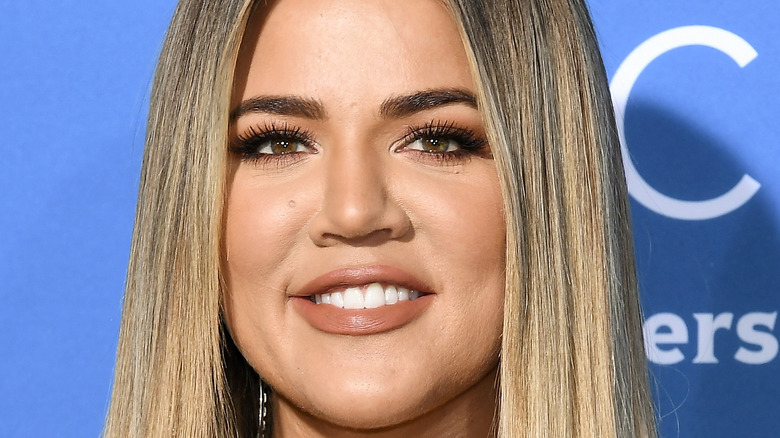 Dia Dipasupil/Getty Images
Khloé Kardashian has been in the public eye for a long time, and, even compared to the rest of her famous family, the middle Kardashian sister has endured more than her fair share of difficulties. 
Consider everything Khloé has said about dealing with heartbreak, and you'll get some indication of how tough she's had it, particularly when it comes to being very publicly let down by men. In fact, one of the hardest moments in Khloé's life was caught on tape – when she found out that Tristan Thompson, the father of her children, had a child with another woman – as part of her family's reality show, "The Kardashians." 
One of the biggest struggles of Khloé's life has been her weight. In 2015, she reflected on being referred to as "the fat sister" during an interview with People, with the Good American founder admitting she didn't realize there was a problem with how she looked until "Keeping up with the Kardashians" started airing, much to her shock. 
In recent years, Khloé has undergone a complete physical transformation, hitting the gym hard and getting seriously buff in the process. According to celebrity trainer Gunnar Peterson (via Women's Health), "Khloe's work ethic is second to none. There's no such thing as quit in her world." 
For the busy working mother, however, there's more to her wellness regimen than simply being super fit and sticking it to her haters. 
Working out is the reality star's secret weapon for tackling life
In a chat with People, Khloé Kardashian extolled the virtues of working out regularly. "I definitely think the physical and the mental go hand in hand," she argued. "I feel so good in the gym that it [affects] the rest of my day. It's a healthy addiction. It's like buying your sanity!" 
The "Kardashians" star has had a number of setbacks in her life, including ex-husband Lamar Odom's highly publicized addiction issues and baby daddy Tristan Thompson's many cheating scandals.
In an Instagram Story (via People), she shared, "I use my workouts as a form of therapy for me, and they really just help me get my head right." If Khloé is ever concerned about motivation, trainer Gunnar Peterson taught her that, as long as she enjoys the workouts, that won't be an issue, as the Good American founder explained to Shape (via Hello! magazine). 
That doesn't mean she's immune to negative comments or that every day is easy. As Khloé told Variety, it can be tough to block everything out. "Sometimes I'll hear or see something and you just feel the weight of the world, and you tend to have a pretty bad day," she admitted. "But it's a day; not a life." 
Khloé Kardashian reckons happiness is a choice we need to make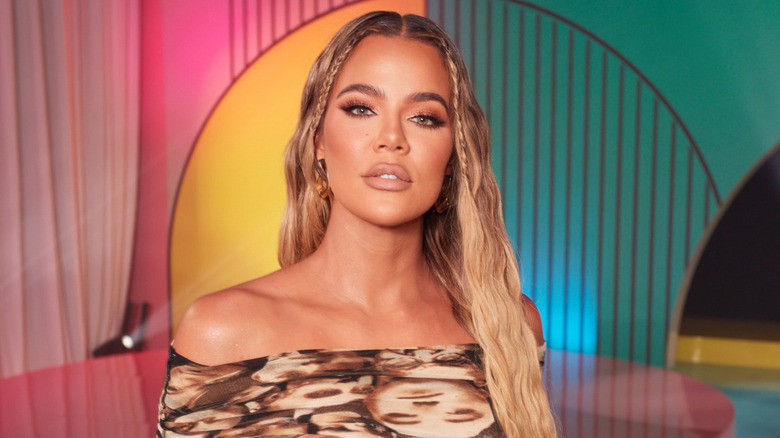 Shein X 100k Challenge 2021/Getty Images
According to The Irish Mirror, amid yet another public setback — in this case, a ban from the Met Gala — Khloé Kardashian encouraged her followers to choose happiness above all else.
"At some point, you decide. You decide that this is where you are rooted. You make the decision to be happy right where you are. You don't let go of your dreams. You expand your dreams," she wrote. The reality star subsequently went even further, again in her Instagram Stories, noting, "Happiness is the new rich." Khloé added, "Inner peace is the new success," "Health is the new wealth," and "Kindness is the new cool," per The U.S. Sun. 
Her commitment to self-fulfillment was solidified when then-partner Tristan Thompson cheated on Khloé yet again and fathered a child with another woman. As a source clarified to People, aside from being done with him for good (outside of co-parenting, of course), Khloé was focusing on her health and well-being while moving forward. 
Naturally, having the support of her famous family is also key, with Khloé telling Variety that "nobody really understands" what she's going through besides them. "The Kardashians" star gushed, "I'm so grateful that I have my family because they get it and they're my support system."