Former Y&R Favorite Loren Lott Is A Digital Lavender Dream On The Barbie Pink Carpet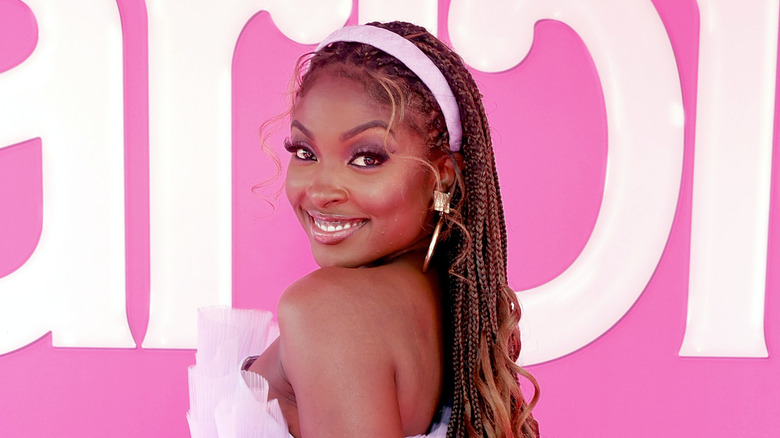 Emma Mcintyre/Getty Images
The "Barbie" premieres have been bringing some incredible looks to the forefront, and the latest celeb to hit the pink carpet is Loren Lott. Much like how Margot Robbie's "Barbie" looks have been in a range of colors, Lott's outfit, while not pink, was on theme for the ultra-feminine aesthetic of "Barbie."
Digital lavender is on trend, and it was even predicted to be the color of the year 2023 by consumer trend forecaster WSGN — clearly, Lott got the memo. The actor's tulle gown featured the pretty shade, and she kept the purple vibes going for her whole look. Her gown was strapless, falling just above the knee, and accentuated Lott's waist thanks to its ribbon-style belt. As for her shoes, Lott wore heels with thin crossover ankle straps and bows at the front for a Barbie-esque touch. 
The star accessorized with large hoop earrings and a matching silky lilac headband. Her eyeshadow and lip look also featured hues of purple and a hint of pink to match the pink carpet and pull everything together.
Her outfit was perfectly on point
Loren Lott fit right into the pink carpet, but she kept things humble in an Instagram post showcasing her look. Alongside snaps of her 'fit and videos from the party, the former "The Young and the Restless" actor expressed her excitement about being invited to the world premiere of the "Barbie" movie.
"Y'all [crying emoji] I went to my first BIG movie premiere for The Barbie Movie! Like the first time having full access and being invited to the parties and everything!! Didn't have to finesse or anything, I was invited [crying emoji]. You gotta celebrate the wins," she wrote, thanking Warner Bros Pictures and the "Barbie" movie team for inviting her.
Lott also spoke about how amazing the premiere was, saying that she felt as though she was really in Barbie Land. She finished her post by telling her followers that she felt inspired by the event and that she was excited to be in a movie like "Barbie" in the future.