Kelly Preston Once Confronted Kirstie Alley For Flirting With Her Then-Husband John Travolta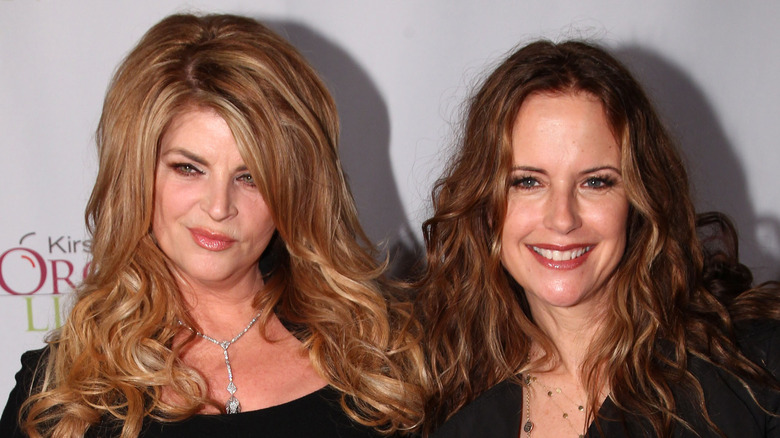 Alexandra Wyman/Getty Images
Kirstie Alley and John Travolta were frequent co-stars who shared many fans, thanks to their work in the beloved "Look Who's Talking" movies. However, the pair were also very close in real life, which wasn't always something that Travolta's wife, actor Kelly Preston, was thrilled about. It was clear to fans that Alley and Travolta had great chemistry on camera. However, the pair shared strong feelings for one another off-screen, as well. Although they never had a romantic relationship, the pair were totally smitten with each other. Alley even admitted that she had fallen in love with Travolta and that he also had feelings for her. However, because she was married when they met, they didn't pursue a romance.
"[It was] the hardest decision I've ever made because I was madly in love with him — we were fun and funny together," Alley told "The Dan Wootton Interview" podcast in 2018. "It wasn't a sexual relationship, because I'm not going to cheat on my husband," she continued. "I consider what I did even worse because I actually let myself fall in love with him and stay in love with him for a long time."
Meanwhile, Travolta eventually moved on and married Preston, whom he shared three children with. However, Preston wasn't in the dark about Alley's feelings for her husband.
Kelly Preston asked Kirstie Alley to stop flirting with John Travolta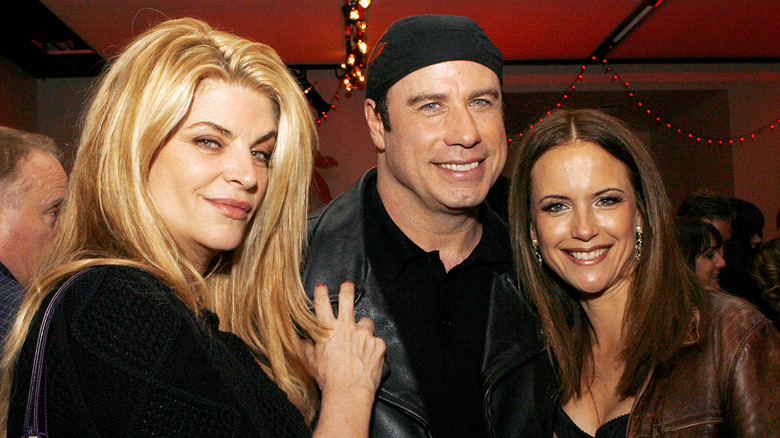 Kevin Winter/Getty Images
Although Kirstie Alley and John Travolta decided to keep their relationship platonic over the years, that didn't change her feelings for her former leading man. After divorcing her husband, Parker Stevenson, in 1997, Alley found herself single again. However, Travolta was already married to Kelly Preston. 
Alley and Travolta remained friends, but things got a bit awkward when Preston ultimately couldn't take Alley's flirty behavior toward her husband any longer. "Kelly came up to me — and they were married then — and she said, 'Erm, why are you flirting with my husband?'" she told Dan Wootten. "And that was sort of when I had to make a decision and that was pretty much the end of that."
However, Alley never forgot her love for Travolta. When she appeared on "Celebrity Big Brother UK," she confessed that she nearly married the "Grease" star. "I almost ran off and married John," she said (via Us Weekly). "I did love him. I still love him. If I hadn't been married, I would have gone and married him," she added.
Despite all of the love that Alley claimed to have for Travolta over the years, the two maintained a friendship, and Alley and Preston became very close, as well.
Kirstie Alley and Kelly Preston became best friends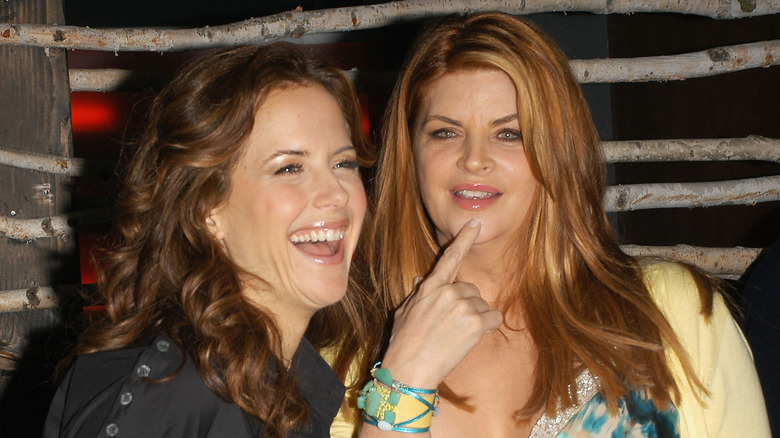 Stephen Shugerman/Getty Images
While Kirstie Alley and Kelly Preston may have had some awkward moments between them when it came to their feelings for John Travolta, the two women ultimately got past it all and became very close friends. Alley was so close to Preston that she was even present at the hospital when she gave birth to her and Travolta's third child, a son named Ben, per People Magazine. The two women even worked together in 2005 when Alley joined Preston for an anti-drug campaign. Alley was also with Preston shortly before her death in 2020 as she joined her friend on a yacht with the Travolta family and some other friends in celebration of Preston's 57th birthday.
Preston died shortly after from breast cancer. Of course, there was an outpouring of love for the actor, and Alley penned a sweet tribute to her friend. "Kelly ... you are Hawaii and I am Kansas. The perfect combination for best friends. I love you forever Shooster ... so here's to 'until we meet again somewhere,'" she wrote via Twitter, adding the song "Somewhere Over the Rainbow." Sadly, just two years later, Alley also passed away from cancer.
Although Alley and Preston loved the same man, they seemingly didn't let that get in the way of their feelings for each other, and remained friends until the end.