What You Need To Know About HGTV's Lil Jon Wants To Do What?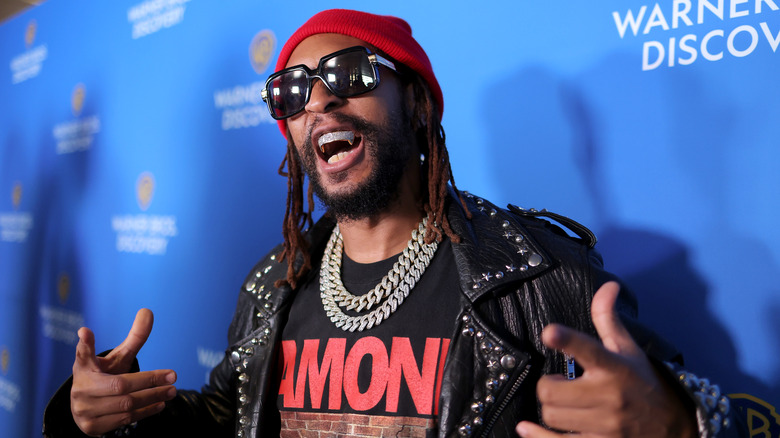 Mike Coppola/Getty Images
In 2022, HGTV premiered a new kind of home renovation show starring one of our favorite 2000s rappers: Lil Jon. The series "Lil Jon Wants To Do What?" shows a totally new side of the rapper as he works with his design partner, Anitra Mecadon, to give clients' spaces a facelift infused with his over-the-top design style while adhering to clients' preferences and budgets. 
"We are pushing our content strategy forward with the kind of unexpected shows and talent that will surprise and excite viewers across the audience spectrum," HGTV President Jane Latman said in a statement. "Who doesn't want to see Lil Jon's creative talent traverse the world of hip-hop into the world of home renovation?"
Lil Jon displays his fun, childlike, and creative self, along with a hint of his hard-partying rapper persona when he treats homeowners and Mecadon to shots in honor of the big reveals. And, as seen on "Farmhouse Fixer" starring New Kid On The Block-turned-historic home renovation expert Jonathan Knight, there are occasional references to the rapper's hits. 2003's "Get Low" does, after all, tie into home renovation with its iconic lyric "To the window, to the wall..."
Just in time for the Season 2 premiere, here's what you need to know about HGTV's "Lil Jon Wants To Do What?"
It's filmed in the rapper's hometown of Atlanta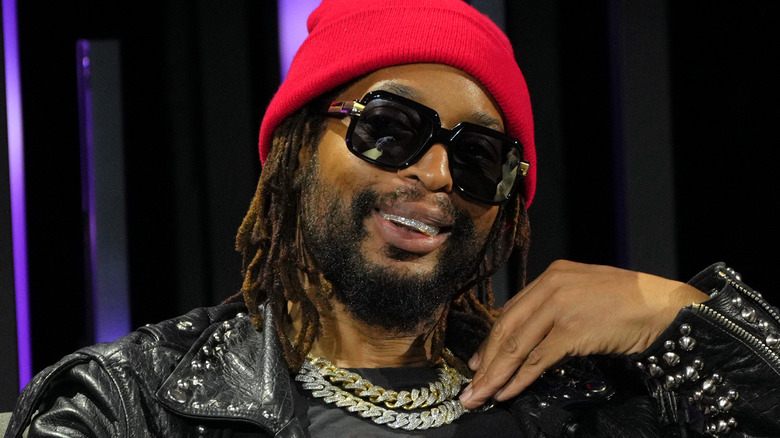 Kevin Mazur/Getty Images
Viewers who have only seen one or two episodes of "Lil Jon Wants To Do What?" may have missed that the HGTV show is filmed in Jon's hometown of Atlanta, which his designer partner, Anitra Mecadon, also calls home. Jon has always been especially fond of his hometown, so it's a given he enjoys helping Atlanta locals. "Atlanta is everything. It's where I was born and raised, where I started my musical career. It's the city that supported me first, the place and people that supported me first," the Grammy-winning producer and rapper shared with Atlanta United, adding, "We don't try to please other places or people ... I think we just do us and people emulate what we do and that's what makes us amazing."
With its star hailing from a city that's become known as an entertainment industry hub, choosing Atlanta to shoot the HGTV show was a win-win for everyone involved. If you're in the area, you can even get an up-close look at one of Jon and Mecadon's projects. During Season 1, they brought new life to an Alma Travel Trailer (circa 1952) owned by a local photographer. The trailer is available to rent for the day and just might become popular for use on local film and television sets as a lounge, talent trailer, or green room. We're sure that Jon was psyched to contribute to his hometown in this way. 
The outside-the-box series had a successful first season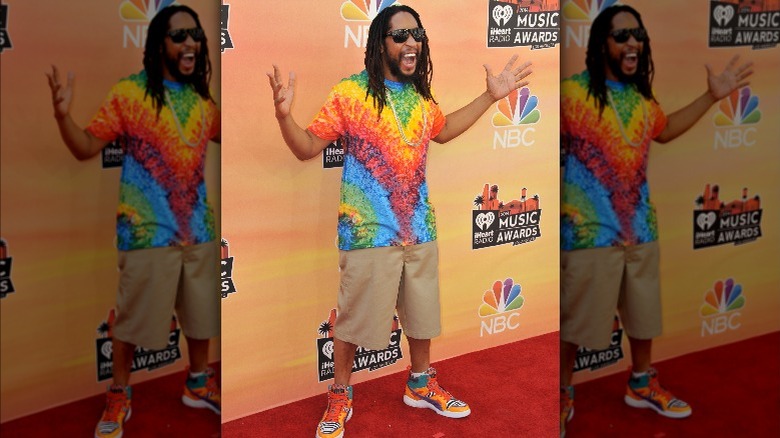 Featureflash Photo Agency/Shutterstock
If you tuned into "Lil Jon Wants To Do What?" during its first season and enjoyed the show, you're not alone. "The first season of 'Lil Jon Wants To Do What?' had millions of fans on the edge of their seats watching Lil Jon show us his out-of-the-box, over-the-top designs," Loren Ruch, HGTV's group senior vice president of programming & development, told Warner Bros. Discovery. Season 1 of the HGTV series had over 12.7 million viewers, with many taking to social media platforms, such as Twitter, to express their delight with the show and its renovations.
On the May 24, 2022, episode, the rapper-turned-designer and his partner, Anitra Mecadon, faced a major challenge when their clients' budget was reduced to $85,000. Yet, Jon and Mecadon slayed with their kitchen design, which featured bold blue cabinets, a large island, and new wood beams and lighting.
"I love this house they designed. This kitchen is so me," tweeted user @foodhopeandlove (via Meaww). The show made an especially profound impact on one user, @cdvanwilligen, who tweeted, "I made it 54 years of life without caring about home improvement. Now, HGTV is on my TV at least once a day, and I'm sitting down to one of my new faves ['Lil Jon Wants To Do What']. Great to see one of my club days staples follow me into the home renovation abyss." 
The show returns for Season 2 in July 2023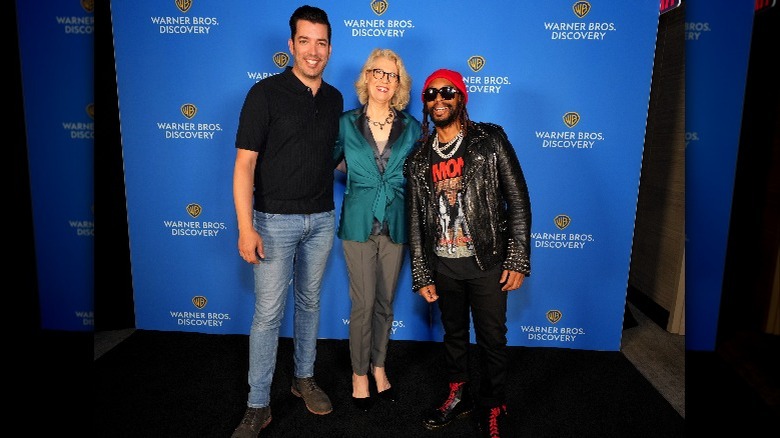 Kevin Mazur/Getty Images
Thanks to the popularity of the first season of "Lil Jon Wants To Do What?" HGTV renewed the series for Season 2. HGTV Group Senior Vice President of Programming & Development Loren Ruch told Warner Bros. Discovery, "The new season will see [Lil Jon] and Anitra [Mecadon] crank up their remarkable creativity even more." Of the second season, Lil Jon shared, "I'm excited to be back! Ready to give people more unique ideas and go even bigger for Season 2! Yeahhhhh!"
Season 2 of "Lil Jon Wants To Do What?" premieres Monday, July 10, with the first of the season's eight episodes. Speaking with HGTV about the new season, Jon elaborated, "We went bigger, bolder and way outside of the box for these families. It's been an incredible experience and I'm excited that soon we get to share it with everyone." He added, "Get ready for a wild ride!"
This "wild ride" of a second season, per HGTV, includes even more exciting projects for the design duo to tackle, including transforming a colonial-style home into a futuristic dance club with a huge disco ball and turning another space into a home theater meant to resemble a private jet.
You'll see another side of the rapper, producer, and DJ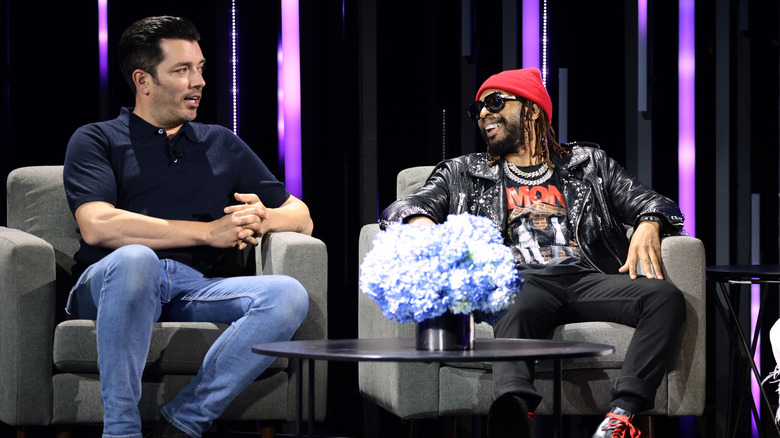 Dimitrios Kambouris/Getty Images
You probably never expected to see the "Get Low" and "Salt Shaker" hitmaker on the family-friendly HGTV network helping to design updated, yet unexpected, spaces for clients — and we love it.
Viewers get to see the multi-talented rapper on late-night Etsy searches for just the right home decor item and sweetly collaborating with his designer partner, Anitra Mecadon, to get each job done. "There's many facets of Lil Jon, as we all know from the Dave Chappelle sketches," the iconic rapper shared in an interview with People. "It's not all about screaming and partying on this HGTV show. It's really about catching a vibe from people, listening to the homeowners, and [giving them] a place where they can create memories with their family."
With "Lil Jon Wants To Do What?" the star is excited for long-time fans to get to know him outside his music. "People just look at me as the crazy guy screaming, but you can't be like that all the time," he told The Hollywood Reporter. "I'm not like that 24 hours a day."
Anitra Mecadon renovated and designed Lil Jon's home and some of Atlanta's most popular spaces
You may wonder how Lil Jon teamed up with his designer co-star Anitra Mecadon on "Lil Jon Wants To Do What?" Well, for five seasons, she starred on the DIY network's "Mega Dens," a home renovation show that the iconic rapper and producer told People he "binge-watch[ed]." When a pipe burst in Jon's Atlanta house and caused a flood, parts of the house needed to be completely gutted. Jon had worked with three different contractors when he decided to contact the home renovation and design expert to work on his own massive project, making it one more stunning home owned by an HGTV star.
While he'd already been impressed by Mecadon's work on "Mega Dens," he loved the unique spin the designer brought to his own ideas. "It took the design from basic to over-the-top upscale classiness," he told the magazine. "That was one thing that made me say, 'Wow, she really knows what she's doing.'"
Mecadon has design experience in both residential and commercial spaces, including popular restaurants, boutiques, galleries, and nightclubs. Mecadon shared her personal design philosophy on Instagram, writing, "I believe the best designs come from people that live outside the box — original thinkers, artists and craftsmen that create for the love of creating — rule breakers that don't follow the trends, but dare to create them."
The rapper-turned-TV star has long had a passion for home design
While Lil Jon partners with full-time interior designer Anitra Mecadon on "Lil Jon Wants To Do What?" that doesn't mean the rapper-turned-HGTV star isn't the real deal. "Because he was so creative, he's naturally good in this world," Mecadon told The Hollywood Reporter. "He did his research; he was watching the shows; he was making what we call inspiration boards and taking notes ... He has a vision, which is kind of rare."
Jon is not only skilled at design, but he's also passionate about it. "I just really fell in love with doing this by putting my house together and pushing the limits of what I could do," he told The Hollywood Reporter.
Speaking with chef Rachael Ray, Jon said he's discovered a lot of synergy between the worlds of music and design. "It's amazing for me because it's a whole new world, but it's kinda like how I create music," he explained. "It's like when you're in the studio, ideas just flow. And that's exactly how my design style is. When we walk into a home, the home speaks to me, you know."
His HGTV series is not Lil Jon's first foray into television
Though it may be unexpected for Lil Jon to land his own HGTV series, he's pretty much a reality television regular. Jon's done quite a bit of television since appearing on "The Apprentice in 2011, including "Bar Rescue" and "Tiny House Nation" (perhaps foreshadowing his HGTV future). And, if you're a fan of "The Bachelor," you'll probably remember his 2021 stint as the host of "Bachelor in Paradise" after Chris Harrison's departure from the role. "It was a crazy season, and it was fun," Jon told People. "If they called me back to do some more stuff like that, I would definitely do it."
Shifting to TV has also been a smart career move for the musician. "You have to grow, because the music is not going to always be relevant," he shared. "I learned early on, you've gotta be able to adapt and change and grow and always stay ahead, because if you're kind of behind, you're going to get left behind."
Despite his TV work, Jon isn't giving up on his music. He performs regularly in Las Vegas nightclubs through a residency with the TAO Group, and he collaborated with Daddy Yankee and Alfa on the 2022 single "Bombón." He's clearly staying booked and busy. He told People, "[There's] a lot more for me to do, like 'Lil Jon Wants To Do What?' That's the next stage of my life."
The idea for the show was sparked by Anitra Mecadon's husband
While collaborating on Lil Jon's own home renovation project after his house was flooded, he and Anitra Mecadon found they worked well together. Jon was impressed that the designer really grasped his vision for the bold designs he wanted to add, while Mecadon was equally as impressed by Jon's natural intuition for design and the knowledge he had accumulated from his research, travels, and home renovation show binge-watching. "Through working with Anitra, we just figured out that we work really well together, and Anitra's husband, Adam, was like, 'Y'all should really do this together for real because y'all work so well together, and y'all both have really good ideas,'" Jon told The Hollywood Reporter. "And so we ended up shooting a pilot, and a couple years later, HGTV picked it up."
Lil Jon is someone with no shortage of big, crazy ideas — some of which are easier to implement than others. He clearly enjoys helping clients move away from choices that feel too safe. "It's just really fun, man, because people want to get out of their comfort zones, but they really don't want to get out of their comfort zones," the rapper-turned-HGTV star shared in an interview with Rachael Ray. "So, someone like myself and Anitra, we come in and we push the envelope."
This design duo makes an effort to stretch every dollar
When Lil Jon designed his own home, he had the budget to accommodate his every whim. However, when designing for clients on "Lil Jon Wants To Do What?" he needed to work within his clients' budgets. "Anitra [Mecadon]'s always trying to juggle and save," he told People. "I'm like, 'Hey, no, we just do this.' [And she says,] 'No, Jon. We don't have it in the budget.'"
It seems that the rapper ultimately adjusted to these restraints even more than he let on. "Jon has such a passion for this, and he's so considerate of the homeowner's wants and needs and financially the money they have to spend," his design partner explained during a TCA press conference (via Laughing Place). For example, to get the high-end materials their clients desire at a price that aligns with their budgets, the designers shop for remnants or "broken slabs" of highly sought-after stones such as marble, granite, and quartz. Mecadon added, "You've got to get creative when you're doing builds as grand as we're doing with design ideas as wild as the ones that come out [of] our heads."
Lil Jon and Anitra Mecadon have a method to their design process
When watching "Lil Jon Wants To Do What?" on HGTV, we've seen the "Turn Down for What?" hitmaker come up with some wild ideas. However, as Lil Jon explained to People, even his impossible proposals can still be helpful for the design duo, as they sometimes serve as inspiration for other ideas.
Jon explained during a press conference for the show (via Laughing Place) that much more goes into their work than just him walking into a house and shouting out his vision for the space. "My personality is really out there, they think that's what I'm doing in these houses and that's not what it is," he shared. "It lends itself to the family, what they need in the house." He also spends a considerable amount of time getting to know the homeowners and listening to their wants and needs.
Jon's partner, Anitra Mecadon, added that the musician has especially strong listening skills, which translates well to this work. "I mean, if you think about it, in the world of music, that's all auditory, and they get it," she reflected. "He's listening to everything they want and need."
There's more to those rounds of shots than you might think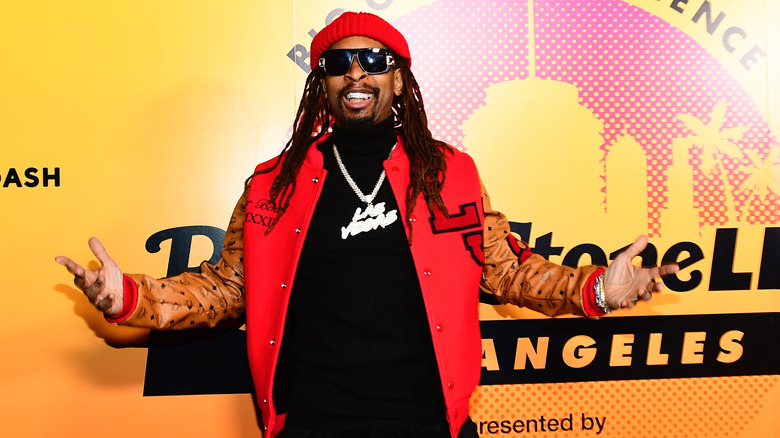 Chelsea Guglielmino/Getty Images
At the onset and completion of each project, Lil Jon has started a mini-tradition that's totally on brand for him: Offering a round of shots to the group. While, on the surface, it's easy to dismiss this as the rapper just looking for an excuse to have some fun, as he explained to The Hollywood Reporter, the drinks have a deeper meaning. 
Jon is very much aware of his public persona and that, while homeowners may be excited about the opportunity to have their home undergo an HGTV transformation, his clients may be just a bit worried about what they've gotten themselves into. "It's kind of something to break the tension of thinking about what's about to happen and how much you're spending and like, 'Oh, my God, this is Lil Jon in my house — hopefully this is right," he told the outlet about the pre-project shots. He explained that the drinks at the end of the renovation say, "'We made it to the finish line. Let's cheers to that.'"
In the end, he loves seeing the look on the homeowners' faces when they witness the design magic that he and his partner, Anitra Mecadon, have made together. He also joked, "You know, who doesn't wanna do a shot of tequila with me?" Since many of their clients are Millennials, we're hard-pressed to come up with an answer.
Get extra content related to the show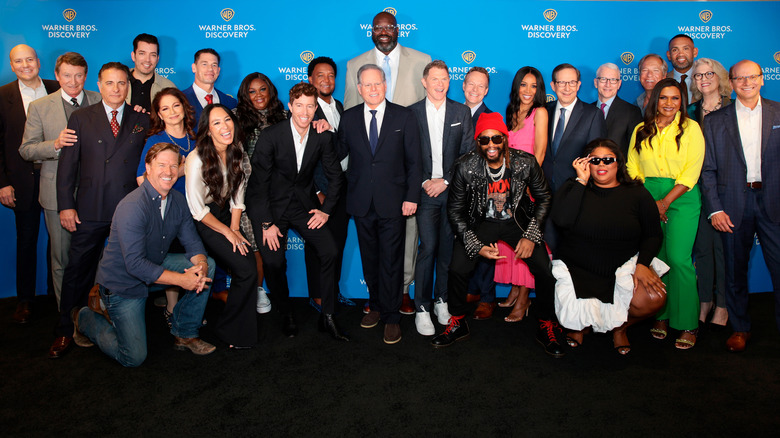 Dimitrios Kambouris/Getty Images
If you want to learn more about "Lil Jon Wants To Do What?" than you see on HGTV, you have a few options. The show's official HGTV website features blog posts where you can read about the show and its stars. And, if you've missed any episodes, this is also the place to find them. As of July 2023, only the episodes from Season 1 are available, but we're sure that once Season 2 kicks off, those episodes will be added for your viewing pleasure.
While the series itself doesn't appear to have its own Instagram account yet, the show's stars, Lil Jon and Anitra Mecadon, occasionally post about the show on their respective Instagram pages. You can also search "Lil Jon Wants To Do What?" in hashtag form on Twitter or Instagram for more content related to the show. We certainly can't get enough of Lil Jon's journey from rapper to HGTV star.