How Donald And Ivana Trump Shielded Their Children From The Fallout Of Their Split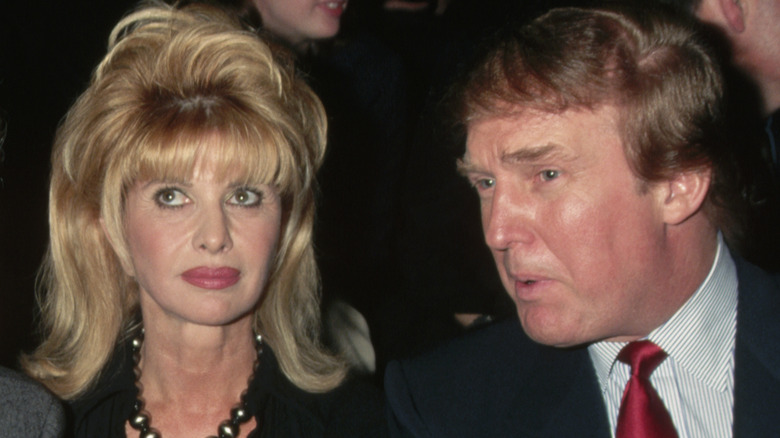 Mitchell Gerber/Getty Images
Before Ivana Zelnícková traded in her last name for Trump, she was a model. She and Donald Trump met in 1996 when she was in New York City for a fashion show. That same night, the two started dating. Nine months later, they were husband and wife. The rest is history that will forever be in the archives of entertainment news. Although, their divorce was a bigger scoop than their wedding.
Donald and Ivana Trump's divorce was a front-page story. The drama heightened when Donald's affair with Marla Maples, who later became his second wife, surfaced. Tabloids had a frenzy highlighting the end of their 15-year marriage and how New York's biggest socialites would split their multimillion-dollar empire. But it wasn't just money and time Ivana and Donald shared. Behind the gossip headlines, there were three children impacted by their parents' divorce.
Donald Jr., Ivanka, and Eric Trump were youngsters when their mom and dad's matrimony ended in 1992. Despite the disastrous end to their relationship, Donald and Ivana teamed up to protect their children from the fallout. They limited the media in their household and never let a bad word about the other slip.
Donald and Ivana Trump remained united in front of their children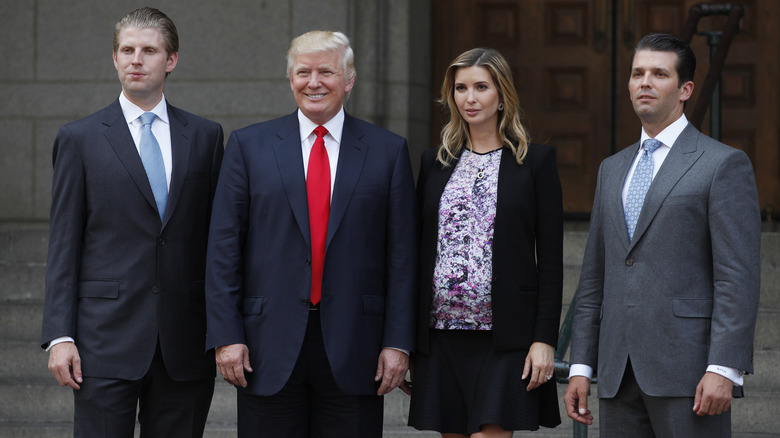 Bloomberg/Getty Images
While Ivanka Trump was just a young child when her parents divorced, she recognizes the efforts they went through to safeguard her and her siblings. "They did a remarkable job protecting us from something largely outside of their control," the eldest Trump daughter told People. "We didn't have newspapers in the house for a significant period of time and the TV wasn't on when they weren't there."
Donald and Ivana Trump limiting the print and broadcast of their private life helped keep the rumors and ugly truth at bay. However, what made the greatest impact wasn't what they shielded their children from, but what they united to do.
"Really the way in which they helped us the most was by being supportive with one another, not disparaging the other in front of us, recognizing that and communicating that there was still tremendous affection between them and that there would always be great love for us," Ivanka added. It was part of Ivana's secret to parenting Eric, Ivanka, and Donald Jr. amidst a public divorce. However, the eldest Trump child had a slightly different experience than his younger sister.
How Donald and Ivana Trump's divorce impacted their children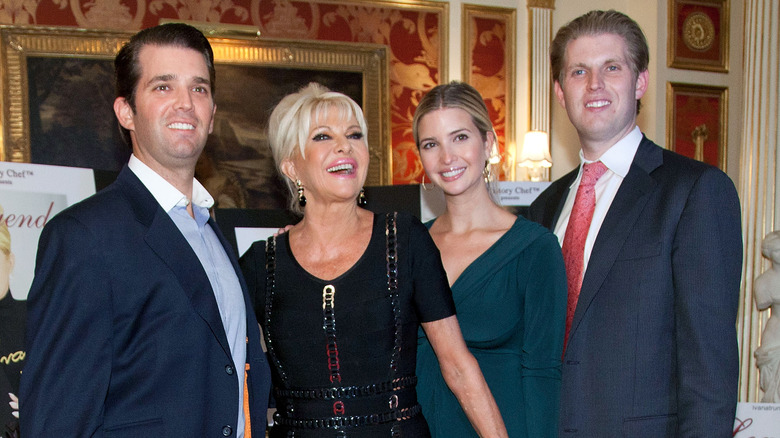 Ben Hider/Getty Images
Ivana and Donald Trump could hide the newspapers and TV at home, but outside there was little protecting their children from the gossip. Donald Trump Jr. recalled classmates bullying him because of his parents' drama and seeing the explicit headlines of their separation. "Being driven into school every day and you see the front page and it's divorce! The Best Sex I Ever Had! And you don't even know what that means," the namesake told New York Magazine. "At that age, kids are naturally cruel. Your private life becomes very public, and I didn't have anything to do with it: My parents did." After his parents' divorce, Don Jr. didn't speak to his father for a year.
While Ivana had full custody of her three children, and Donald lived in a separate home, the Trump kids relied on each other. From Eric's perspective, the youngest of the three, his parents' separation sparked a close-knit sibling relationship. "Donny, in a way, is like a mentor. He kept tabs on everything that my grandfather taught him over the years and that I was too young to appreciate," Eric shared with New York Mag. "And I'm definitely closer to Ivanka because of it. She took me under her wing and raised me, took me shopping, tried to make me cool."
In the end, the Trump children survived the nasty divorce with the help of brotherly love and their parents' showering of affection.