Jennifer Lawrence Had An Unusual (But Charming) Response When Cooke Maroney Proposed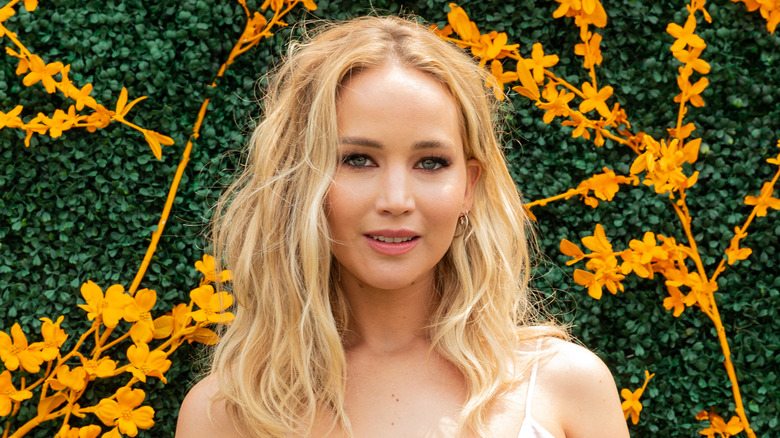 lev radin/Shutterstock
Jennifer Lawrence is known and loved for her iconic personality. Whether she's walking the red carpet, giving a speech, or being interviewed on a talk show, her authenticity shines through and causes fans to fall in love with her, even more, every time. Of course, part of Lawrence's charm is not always saying the right thing at the right time. Her slight awkwardness is endearing but all too relatable, and her personal life is no exception.
When it comes to such a momentous occasion as getting engaged, typically the person getting proposed to has one job: say yes. However, when Cooke Maroney popped the question to Lawrence after about a year of dating, the actress was filled with shock and gratitude.
People recapped an interview Lawrence did with the YouTube channel Chicken Shop Date, where she explained how anxious she actually was to become a fiancé. Needless to say, she was also really looking forward to the moment Maroney asked her to marry him. Lawrence had envisioned the way things should have played out. However, when it was actually happening, she just repeated the word "what" and then kept thanking Maroney.
Lawrence didn't always have her eyes on a ring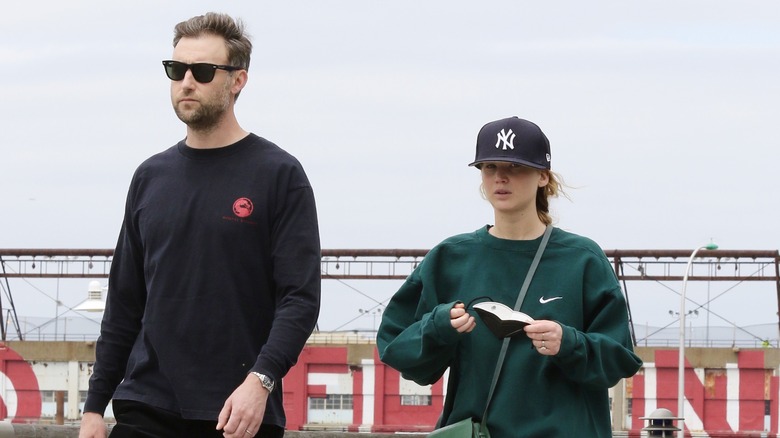 Mega/Getty Images
While Lawrence's response to getting engaged wasn't the perfectly curated moment she thought it would be, she was true to herself and her reaction seemed very on brand. According to Us Weekly, the actress got pretty candid during a podcast episode of "Naked with Catt Sadler," saying that she found "the one" and referring to Maroney as "the greatest person [she's] ever met."
However, finding a husband or the thought of married life wasn't even on Lawrence's radar before meeting her now-husband through a mutual friend. Once Maroney came into her life though, they both wanted to take their relationship to the next level. Understandably, marriage provides a sense of commitment and security, with Lawrence adding that she wanted to "legally bind [Maroney] to [her] forever."
Their romance just goes to show how much can change when the right person comes into your life. After all, the pair were first said to be linked in the summer of 2018 and reportedly got engaged in early 2019, which ultimately isn't a lot of time to get to know someone.
The love birds like to keep a low profile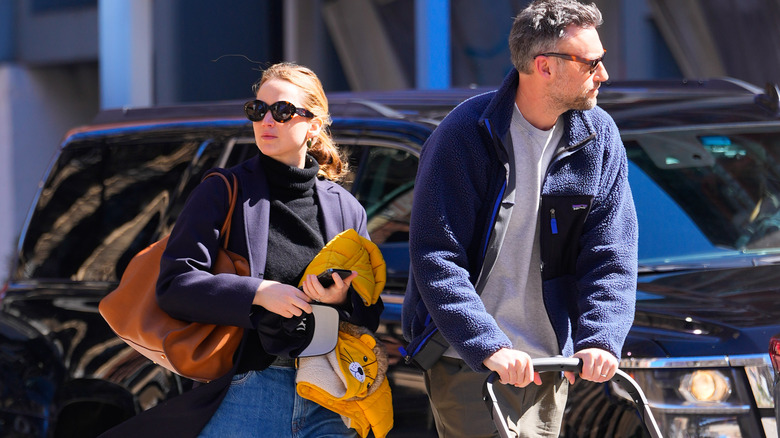 Gotham/Getty Images
Of course, once you get older and know exactly what you want from a partner, it's easier to have clarity when you finally find your person. Plus, Lawrence worked hard to keep her relationship private and grounded, despite having such a public image. If you were wondering who Jennifer Lawrence's husband, Cooke Maroney is, you won't be able to find much. Maroney is an art gallery director in New York but he even has a private Instagram account, which is almost unheard of these days, especially when dating a celebrity.
While Lawrence and Maroney were only engaged for 8 months, they were never planning on anything huge for their wedding celebration. According to a source close to the couple, their motto was "simple and sophisticated" when it came to tying the knot. Ultimately, the couple's fall wedding was a small gathering in Rhode Island, but the guest list included some major celebrities like Kris Jenner, Emma Stone, Cameron Diaz, and Adele!
While a wedding filled with A-list celebrities sounds like a dream, Jennifer Lawrence is relieved she didn't 'freak out' and cancel her wedding because she wasn't always confident in her decision to get married. She even told the New York Times in a 2022 interview that it's hard to find your place "when you don't fully know yourself." Luckily, she pushed any doubts out of her head and is so thankful she didn't let her anxiety prevent her from building a beautiful family.