Who Is Matt Damon's Wife, Luciana Barroso?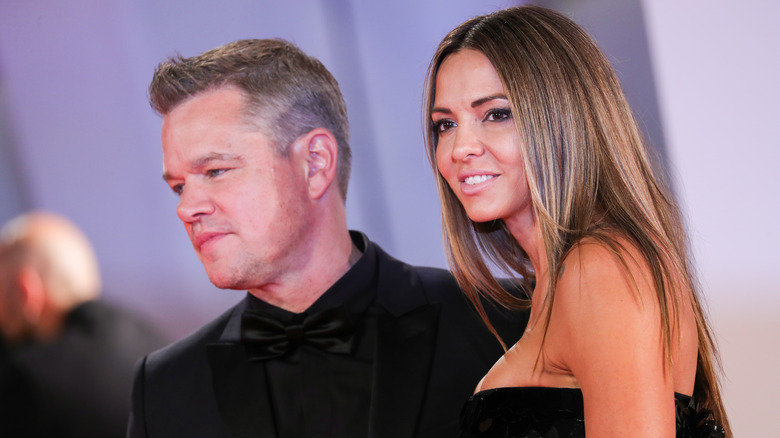 Vittorio Zunino Celotto/Getty Images
Although Matt Damon's most famous relationship might be with his friend and business partner, Ben Affleck, he's also enjoyed nearly two decades of marriage to his wife, Luciana Barroso. The pair tied the knot in 2005, something Damon wasn't sure he'd ever do. "I remember thinking, in my early 30s, that I wouldn't [get married], you know?" Damon told The Hollywood Reporter. That all changed when he met Luciana Barroso in 2003.
Barroso, who was born and raised in Argentina, was working as a bartender in Miami, Florida at the time. Damon was in the city shooting the movie "Stuck on You." Although the "Good Will Hunting" star tends to romanticize their first meeting, Barroso is much more realistic. "Matt's story is that he saw me across the room and there was a light on me. And I'm like: 'yeah it was a nightclub — there were lights everywhere!'" she told Vogue Australia. A few aggressive fans were asking Damon for autographs, and he sought refuge behind her bar. Instead of letting him hide, she put him to work making drinks — fortunately, he had studied how to bartend for a movie role years before. "He made me a ton of money in tips that night because of course everyone wanted to go and see him," Barroso recalled.
Just two years after their rom-com-esque meet-cute, the couple exchanged their "I do's" in New York City. As Damon told Parade, embedded in their wedding bands are small diamonds passed down by his maternal grandfather.
Luciana Barroso is the inspiration behind Matt Damon's first tattoo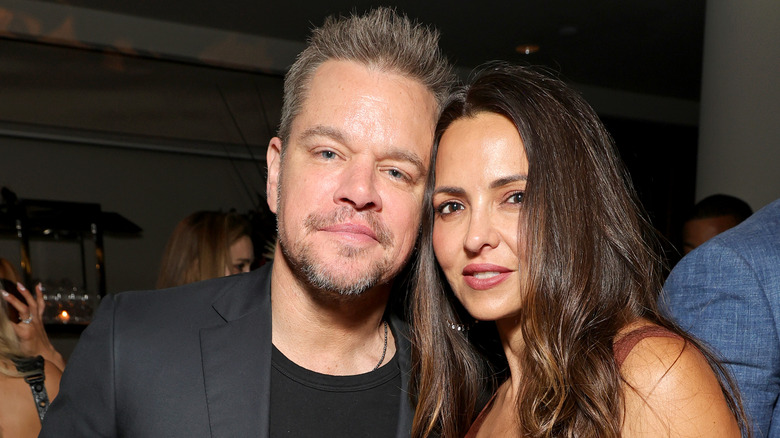 Kevin Mazur/Getty Images
Matt Damon got his first tattoo in 2013. It wouldn't have happened without the urging of his wife, Luciana Barroso. "She just announced it," he told GQ. "We were in our apartment in Manhattan, and she was, like, 'We're getting tattoos.' I was, 'Okay.' " The actor immediately called Scott Campbell, the man responsible for all of Heath Ledger's body art and one of Hollywood's richest tattoo artists. Campbell tattooed the name "Lucy" (Luciana's nickname) on Damon's arm along with a spiraling line meant to pay homage to Ledger. Barroso got a matching design. In 2019, the actor added the names of their four daughters, Alexia, Isabella, Gia, and Stella.
Alexia, who was four years old when Damon and Barroso met in 2003, is a product of her first marriage. "He said: 'I love that you're a mum and that's your priority'," Barroso recalled. She's committed to bringing up her daughters with plenty of self-confidence, respect, and compassion for others.
Luciana Barroso and Matt Damon are friends with other famous couples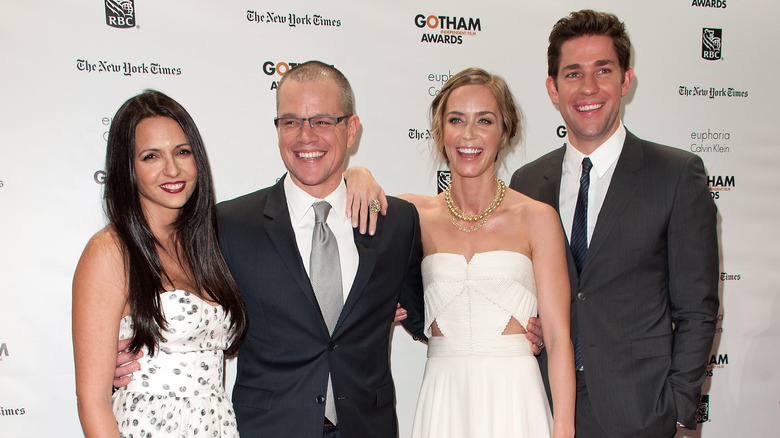 D Dipasupil/Getty Images
Matt Damon isn't the only person Luciana Barroso has a matching tattoo with. She also got one — three dots on her pinky finger — with Chris Hemsworth's wife, Elsa Pataky. "[Matt Damon's] wife is Argentinian so we speak Spanish. So for me it's a relief, yes, somebody I can speak Spanish with! We've become very good friends," Pataky revealed to People. The families have booked vacations together, celebrated the holidays together, and were even neighbors in Byron Bay, Australia.
Along with Elsa Pataky and Chris Hemsworth, the Damons are also friends (and neighbors) with Emily Blunt and John Krasinski — it really pays off to have multiple homes. "We all became friends and then they moved to Brooklyn and they said 'We found this amazing building.' And of course, we were like, 'We'll live in the same building!'" Emily Blunt told People, adding that they have regular Sunday night dinners. 
All in all, Barroso likes to keep her private life private — she doesn't have any forms of social media. However, the former bartender does make regular red-carpet appearances with her husband and A-list friend group.