What Happened To Tori Spelling's Inheritance From Her Father?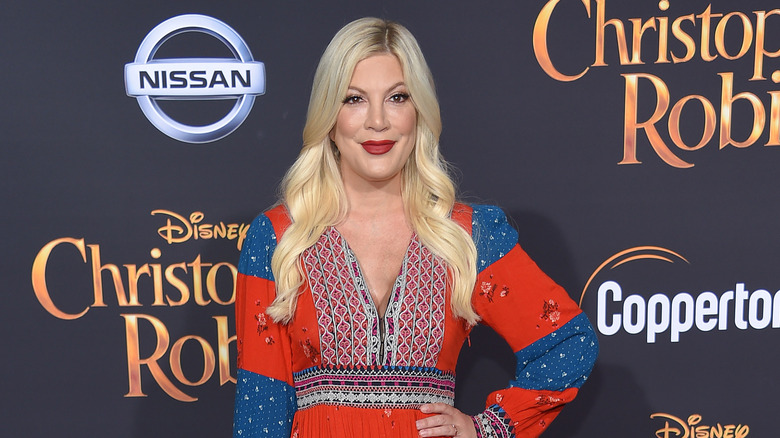 DFree/Shutterstock
Having a lot of money means having the time to pursue your passions and enough financial freedom to cater to the needs of your family and friends. A sizable fortune also means that you can ensure your loved ones are well looked after once you've crossed over to the great beyond and that they would be expecting it as your lawyer unravels your will. While many of us will never know what it's like to be waiting around to inherit $500 million lying around in cash, property, and assets, actor Tori Spelling does — or at least she did before her father, film producer Aaron Spelling, tragically passed away in 2006.
Aaron amassed his wealth by producing some of the greatest shows to ever grace television such as "Charlie's Angels," "Dynasty," and "Melrose Place." However, when he died, Tori did not receive an amount that one would expect the daughter of such a prominent, wealthy man to inherit.
Tori's dad willed her just under seven figures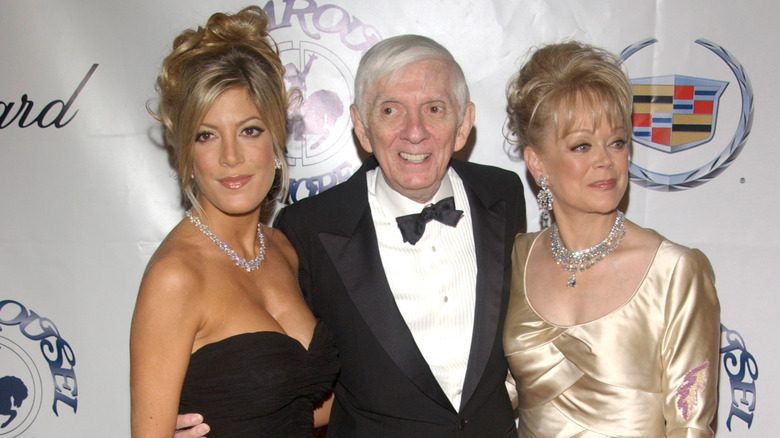 Featureflash Photo Agency/Shutterstock
When Tori Spelling's old man kicked the bucket, he left her what could be considered just a drop from his own bucket. Aaron Spelling was worth a staggering $500 million, a fortune that would make any heir buckle at the knees. However, when the time came to claim her inheritance, Spelling learned that her father had left her only $800,000. That might sound like a lot of money to some people, but for a daughter, it's relatively quite low — we're talking 0.16% of her father's total wealth. In comparison, that's like your dad being worth $50,000 and leaving you only 80 bucks.
The "90210" star told Good Morning America that she knew right off the bat how much her father was leaving her because he told her himself. "It was a hard conversation to have with him. I didn't want him to think that I was asking him for the money, or even talking about something so morbid as when he would pass ... he said, 'You're gonna be OK. I made sure. You're getting just under a million.'"
In everyone's mind, daddy's little girl should have gotten a lot more than 0.16% of her dad's wealth. It struck many as strange, but the "Death of a Cheerleader" actor admitted that her outrageous spending habits prior to his death definitely had some influence on the late multimillionaire's decision. She confessed that spending hundreds of thousands of dollars while shopping led her to into debt and almost filing for bankruptcy after her moneymaker show "90210" ended.
Tori's financial difficulties contine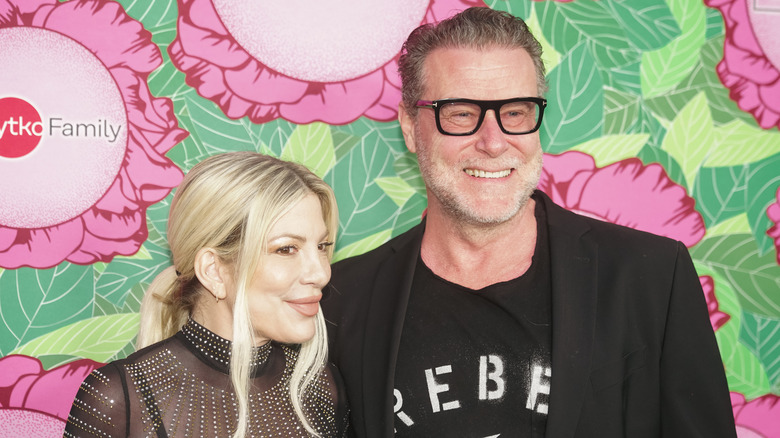 Andrew J Cunningham/Getty Images
Although Tori Spelling grew up with a lavish lifestyle, reality hit hard when her father, Aaron Spelling, passed away. The "Less Than Perfect" actor found herself out of cash and struggling to make ends meet. It appears she never quite regained solid financial ground. Spelling's mother, Candy Spelling, who inherited the vast majority of the Spelling estate, told TMZ in 2016 that she has been footing a lot of the bills in her daughter's household.
In addition to money woes, Spelling was having marital issues with her husband, actor Dean McDermott, and, in 2016, they found themselves almost $40,000 in debt and being sued by American Express for not paying up. In 2021, Spelling told Jeff Lewis Live that they were having marital problems again and that they slept in different rooms while her children and pets slept in her own bed. When Lewis probed her by asking, "So he's in the guest room?" the actor responded, "He's in a room."
Unfortunately, Page Six reported that McDermott eventually announced their divorce in 2023 via Instagram after a prior belief that such a huge step wouldn't be in the works due to financial constraints. The "Kiss The Bride" star also made headlines after several outlets reported that Spelling had moved her five kids with McDermott to a $100-per-night motel, and eventually to a friend's house. We have all our fingers and toes crossed in the hopes that Tori stays strong despite the hardship.