A Look At David Beckham's Legal Troubles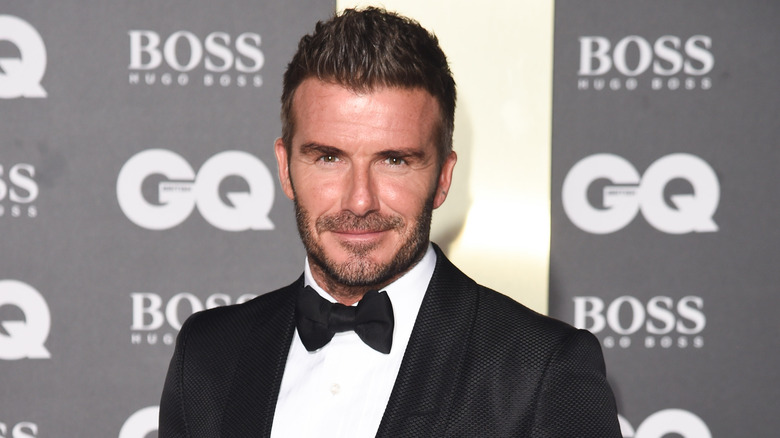 Featureflash Photo Agency/Shutterstock
As one of the most recognizable athletes in the world, David Beckham has appeared nearly all over the world. The athlete has played for some of the most prolific soccer clubs around. Playing for Manchester United, Real Madrid, AC Milan, and other soccer clubs, the midfielder has always been a star player.
With all his travels around the world, the international athlete has also seen the inside of a number of courtrooms. Though well-loved within the sports community, his star power has also drawn attention to his personal life and relationships. From several accusations of unfaithfulness to his wife Victoria Beckham to alleged assaults, the soccer star has been involved in various legal battles throughout his time in the spotlight.
Although David Beckham's stunning net worth can probably handle the bevy of court appearances the professional athlete has made, a considerable amount of his time has been spent either filing or fighting off lawsuits.
The Beckhams went head to head with a tabloid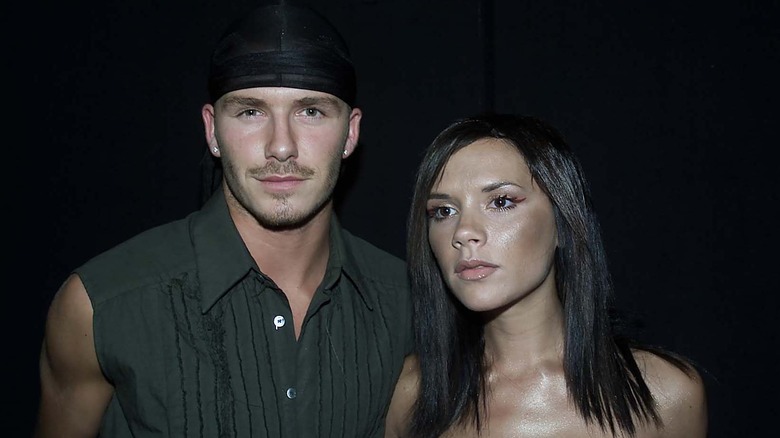 Ken Goff/Getty Images
After five years of marriage, British tabloid News of the World wrote a story in 2004 saying that the Beckham's marriage was falling apart. Headlined "Posh and Becks on the Rocks," the paper alleged that the soccer star had an affair with his former assistant Rebecca Loos.
In a TV interview with Sky One, Loos spoke of her supposed connection with the footballer. "I think the chemistry between David and I was so strong . . . people were aware and they weren't very happy," she said (via NZ Herald). Standing together, the Beckhams took News of the World to court for libel, saying the paper defamed their image by telling salacious lies.
The Beckhams eventually dropped the libel case, reaching a settlement with the tabloid in 2006. News of the World's publisher News Group Newspapers issued a final statement, saying "The defamation proceedings by David and Victoria Beckham against the News of the World have been resolved on a confidential basis. There will be no further comment," (per The Guardian).
David Beckham was accused of cheating by a magazine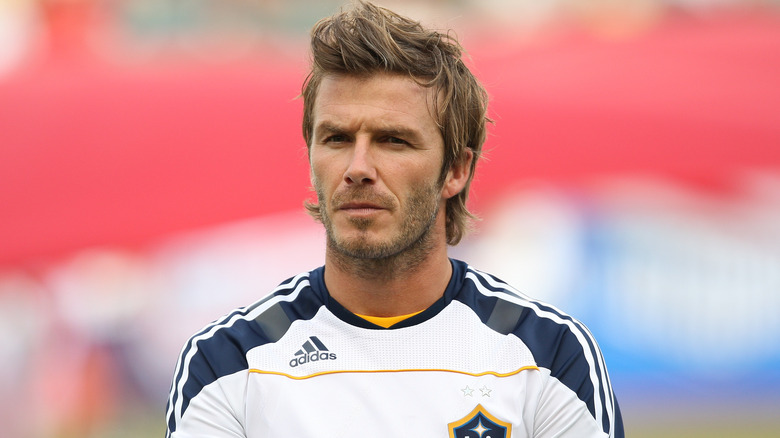 Photo Works/Shutterstock
A few years later, Beckham was accused of cheating on his wife with a sex worker. Per Huffpost, in a 2010 interview with InTouch, Irma Nici told the outlet that she slept with Beckham up to five times. According to her, the athlete paid Nici $10,000 to spend the night with him at a New York hotel in 2007. They allegedly hooked up later on in London.
Nici claims that during their night of passion, Beckham was nothing but a perfect gentleman. "He was very gentle and kind," said the then 26-year-old, according to HuffPost. Nici also remembered how thrilling the experience was. "It was a high," she said. "All of these women dream of being with him, and I got to hook up with him. It was very exciting."
Beckham, however, had a very different view of the situation. In a California court document obtained by the Daily Mail, he said he stayed at a different hotel with his teammates where he was getting a massage. "I recall that the therapist did not leave my hotel room until the very early morning. My security team was with me before, during and after the massage. After the therapist left, I went to sleep."
What legal action did Beckham take against In Touch?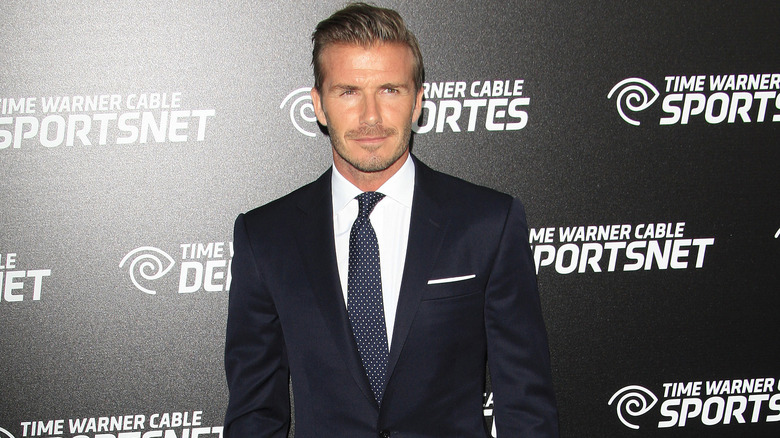 Joe Seer/Shutterstock
Shortly after the story was released, Beckham took legal action a few months later. He filed a lawsuit against both Bauer Publishing, the then-publisher of In Touch, and Nici for libel and intentional infliction of emotional distress. The father of four sued the two parties, claiming his innocence. Beckham, who sought $25 million in damages, said it wasn't possible for him to meet up with Nici in London either because he was spending time with his sick father in the hospital.
Within a few months, the court threw out the case, citing Nici's First Amendment right to freedom of speech. The judge also determined that Bauer Publishing and Nici, who described Beckham as a "7.5 out of 10" in bed (via Huffpost), had no malice in printing the story. Additionally, as a public figure, the private life of Beckham was one of interest to the public. Beckham appealed, but the case was eventually thrown out again.
Beckham sued by photographer for alleged assault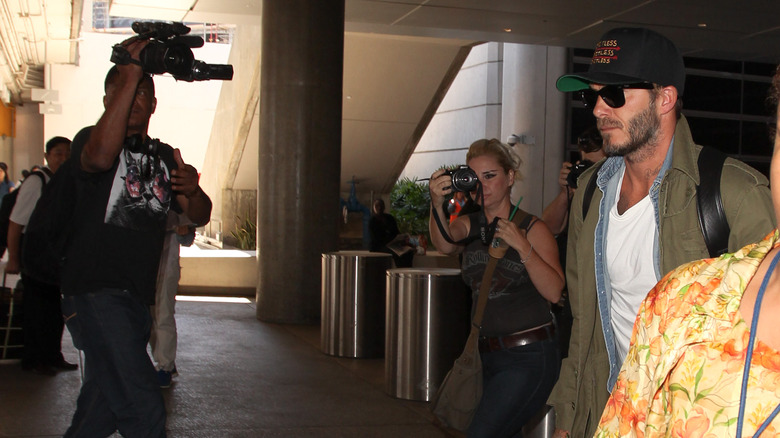 Keith Johnson/bauer-griffin/Getty Images
Like many celebrities out and about in Beverly Hills, Posh and Becks caught the attention of a photographer. However, the interaction, which took place in 2008, turned ugly when the paparazzo, Emicles Da Mata, claimed that David took his camera and his bodyguard assaulted him. Though no criminal charges were filed, Da Mata filed a suit against both Beckham and his bodyguard for assault, battery, and emotional distress.
"They can't just do this. They put me on the floor, they got my camera, and they threw it in the trash can. They can't do this to us," said Da Mata (via Digital Spy). Beckham fought back, charging against the claims in court. According to his legal team, Da Mata's injuries were sustained due to his own actions.
"The allegations against Mr. Beckham are false and are without merit. This is another in a long line of paparazzi cases where they chase celebrities and their families causing endangerment," said Beckham's lawyer in a statement obtained by Radar Online. The case was later dismissed.
The athlete broke the rules of the road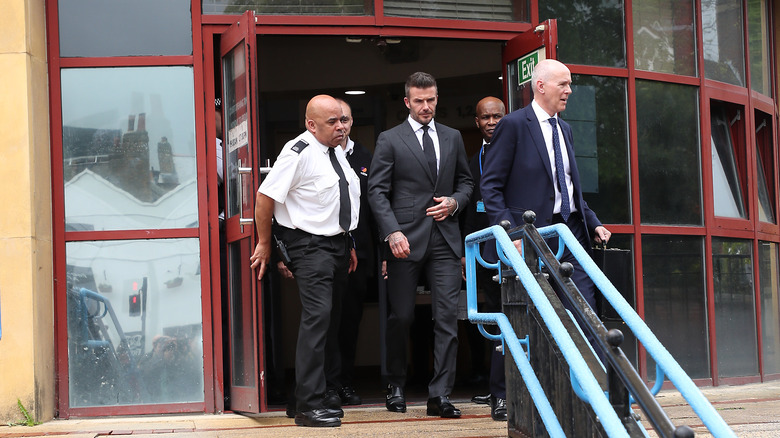 Neil Mockford/Getty Images
It's hard for public figures to avoid the responsibility of all their misgivings being constantly viewed via the spotlight. Whether it's witnesses challenging Harry and Meghan's paparazzi car chase claims or footage opening the floodgates of the Solange vs. Jay-Z beef, being famous puts you under constant watch. During a London drive in 2019, Beckham was caught using his phone behind the wheel.
While driving his Bentley through central London, a bystander took a cellphone picture of Beckham on his phone in the middle of stagnant traffic. Unlike the other claims, the English actor admitted to this one, pleading guilty despite not remembering the incident. According to U.K. law, drivers cannot operate a mobile device behind the wheel of a moving vehicle.
As a result, Beckham was fined £750 and had to pay an additional £100 in prosecution costs. After having six penalty points added to his license due to speeding, an additional six points brought him up to 12, effectively banning him from driving for six months.