Soap Vet Morgan Fairchild Is Mourning A Tragic Loss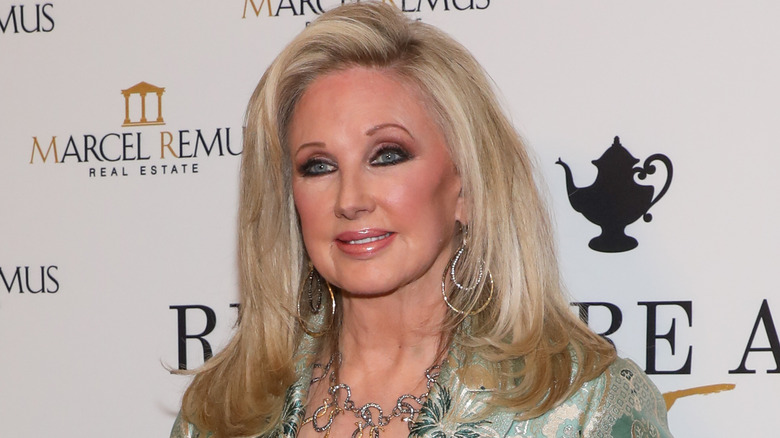 Paul Archuleta/Getty Images
In a series of heartbreaking social media posts, actress Morgan Fairchild announced the tragic death of Mark Seiler, her longtime partner and fiancé of 36 years.
The "General Hospital" veteran took to her various social media accounts to break the news to her followers. "#SadNews I'm so sorry to let you know that my beloved life partner & fiancé, Mark Seiler, passed away last Friday," she wrote on Instagram. The post features a black-and-white photo of a younger Seiler and Fairchild standing close to one another. The beautiful couple is dressed formally and look perfectly happy together as they smile at the people around them.
Fairchild went on to reveal that Seiler had been suffering from Parkinson's disease for years, but it wasn't the cause of his death. "It seems to be #LongCovid that killed him after his 3rd infection," the longtime soap star explained in her post before adding, "Please consider wearing a mask. #BeKind I am sending love to you all."
Morgan Fairchild 'in shock' following Mark Seiler's passing
Morgan Fairchild has become a well-known face for anyone who enjoys the juicy drama of a soap or a good belly laugh from watching a sitcom. The talented actress has appeared in numerous TV shows over the course of her career, including a role as Chandler's firebrand mother Nora Bing in "Friends." She's also played crucial roles on "Days of Our Lives" and "General Hospital," earning her the title of soap opera veteran.
Fairchild's many fans and friends are responding to her social media posts with their condolences during her time of mourning. MSNBC analyst Richard Stengel replied to her tweet on Seiler's death, writing, "So terribly sorry. Thinking of you." Fairchild wrote back, responding that she was grateful and "still kinda in shock" after Seiler's untimely passing.
Despite suffering from the tragic loss of her close partner, Fairchild took the time to send a reminder to others. "Hold your loved ones close," she gently prompted her social media followers.