Salma Hayek Once Turned Down Donald Trump's Proposal To Date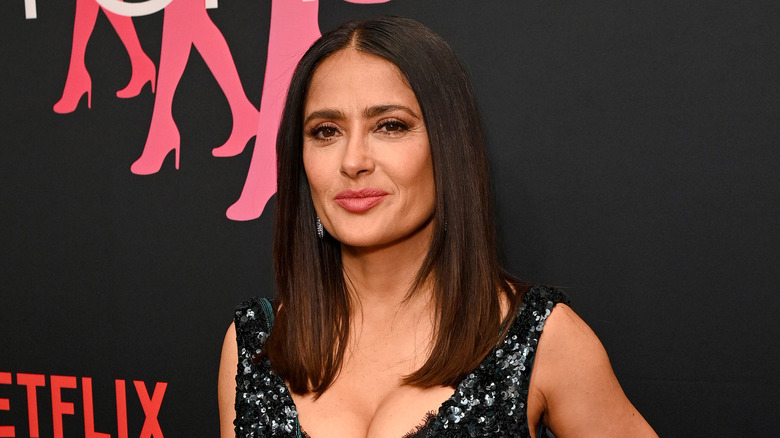 Bryan Bedder/Getty Images
Salma Hayek has long been considered one of the most beautiful women in Hollywood, so it shouldn't be a surprise to learn that she's had plenty of potential suitors vying for her attention over the years. Despite the praise she receives for her physical beauty, the "Frida" star has remained humble about her good looks and ability to stun crowds. In 2013, Hayek told InStyle that while many deem her alluring, "I have never tried to be as beautiful as I can be." Despite not prioritizing her physical appearance, Hayek did credit the effort she does make to her fashion mogul husband, Francois-Henri Pinault. 
The actress dated a few familiar faces before marrying Pinault on Valentine's Day in 2009. Hayek shared romances with actors Edward Norton, Edward Atterton, and "Sweet Home Alabama" star Josh Lucas ahead of igniting a spark with Pinault in 2006, according to People. However, she admitted in 2015 Allure interview that she kissed more than a few frogs over the years, too. Being something of a serial monogamist prior to getting married meant she didn't spend much time being single. However, that didn't stop American businessman and reality star Donald Trump from trying to win her over. 
Trump made multiple advances at Hayek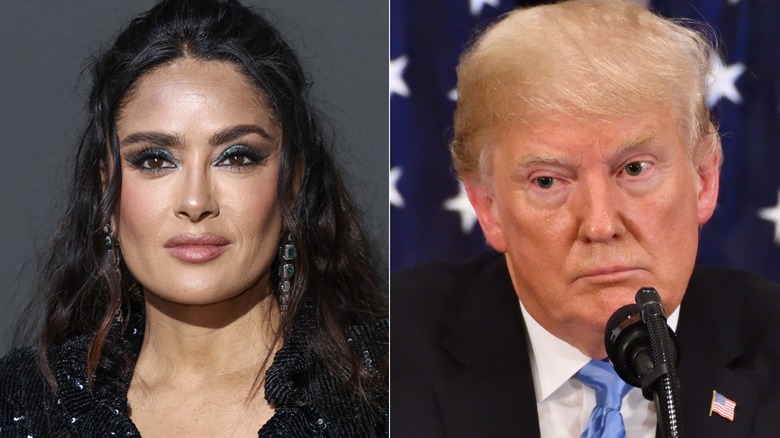 Evan El-Amin/Shutterstock & Mike Marsland/Getty
Selma Hayek has admitted to being pursued by former president Donald Trump even though she was already in a relationship. Shortly before Trump won the 2016 presidential election, Hayek opened up to Buzzfeed about the time he asked her out on a date despite meeting her while she was with her boyfriend. Trump exchanged numbers with the couple, but the only one the former "Apprentice" host was interested in contacting was Hayek — and that was to try and convince her to leave her boyfriend for him. "'He's not good enough for you. He's not important. He's not big enough for you," Hayek recalls Trump telling her.
To make matters worse, Hayek is convinced Trump planted a fake story about her to the "National Enquirer" in a bizarre bid to win her over. The telenovela alum recalls the tabloid quoting Trump as saying he wouldn't date the Mexican-born actress because she was too short for him. Once the report hit the press, Trump contacted Hayek to blast the tabloid and claim he would never say such a thing. Unfortunately for him, Hayek saw through the ruse. In the end, it wasn't just her boyfriend who stopped Hayek from accepting Trump's strong advances. The "Desperado" star says she wouldn't have dated Trump even if she wasn't already in a relationship when they met.
Selma Hayek blasted Trump's dumb border wall proposition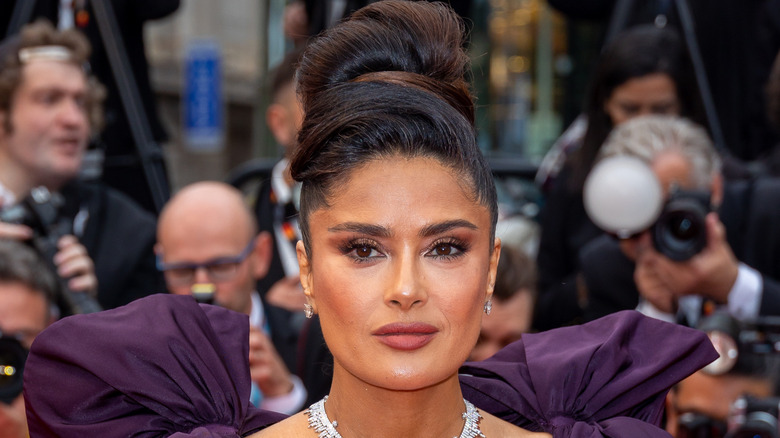 Marc Piasecki/Getty Images
Selam Hayek's disdain for Donald Trump only heightened during his presidential campaign ahead of becoming commander-in-chief. She was a proud supporter of Hillary Clinton and spoke out against Trump's call for a Mexican border wall he wanted the country to pay for. At the time, Trump threatened to stop Mexican Americans from sending money to their families in Mexico because of his demands for the border wall, as noted by The Washington Post. It was a move Hayek deemed "gravely serious" as a Mexican native who was also having her name tied to a 2008 charity auction Trump allegedly funded with money from the Trump Foundation, according to Buzzfeed News. The luxury trip cost $120,000 and included a dinner with Hayek, which put her in the hot seat during the height of Trump's controversial 2016 campaign. However, she felt people were focused more on Trump's fraudulently funded charity auction than his controversial border wall.
In April 2017, Hayek spoke with People to blast Trump's border wall proposition as "dumb," and shared her own ideas for immigration reform. If trying to date her while she was in a relationship or potentially planting a fake story about her in the press didn't turn Hayek off from Trump, coming for Hayek's native country certainly did.