The Truth About Salma Hayek And Edward Norton's Relationship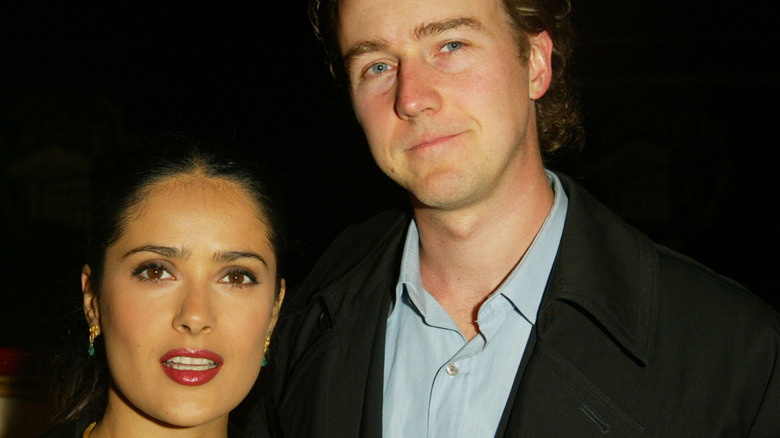 Matthew Peyton/Getty Images
For a short time in the early 2000s, Edward Norton and Salma Hayek were one of Hollywood's most talked about -– and most private –- couples. Reportedly set up by a chiropractor (via Zimbio), Norton and Hayek started dating in 1999 (via Cheat Sheet) before ending their relationship in 2003.
During the four years they were together, the public were rarely given a glimpse into their love life other than a dozen or so appearances at premieres and basketball games. Hayek discovered pretty early on into her fame "how nice it is to be able to have a life that is only yours" and that life "tastes better when it's more private" (via The Independent).
As the actress explained, she and Norton "did thousands of things and nobody knows" outside of the public eye. "Most of what is written about me isn't true," she told The Independent. "I would get more angry if I picked up the paper and thought 'Oh My God, how did they find out?' No, it's almost like I have a parallel life that no one knows about."
Edward Norton helped Salma Hayek produce the Oscar-winning Frida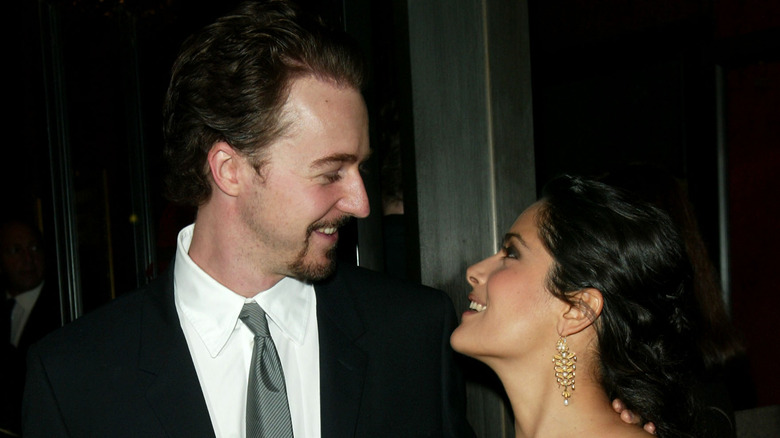 Evan Agostini/Getty Images
The only time that any drama from Salma Hayek and Edward Norton's relationship became relatively public was a result of the 2002 film "Frida." Both actors starred in the film and were heavily involved on the production side of things. In 2017, Hayek dove deep into the problems making "Frida," which stemmed from having to work with Harvey Weinstein.
In an op-ed for The New York Times, Hayek revealed she was nearly removed from the project by Weinstein after rejecting his sexual advances and was given a list of nearly impossible tasks as a result. This included rewriting the script and hiring four well-known actors to fill supporting roles. "Much to everyone's amazement, not least my own, I delivered," Hayak wrote, thanking her "phalanx of angels" that helped her on the project, "including Edward Norton, who beautifully rewrote the script several times and never got credit." She also mentions how for the four roles, she "recruited" Antonio Banderas, Edward Norton, Ashley Judd, and Geoffrey Rush.
It seemed they had an amicable split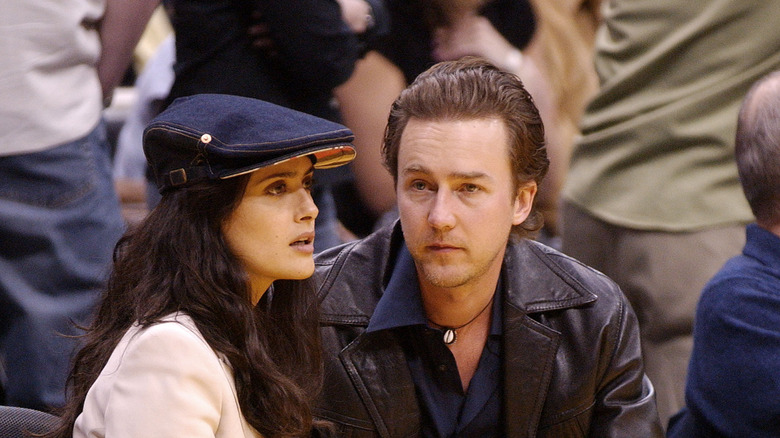 Vince Bucci/Getty Images
Salma Hayek and Edward Norton would eventually part ways in 2003, in what seems to be an amicable split. The news was first broken by Daryl Sabara, who was 11 years old at the time, while promoting "Spy Kids 3: Game Over," which Hayek also starred in. "She isn't with Ed Norton anymore," Sabara told NBC's "Today" show host Matt Lauer (via People). "You're going to get into trouble!" Lauer interjected, before changing the subject (via Chicago Tribune).
While neither star has commented on why they split, Hayek did somewhat allude to it when talking to Allure (via Entertainment Tonight) about her past relationships. "I wish I knew [when I was younger] that I was going to fall crazy in love with the perfect man," Hayek explained, talking about her husband François-Henri Pinault. "I was so worried, and I dated some people I shouldn't have dated. You get desperate, and you start seeing wonderful things in, like, the wrong guys. I also found some pretty good guys."