Inside Kate Middleton And Roger Federer's Friendship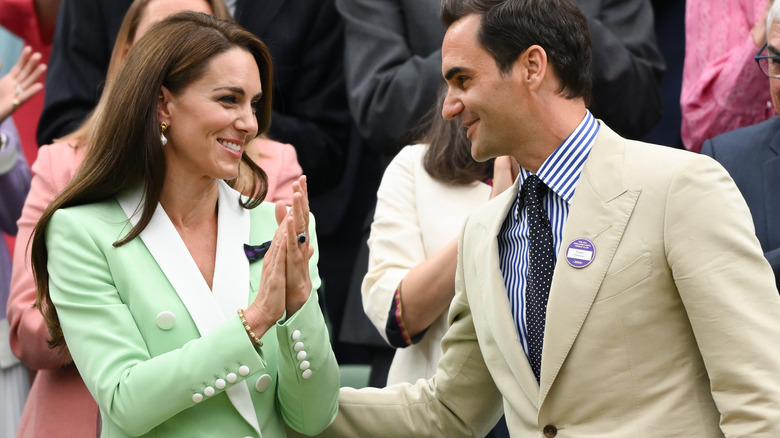 Karwai Tang/Getty Images
Catherine, Princess of Wales, loves all things tennis. We know this because we've seen her at Wimbledon almost every year for over 10 years running — and we're not complaining. Catherine serves hit after hit with her Wimbledon looks, routinely saying in the Royal Box. Catherine has a coveted seat because she's the patron of the All England Lawn Tennis and Croquet Club; however, this isn't drudgery for her as she's a long-time tennis fan.
Catherine expressed this in the 2017 BBC documentary "Sue Barker: Our Wimbledon" when she described her long-standing interest in the tournament. "Growing up, I obviously watched Wimbledon," Catherine began. "It's been very much a part of my family growing up. It's such a quintessential part of the English summer, and I think it really inspires youngsters — myself, it inspired me when I was younger to get involved in the game. It hasn't changed either, I think that's what's so wonderful."
Catherine expressed her love for the tradition of Wimbledon — the fact that everyone still wears white, the fact that the stadium looks as lovely as ever, and the fact that spectators can still get strawberries and cream. While Catherine loves Wimbledon itself, the tournament has also given her a lasting friendship with tennis superstar Roger Federer.
Kate Middleton and Roger Federer have been in each other's orbits for years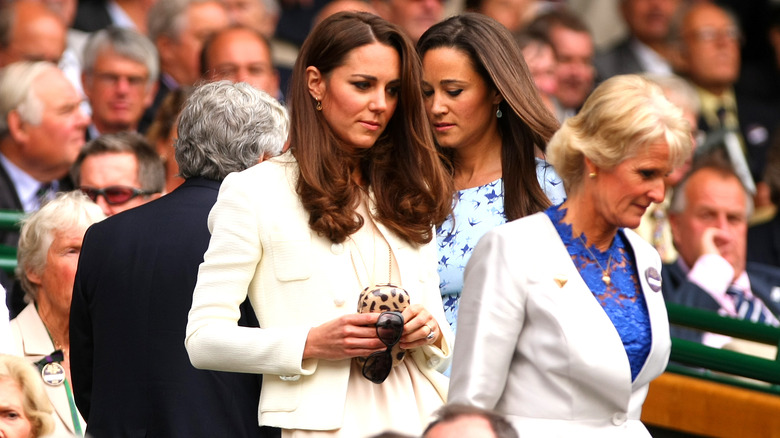 Matthew Ashton/Getty Images
There's no specific instance recorded that marks the beginning of Catherine, Princess of Wales, and Roger Federer's first meeting. Catherine attended Wimbledon before becoming a member of the royal family and has been a royal regular attendee since 2011, the year that she married Prince William. In fact, the only SW19 tournament that she missed was in 2013, when she was pregnant with Prince George and her doctor advised against attending. Back when Catherine was a newly minted royal in 2011, Federer played at Wimbledon, where he lost to Jo-Wilfried Tsonga, so the two have been in each other's orbit for over a decade at least.
Catherine's involvement in Wimbledon escalated considerably when the late Queen Elizabeth II made her patron of the All England Lawn Tennis and Croquet Club in 2016. Catherine's role became much more public, as she awarded winners with trophies. In 2019, when Federer lost to Novak Djokovic, Catherine was so immersed in the match and expressive that she spawned a series of memes. The usual royal poker face was long gone. After awarding Djokovic, Catherine gave Federer an affectionate pat on the arm in consolation. 
Catherine isn't the only Middleton who is close with Roger Federer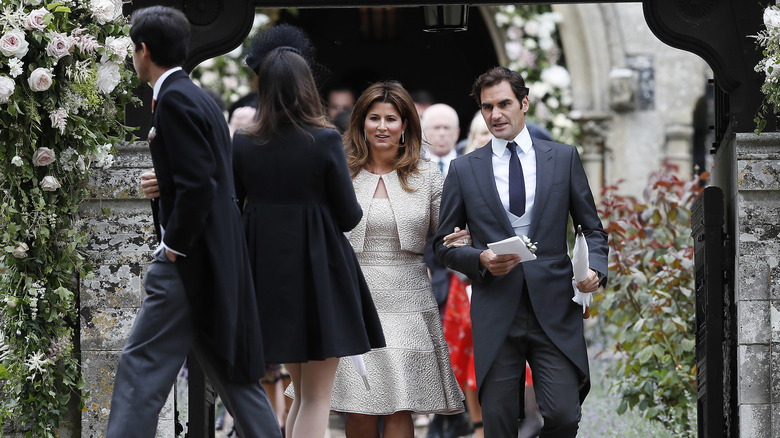 Wpa Pool/Getty Images
Roger Federer isn't just close with Catherine, Princess of Wales. He's tight with the whole Middleton clan. In fact, Catherine's sister Pippa Middleton may very well be one of the reasons that the princess and tennis player are such good friends. In 2013, she interviewed Federer for Vanity Fair, where fans discovered that the tennis god hits "a few thousand" tennis balls every day. Mercy! According to Express, Pippa was able to use her connections to land that interview with Federer, but they didn't lose touch afterward.
Pippa and Roger Federer obviously stayed close because he and his wife, Mirka Federer, were invited to — and attended — her wedding to James Matthews in 2017. Table tennis was even part of the reception, and Federer challenged Princes William and Harry to play against him, Express reported. The Middleton friendship seems to have remained strong, as Roger and Mirka were spotted in London having dinner with Pippa, James, and the Middleton matriarch, Carole, in 2018. Hilariously, no one seemed to pay much attention to the Middleton family, but fans flocked around Federer to get selfies.
Carole evidently has a huge crush on Federer (who doesn't?) and the juicy detail was dropped by none other than her daughter, Catherine. When interviewed in the documentary "Sue Barker: Our Wimbledon," Catherine spilled the beans: "He's is my mother's heartthrob. I don't think she will mind me saying that! I think he probably knows that too." Indeed, Federer is a favorite among the Middleton family.
Roger Federer gave Prince George a tennis lesson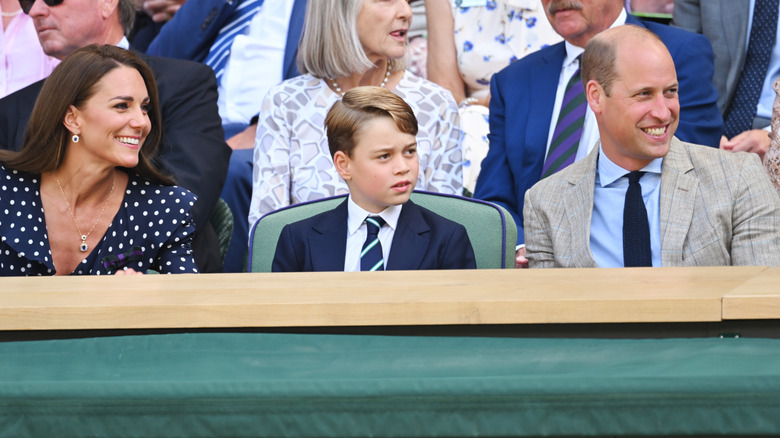 Karwai Tang/Getty Images
Prince William and Catherine, Princess of Wales, obviously love tennis because they have a court at their Norfolk home, Anmer Hall. In fact, in 2015, the Daily Mail reported, they paid over $75,000 to have their old court demolished and a new one put in slightly further away. Roger Federer appreciates how the family's love of the sport.
While speaking of Catherine and William's oldest son, Prince George, Federer said, "I love to see that they're into tennis or into sports ... his mum has always enjoyed their tennis ... I hope that he'll still say the same in a few years' time." 
In 2019, Roger Federer took a more hands-on approach in encouraging George to appreciate the sport. Roger Federer visited the home of Carole and Michael Middleton in Bucklebury, Berkshire to give the young prince a tennis lesson. Since George was so young at the time, Federer explained that the lessons mainly revolved around getting comfortable with ball handling. "At that stage it's all about just touch the ball, it's already good," Federer said of his tennis time with George. Federer continued, joking, "I'm the only player he's ever met. Then you have a little head start in who is your favourite player."
Princess Catherine broke royal protocol for Roger Federer
People went absolutely wild in 2017 when Catherine, Princess of Wales, and Roger Federer greeted each other with three kisses. Yes, that is the tradition in Switzerland, Federer's homeland, but it's uncommon to see people touching, let alone kissing, the royals.
Federer had just won the men's title and arrived in a room holding his trophy while he was greeted by excited guests. After hugging and kissing his wife, Mirka Federer, the tennis star then greeted Catherine by exchanging three kisses on the cheek. After that, Federer and Prince William shook hands. Naturally, the internet had something to say about it. "Roger got more kisses from Kate than Mirka," one person tweeted in 2017. "I guess Kate is used to the Swiss cultural '3 kisses' by now," another tweeted.
Another exchange occurred in 2023. Federer, who'd since retired, was given a standing ovation by the Wimbledon crowd. He walked to the Royal Box and first greeted his wife while fans cheered. He moved towards Catherine, putting a hand on her waist as if to kiss her cheek, but she turned slightly and kept clapping — perhaps a non-verbal cue to show that she wouldn't be breaking royal protocol this time. Catherine went on to give him another cue, according to John Lloyd of the BBC. "In the end, the ovation kept going on for so long that the Princess of Wales had to give him a little nudge and tell him to sit down."
They've collaborated together on multiple projects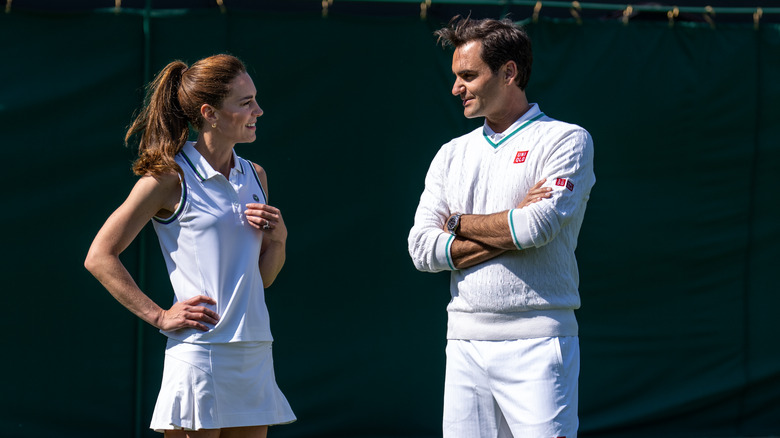 Handout/Getty Images
Catherine, Princess of Wales, and Roger Federer have joined up several times to put their clout and love of tennis to good use. In 2022, she and Federer teamed up to raise money for two charities close to her heart: Action for Children and the Lawn Tennis Association Foundation. Underprivileged children came for a day of playing with Federer to experience the unifying positivity of sports. To be fair, Catherine has collaborated with other tennis superstars too, like Emma Raducanu, so it's not like she only works with Federer on her sports-related charities.
Nevertheless, Federer appears to be the favorite, because in June 2023, The Times released a video of Catherine and Federer at Wimbledon to highlight the work of the ball boys and girls who bring their talent to the tournament. Catherine asked the boys and girls on court all about their training and whether the experience inspired them to take up tennis. The video showed Federer and Catherine's obvious bond, and their mutual love of the sport.
Side note: Who knew that she was so good at tennis? In one moment, she said to Federer, "Any tips on my serve at the same time would be very helpful." But Federer had only praise for the princess. "The serve looks good," he replied. While their video brought attention to their causes, it also emphasized their evident chemistry.
Roger Federer thinks Princess Catherine brings 'prestige to the tournaments'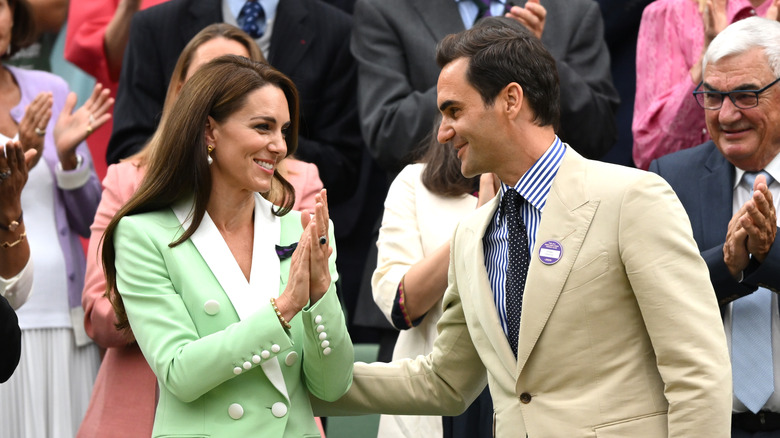 Karwai Tang/Getty Images
While Catherine, Princess of Wales, might be the literal royalty at Wimbledon, Roger Federer's legendary status as a tennis superstar lends him an athletic sort of kingship. British tennis player Andy Murray commented on the dual royalty of Catherine and Federer in the Royal Box after he won his first match at Wimbledon in 2023. "It was amazing to have some royalty here, but also some tennis royalty as well," Murray said of both Catherine and Federer.
Federer himself has commented on the royal clout that Catherine brings to the event. In fact, he couldn't stop singing her praises in the 2017 documentary "Sue Barker: Our Wimbledon." Federer said, "It adds even more prestige to the tournament seeing Princess Catherine there, Prince William," Federer said. "Who knows? Maybe in the future we'll see [some] of those people getting a Wimbledon trophy, as well. That would be beautiful, I think." Maybe if Prince George continues getting tennis lessons from Federer, he'll go on to compete.
Federer isn't totally off in his wistful dream of a royal playing at the famous tournament. Queen Elizabeth II's father, King George VI actually played in the doubles tournament in 1926 with his friend Sir Louis Greig. Unfortunately, they didn't make it very far. These days, the royals tend to be involved through patronage and their presence in the Royal Box, a tradition that Catherine has followed.
Roger Federer and Princess Catherine became the subject of rumors at Wimbledon 2023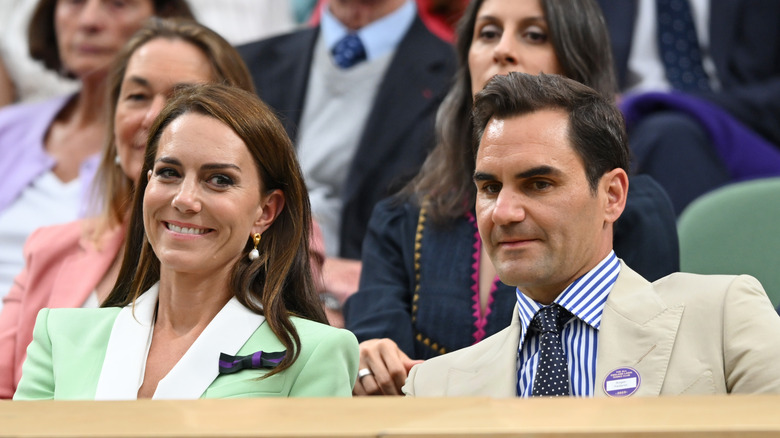 Karwai Tang/Getty Images
While Catherine, Princess of Wales, and Roger Federer have been friends for a long time, it wasn't until Wimbledon 2023 that people started talking about their chemistry. While they sat in the Royal Box, photographers snapped endless photos of the two of them talking and laughing.
OK! magazine reported that Catherine was giggling the whole time she engaged with Federer, while The Telegraph mused about possible flirting. The Daily Mail called their interaction a "very friendly display at Wimbledon." In short, everybody noticed it. It wasn't just tabloids and newspapers that covered Catherine and Federer's exchanges. The world of Twitter had a lot to say about things too. "To me, she's practically glowing, definitely and flirty here," one person tweeted. "You see it? Is it just me or does Kate Middleton seem far more lively around Roger Federer than when around her husband, Prince William?" Uh oh. "I would be far more lively around Roger too. She's only human," a Twitter user replied. "I think everybody saw it! I saw it live on TV even. I think she did not watch any tennis at all," another added.
However, there were several others who pointed out that Federer is a superstar and Catherine loves tennis, claiming that the interaction was friendly and innocent. "She has known him years, stop finding something that isn't there," someone replied. "Who wouldn't feel like that towards one of the greatest tennis players of all time? He took center stage as he should."
Some thought Roger Federer's wife was third-wheeling at Wimbledon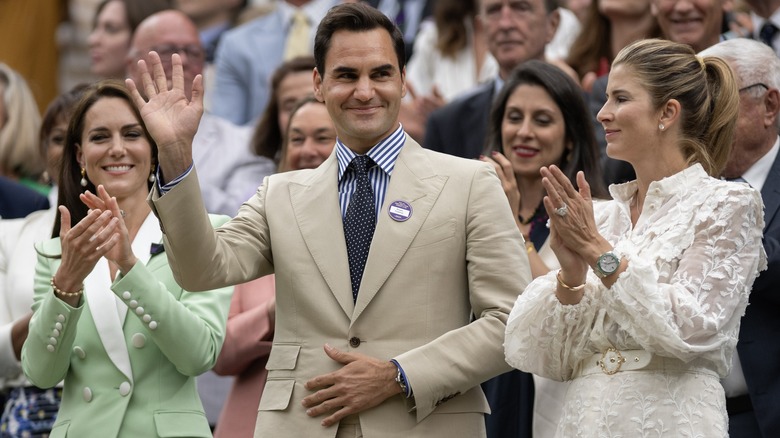 Visionhaus/Getty
At 2023 Wimbledon, amid speculation about flirtation between Catherine, Princess of Wales, and Roger Federer, the cameras also, unsurprisingly, zoomed in on Mirka Federer, the tennis star's wife. After analyzing such images, body language expert Judi James told Express, "Alongside these signals of respect and friendship Roger's wife Mirka looks almost comical. Staring straight ahead with a glum facial expression, apparently blanking her husband as he turns to grin and chat, Mirka looks like a woman in the throes of a sulk." She went on to explain that "she might just have been feeling neglected."
Some people found Catherine and Federer's exchange that much more offensive precisely because Mirka was seated right there. "Get you somebody who looks at you like Kate Middleton looks at Roger Federer?" someone tweeted, while another person replied: "WITH his wife right there."
However, it should be noted that other photographs show Mirka smiling and engaging in conversation with both her husband and the princess. Whether or not Catherine and Federer were just making small talk or flirting as some have suggested, we feel for Mirka. It can't be easy seeing your spouse splashed across the tabloids over an alleged closer-than-appropriate relationship.