What Happened To ENERGYbits After Shark Tank?
When entrepreneur Catharine Arnston appeared on "Shark Tank" in 2017, she had big dreams of her supplements becoming a successful "Shark Tank" product. Known as ENERGYbits, these were chewable tablet supplements that contained algae. While their composition didn't make them immediately appealing, they contain a bevy of nutrients, 60% protein, and are 100% organic, natural, and non-GMO, according to The Shark Tank Blog.
ENERGYbits grew out of Arnston's experience when her sister was diagnosed with breast cancer and her oncologist advised an alkaline diet. She researched alkaline foods and discovered that algae was not only one of the foods with the highest alkaline, but it had a great amount of protein and was highly nutrient-dense, containing 40 vitamins and minerals.
However, Arnston was ultimately turned down by the "Shark Tank" crew after asking for $500,000 for 5% of her business, which she had already been sustaining for six years prior to appearing on the show. The sharks maintained that she wasn't making a profit and didn't quite trust the product claims. Although she made $1.5 million in six years, she was putting much of it straight back into her business.
ENERGYbits stayed in business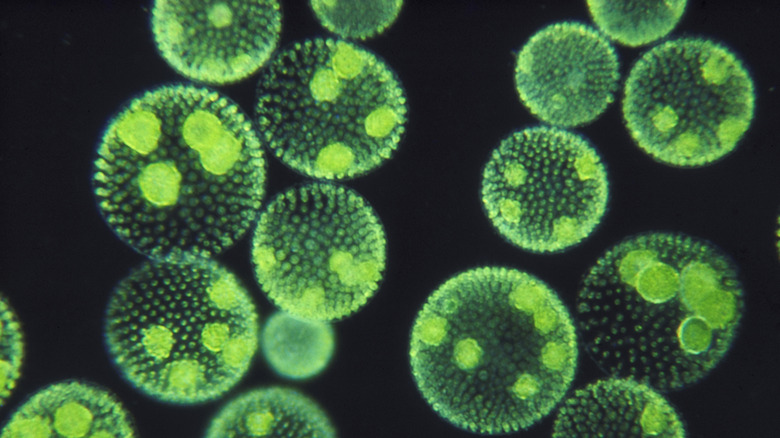 Oxford Scientific/Getty Images
One big problem for the "Shark Tank" judges was that the science behind the idea that algae could help heal cancer or promote weight loss (via American Council on Science and Health). The overall belief was that if algae could help heal cancer, oncologists would likely be promoting its benefits worldwide. Though Catharine Arnston left "Shark Tank" empty-handed, she continued with her goal to make ENERGYbits a success.
The business has its headquarters in Boston and now sells supplements geared toward four main health areas they focus on, including Beauty & Self-care, Energy & Sports, Wellness & Detox, and Vitality & Longevity. The keto-friendly, zero-sugar supplements are available in a variety of ways, including canisters, boxes, bags, and even sample packs for beginners.
Catharine Arnston's ENERGYbits are now sold at Neiman Marcus
The best news of all is that Arnston's sister has thankfully recovered from breast cancer and is doing well (via The Jeff Crilley Show). She says her sister has remained cancer-free and still happily enjoys an alkaline diet.
Arnston has appeared on multiple podcasts and shows to tout the power of her algae-based supplements. She shared the company's expansion with Neiman Marcus, who she says has been embracing wellness. "We've been selling for the last six or seven years only through doctor's offices, chiropractors, functional medicine, " she says. "We've gotten into spas and now we're reaching out to specialty retailers who are embracing wellness." The ENERGYbits website claims their algae is the most nutrient-dense food in the world and has been endorsed by the United Nations and NASA as such.