Why Gloria Estefan Turned Down Jennifer Lopez's Super Bowl Halftime Show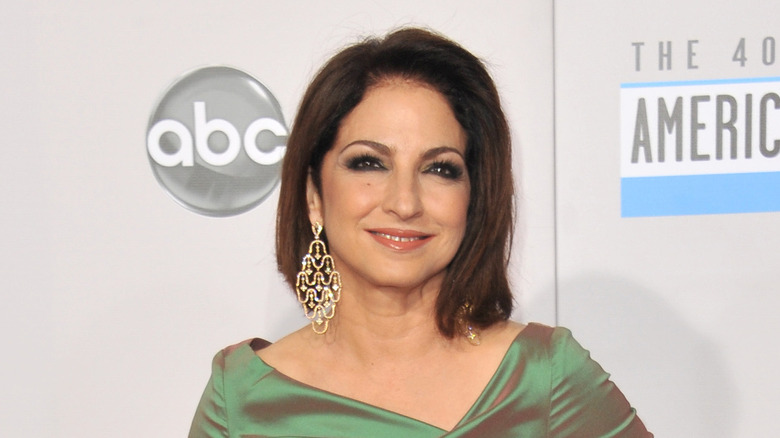 Jaguar PS/Shutterstock
Popstars Jennifer Lopez and Shakira's 2020 Super Bowl performance will undoubtedly go down as one of the greatest Halftime shows of all time. It was also a historic one: It was the first time all of the mainstage performers were of Latin descent. While audiences enjoyed cameos from Bad Bunny and J Balvin, apparently salsa icon Gloria Estefan was also tapped to join.
While the "Conga" singer would've been a perfect fit for Super Bowl 54, there's an understandable reason why she turned down the offer. Sitting down on "Watch What Happens Live with Andy Cohen," Estefan shared why she couldn't take the stage. "Look, it's their moment, they're in a whole other thing," the songstress explained. "I've done a couple of Super Bowls, I didn't want to go on a diet in December. It was Christmas!"
In addition to letting J.Lo and Shakira have their moment, Estefan's former Super Bowl performances came almost two decades before a Latina woman would headline again. Shakira revealed why she wanted to perform at the Halftime show and the importance of representation. "I really thought it was a great opportunity to make a strong statement about what an important part of the American fabric the Latino community is," the "Hips Don't Lie" singer told Cosmopolitan. "An opportunity that we couldn't miss."
Latinx artists and the Super Bowl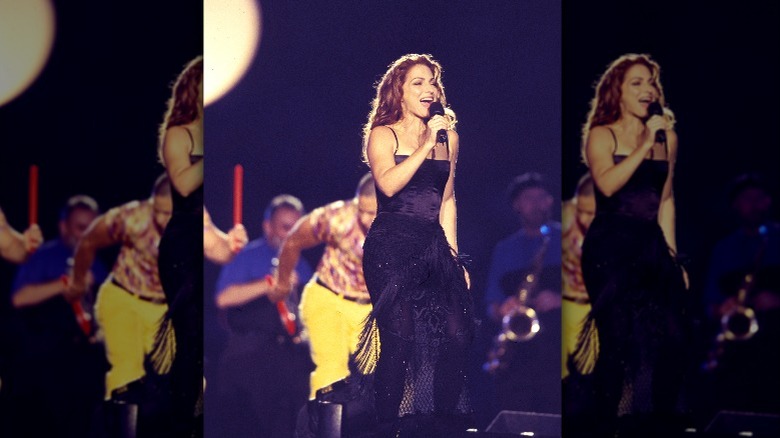 Al Pereira/Getty Images
Gloria Estefan paved the way for fellow Latinx music stars Shakira and Jennifer Lopez, who broke viewership records for their Halftime Show performance. The Cuban songstress was the first artist of Latin descent to sing on the main stage in 1992 and returned for two more memorable performances with the likes of Stevie Wonder.
There is an extensive history of Latinx artists being part of Super Bowl celebrations. Super Bowl 2000's Halftime Show, themed "Tapestry of Nations," featured Spanish heartthrob Enrique Iglesias and pop star Christina Aguilera. In addition to pre-concert performances from Carlos Santana and Bruno Mars' 2016 co-headlining set, J.Lo and Shakira also welcomed global superstars J Balvin and Bad Bunny to cameo. Super Bowl 54 arrived with perfect timing as a celebration of community and strength.
The message behind J.Lo and Shakira's halftime performance arose in the face of anti-immigrant sentiments in the U.S. At the end of Lopez's half of the performance, a choir of children in symbolic cages sang "Born in the USA," as she flaunted a cape inspired by the Puerto Rican flag. The "Let's Get Loud" singer revealed in her documentary "Halftime" that NFL executives asked her to remove the cages the night before the show, but she and her team stood their ground.
Inside the 2020 Super Bowl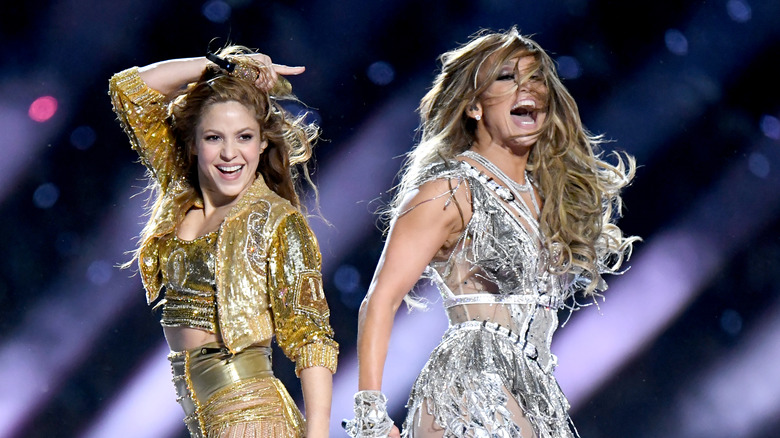 Jeff Kravitz/Getty Images
From Shakira's mesmerizing belly dance to J.Lo's sweet moment with her daughter, the Super Bowl 54 Halftime Show was full of iconic moments. So much so, that Netflix decided to follow Jennifer Lopez's journey to Hard Rock Stadium, releasing the "Halftime" documentary in 2022. In it, the "Hustlers" star made some interesting revelations about the behind-the-scenes of America's biggest night in sports.
Showing the hard work that goes into Halftime prep, Lopez shared pictures of bruises from rehearsals and even revealed that she had been a bit depressed from the whole ordeal. She also famously shared that she was upset with the NFL's decision to split the 12-minute show between two chart-topping artists. "This is the worst idea in the world to have two people do the Super Bowl," Lopez said. "We have six f****** minutes. We have to have our singing moments. It's not going to be a dance f****** revue. We have to sing our message."
In reference to Lopez's remarks, Estefan told Andy Cohen, "You have very little time, you have like 12 minutes or something to get things on and off the set ... and imagine what J.Lo would have said if I was the third [performer]!" However, she made sure to ultimately give the two superstars their props: "They killed it. It was an amazing show."