Shakira Reveals Why She Wanted To Perform At The Super Bowl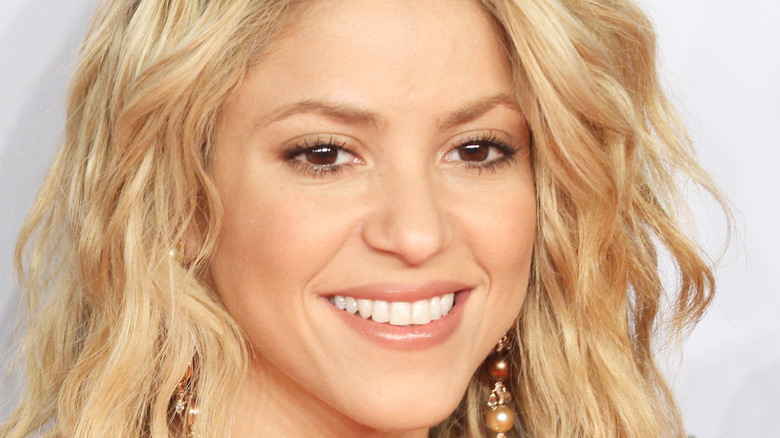 vipflash/Shutterstock
While millions of Americans gather every Super Bowl Sunday to watch two of the top NFL teams battle it out on the field, many more viewers tune in just to experience the halftime show (via Yahoo). Considering many artists dream of performing at the Super Bowl, it's no surprise that some of the biggest names in music have taken to the halftime stage. A few of the most noteworthy performers include Prince, Beyoncé, Madonna, and Lady Gaga. Keeping with the tradition of selecting superstar-level singers, Super Bowl LIV featured Jennifer Lopez and Shakira. Though the duo gave a jam-packed performance filled with unforgettable fashion, top-notch choreography, and enviable vocals, the spectacle was still shrouded in controversy.
Aside from receiving over 1,300 complaints to the FCC from viewers who felt the show wasn't family-friendly, many others couldn't ignore that the artists agreed to perform despite the NFL's mishandling of the Black Lives Matter protests. At the time, stars like Cardi B and Rihanna turned down the gig in solidarity with Colin Kaepernick and other football stars that chose to kneel during the national anthem. The latter told Time, "I just couldn't be a sellout. I couldn't be an enabler. There's things within that organization that I do not agree with at all, and I was not about to go and be of service to them in any way." Though J.Lo. and Shakira were faced with a difficult decision, the latter explained to Cosmopolitan their reasons for choosing to perform.
Shakira's Super Bowl performance was for the underrepresented communities she belongs to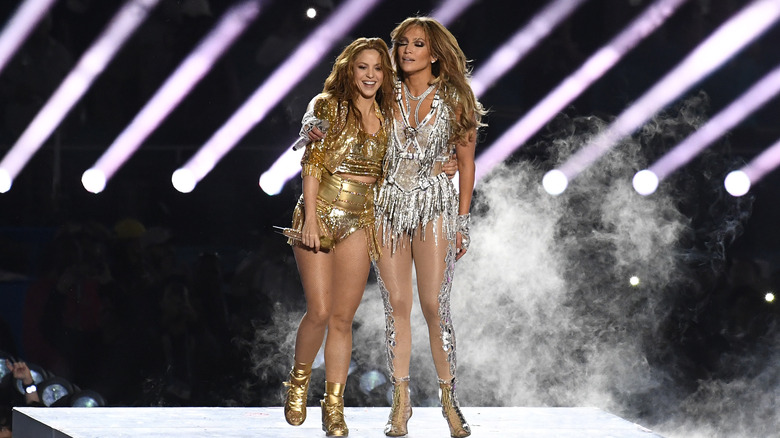 Focus On Sport/Getty Images
Looking back on her impressive career in pop music, Shakira shared some surprising insights with Cosmopolitan. Reflecting on her controversial opinion to perform at the 2020 Super Bowl, the "Hips Don't Lie" singer felt that her performance with Jennifer Lopez was a milestone moment for the Latin American community. She said, "J.Lo, as a Latina born in the U.S., and me, as a Latin American woman in the U.S., had a huge responsibility and opportunity to represent all different minorities through our performance." The Colombian-born performer also added that her participation in this global event also allowed her the opportunity to honor her Middle Easter roots, which aren't often celebrated on such a grand stage.
Shakira added that despite the stress of putting the show together, performing at Super Bowl LIV was one of the highlights of her impressive career. She closed, "I really thought it was a great opportunity to make a strong statement about what an important part of the American fabric the Latino community is. An opportunity that we couldn't miss."
Rap takes Superbowl 2022 by storm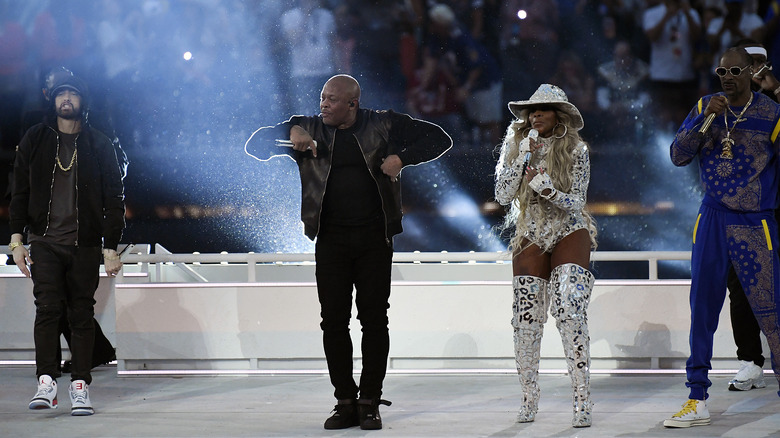 Focus On Sport/Getty Images
Since the groundbreaking 2020 Super Bowl, the NFL has continued to introduce more diversity to the Pepsi Halftime Show. For the 2022 spectacle, rap stars Dr. Dre, Eminem, Snoop Dogg, 50 Cent, Mary J. Blige, and Kendrick Lamar took center stage (via New Yorker). The group performed hits like "In Da Club," "No More Drama," and "Lose Yourself" for fans of the genre around the globe. 
Though the 2022 Super Bowl Halftime Act drew widespread acclaim, it's important to remember that the NFL still has a lot of work to do. The former Miami Dolphins coach Brian Flores recently sued the NFL for racial discrimination. Flores said in a statement obtained by ESPN, "In making the decision to file the class action complaint today, I understand that I may be risking coaching the game that I love and that has done so much for my family and me. My sincere hope is that by standing up against systemic racism in the NFL, others will join me to ensure that positive change is made for generations to come." While it's clear that the sport is starting to take slow steps toward progress, there is still much work to be done.