How Much Did TJ Holmes' First Wife Amy Ferson Get From Their Divorce?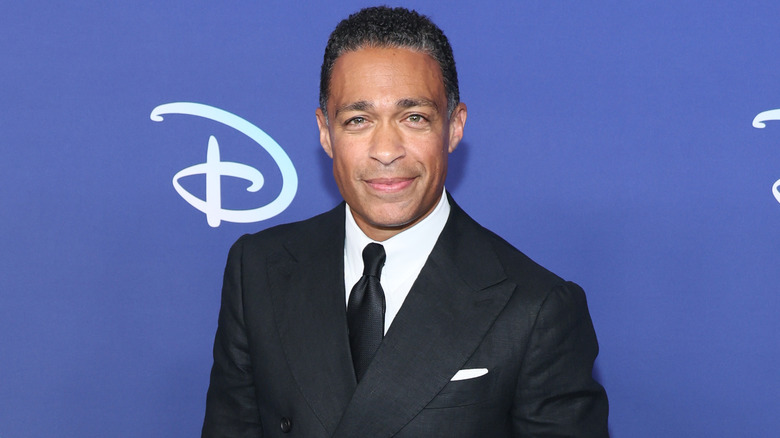 Dia Dipasupil/Getty Images
TJ Holmes had his love life thrust into the spotlight after his extramarital affair with "GMA3" co-host Amy Robach was discovered in November 2022. They both had already separated from their respective partners in August 2022, but the scandal of it all made it a hot topic in the press. Holmes and Robach have kept a low profile in the months since their firings from ABC, but their noticeable absence makes sense considering the divorces they both were going through while embarking on a new relationship together. While Robach finalized her divorce from Andrew Shue in March 2023, Holmes was just getting started on his divorce from Marilee Fiebig after filing in December 2022. 
Holmes and Fiebig tied the knot in 2010 and welcomed their daughter Sabine in 2013, before Holmes and Robach began their relationship. In January 2023, Fiebig broke her silence on their divorce in a statement to ET, noting how she and Holmes were working together to reach a settlement "privately, expeditiously and as amicably," as possible. It's the only public statement Fiebig made about their public split, and it might've given Holmes some relief considering how messy his first divorce was. 
TJ' Holmes first divorce cost him $100,000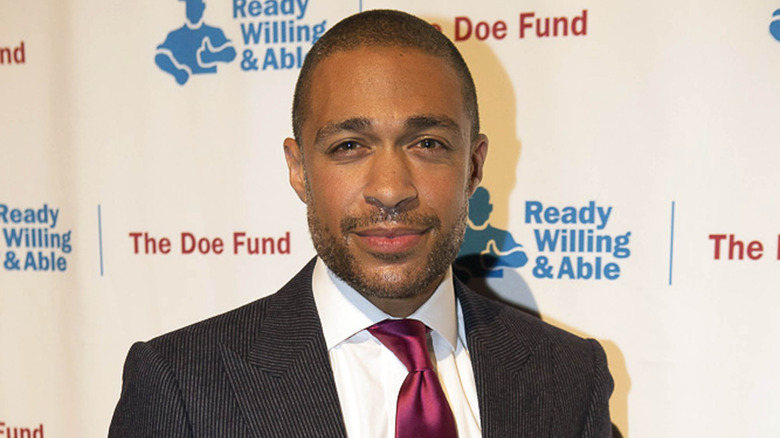 Johnny Nunez/Getty Images
TJ Holmes' first divorce from his wife Amy Ferson came to light in February 2023, just two months after he filed to divorce Marilee Fiebig. The Sun obtained documents confirming Ferson's divorce filing in 2007, claiming the marriage was "irretrievably broken" with "no reasonable hope for reconciliation." The couple had been separated since October 2006 according to Ferson, which is interesting considering it was the same time Holmes launched his CNN career as a correspondent and host. The pair parted ways shortly after relocating to Georgia from San Francisco, where Holmes worked for the local news station KNTV, and Ferson was seeking alimony since she allegedly earned "insufficient funds for support," at the time. 
They reached an agreement, with Holmes paying $2,000 a month in alimony for three years. But that wasn't all he had to sacrifice. In total, Holmes' divorce reportedly cost him an estimated $100,000, as he also had to pay the $3,500 balance of a shared credit card, the remainder of Ferson's lease on her BMW, and cover her health care through his employer for the next several years. Ferson was awarded $25,000 out of a $30,000 joint savings account, which likely went toward her move back to her home state of Missouri. While they were able to reach an agreement, things might've gotten ugly behind the scenes considering the judge's ruling that Holmes and Ferson refrain from "threatening, injuring maltreating, vilifying, molesting or harassing the adverse party," as the documents state. 
TJ Holmes was uncomfortable with his happy marriage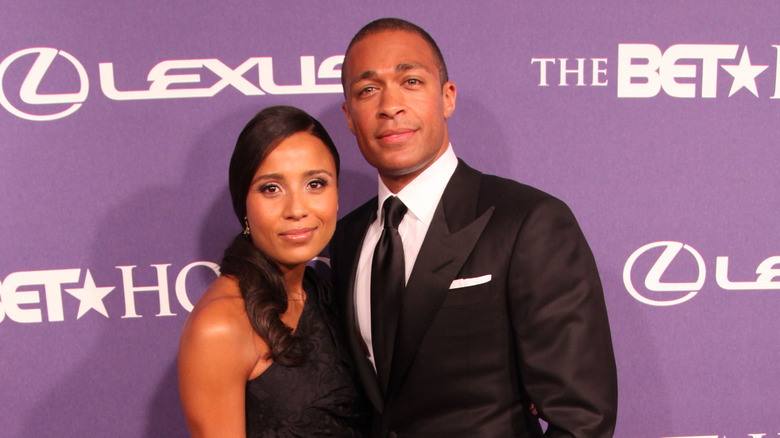 Johnny Nunez/Getty Images
TJ Holmes and Amy Ferson finalized their divorce in June 2007, three years before he tied the knot with Marilee Fiebig. Holmes was able to become a father with Fiebig too, as he and Ferson never welcomed any children together. In 2014, Holmes penned an essay for The Root titled "Why Did I Get Married? Here's Why" where he revealed how uncomfortable he initially felt about how well their relationship was going. "I didn't fully understand why my marriage was flourishing, and I feared that if I didn't understand what we were doing right, how would we know what to keep doing?" he wrote. He credited his "eureka moment" to an aggressive e-mail Fiebig helped stop him from sending. "In all I do, I have a partner looking out for me, advising me, keeping me on track, and stopping me from making a mistake, no matter how great or small," he shared. 
For Holmes, his reason for being married was because of how much "I like who I am with her." Speed up eight years, and Holmes apparently started to like who he was with someone else. Hopefully, Amy Robach has better luck with Holmes than his first two wives.