Y&R Star Melissa Claire Egan Welcomes Her Second Baby Boy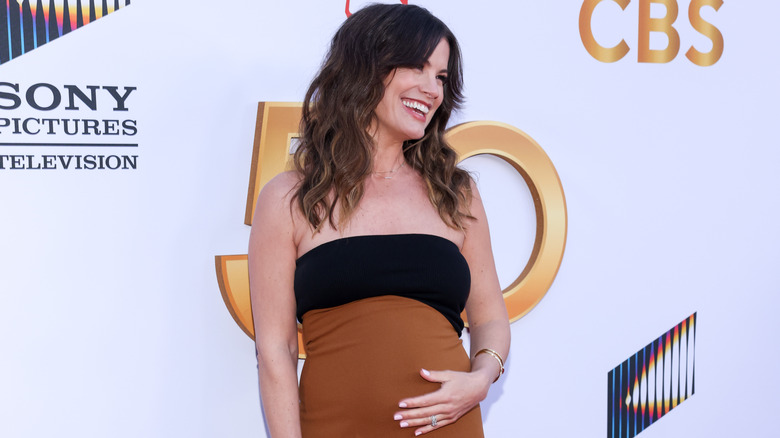 Victoria Sirakova/Getty Images
Melissa Claire Egan has portrayed Chelsea Lawson on "The Young and the Restless" since 2011. But in her personal life, Egan has a more significant role; being a mom. In July 2023, Egan notified fans and followers on Instagram that she had given birth to her second son with her husband, Matt Katrosar. Egan uploaded a series of photos of herself on the social media site in a hospital bed, holding her newborn son next to Katrosar. In the caption, she said, "Meet Jake Joseph Katrosar! Born 7/14/23. Welcome to the world sweet boy. A few weeks early, but we're so happy to have you and call you ours and love you forever!"
The couple's first child, Caden Robert, was born in August 2021. Egan first announced her big baby news in February 2023 when she revealed that she and Katrosar, who have been married since 2014, were expecting again. On Instagram, she wrote, "Looks like we're just destined to have August babies! So grateful and excited to be adding another cub to our family of Leo baby boys. Caden's gonna be a big brother!" But fate had other plans, as Egan's new bundle of joy is not a Leo but a Cancer. Moreover, getting pregnant with Caden wasn't easy for Egan. 
Melissa Claire Egan on her fertility struggles
Melissa Claire Egan also used Instagram to announce her first pregnancy with Matt Katrosar. Egan wrote about her pregnancy journey in the caption and disclosed heartbreaking information. She said, "As happy as we are, the journey to get here has been filled with lots of tears, stress, sadness, helplessness, hopelessness, and 2 miscarriages." She added, "To anyone going through this process or any kind of fertility issues, I feel you, I see you, you're not alone. I wish I could jump through this phone and give you a big hug. Please do not give up hope. Keep trusting and have faith. You got this!!!" 
Egan later opened up about the birth of her first child, Caden Robert, in August 2021 to People with a tongue-in-cheek attitude. She said, "Although this is my first child in real life, I've had very dramatic on-screen births on "The Young and the Restless." Once after falling through a lake, I delivered my son on the show in a cabin. The other time, I went into labor at my wedding and delivered a baby right there in my wedding dress. So this was a breeze compared to that!"
Egan and Katrosar celebrated a milestone after their pregnancy struggle when Caden celebrated his first birthday in 2022. Egan's Instagram is full of photos relishing the time spent with Caden as well as snaps of Egan showing off her baby bump from her first and second pregnancies.