Chelsea Clinton Is The Latest Celeb To Attend Taylor Swift's Eras Tour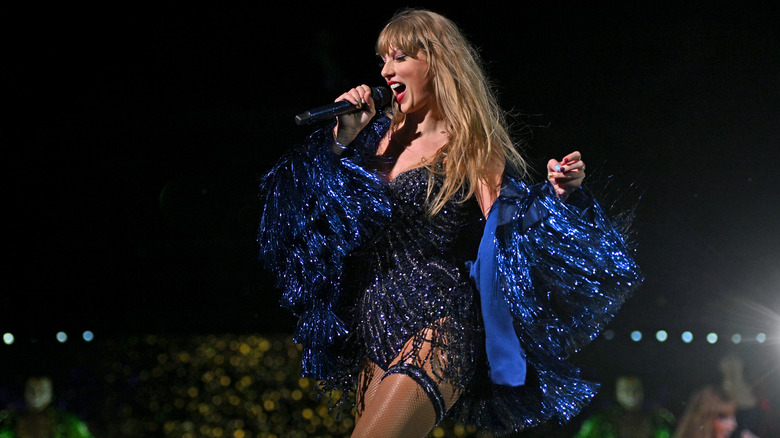 Tom Cooper/tas23/Getty Images
Taylor Swift has taken the country by storm with her Eras Tour, and Swift fans will stop at nothing to see her perform live. The tour kicked off in Arizona in March 2023, and it's set to run through August 2024 with the final performance in London. The show lasts for an impressive three hours with Swift changing her outfit over a dozen times and performing 44 songs. The tour is such a big deal that's had a noticeable impact on the United States economy with the cities where Swift performs getting an economic bump.
There's probably also been a boost in the number of beads sold considering that one of the cutest trends at the Eras Tour is Swifties exchanging homemade, beaded friendship bracelets. And two of those fans were none other than Chelsea Clinton and her daughter Charlotte. The mother-and-daughter pair attended Swift's tour stop in Denver, and it's safe to say they had an incredible time! 
Celeb moms are bringing their kids to see Taylor Swift perform
Entirely impressed and *enchanted* by Taylor and her Eras tour. Amazing night and performance, @taylorswift13. Thank you for bringing 73,000+ - including Charlotte & me - heart-stretching joy and smiles that haven't stopped! pic.twitter.com/7M7bBqw3Y7

— Chelsea Clinton (@ChelseaClinton) July 17, 2023
At Taylor Swift's Eras Tour, Chelsea Clinton posted pictures from the Denver show that she and her daughter Charlotte attended. "Entirely impressed and *enchanted* by Taylor and her Eras tour," she tweeted, showing off two wrists full of bracelets. One Swiftie was stoked to see that Clinton was wearing one of her daughter's bracelets from Taylor Swift's Eras Tour concert. The fan wrote, "I see the one my daughter made! It was enchanting to meet you, however briefly it was! It looked like you all had SO much fun!! (We sat right in front of you)."
Clinton joins a number of celebrities who've attended the Eras Tour with their kids and loved it. Jennifer Garner attended one of Taylor Swift's Kansas City shows with her daughter Violet, and Garner showed off her own collection of friendship bracelets on Instagram — they went nearly to her elbow on both arms! Garner wrote, "Our minds are still blown by the generosity of spirit, ferocity, and stamina of Taylor Swift." Laura Dern shared on "Late Night with Seth Meyers" that she took her two kids to the show in Glendale, Arizona. And Blake Lively and Ryan Reynolds brought their oldest two daughters James and Inez to the Philadelphia show; the two girls even got a shout-out from Swift from the stage. Other celeb Eras Tour sightings also include Emma Stone, Emma Watson, Chloe Grace Moretz, Shania Twain, and Ellen Pompeo.