The Instagram Post That Changed Everything For Sofia Vergara And Joe Manganiello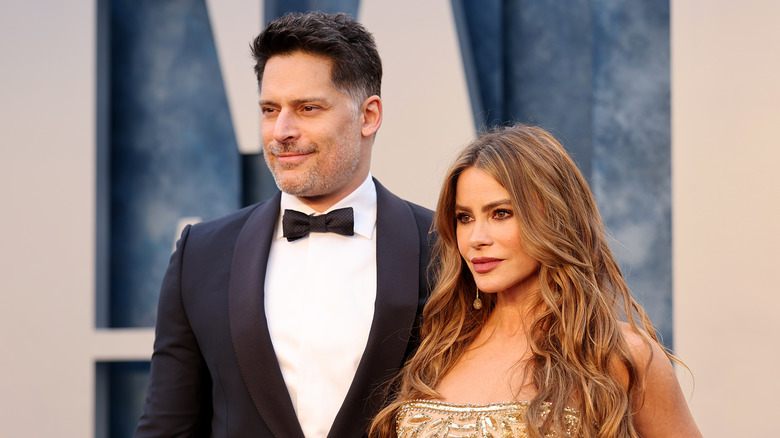 Cindy Ord/vf23/Getty Images
It breaks our heart to say this, but it looks like it's official: after seven years of marriage, Sofia Vergara and Joe Manganiello are calling it quits, according to Page Six.
While the news may come as a shock to some, there are surely others who are saying "I told you so" after hearing about the breakup of one of Hollywood's most beloved couples. Said people would most likely point to Manganiello's underwhelming birthday wish to his estranged wife as the definitive warning sign that separation was on the horizon. The Instagram post in question looks like any other social media shoutout you would expect someone to share for a loved one's birthday. "¡¡¡Feliz Cumpleaños Sofía!!!" was how Manganiello captioned an old photo of himself and Vergara out for dinner.
The super sleuths in the comment section noticed right away that something wasn't right. Knowing how vivacious and loving the actors usually are to one another, fans weren't sold on Manganiello's message, and they were not shy about saying so. One keen-eyed follower wrote, "Something is off. Cold message for her and has two stories about his dog's birthday. And Sofia has not even said thank you." And these online detectives were spot on.
Manganiello's birthday post for Vergara felt distant to fans
Dozens of comments on the now-infamous Instagram post lambast Joe Manganiello for his lackluster birthday message to Sofia Vergara, who turned 51 on July 10. Some fans were weirded out by him calling Vergara by her first name. "What was that...?" a bewildered fan questioned. "Being called by [your] name is like being scolded." Another commented, "Just Sofia.... Is that your cousin or your coworker or what?"
The strangely formal message was quite the departure from the "Magic Mike" star's previous birthday posts for Vergara. For her prior birthday, Manganiello posted several adorable snaps of him and Vergara spending time together, including one of them gazing adoringly into the other's eyes. In the caption, he affectionately calls Vergara "mi amor." But fans were quick to notice there were no such pet names in 2023's birthday message.
Unfortunately, the fans were spot on this time. In a statement to Page Six, which was made just a week after Manganiello's post, the two officially announced their separation. "As two people that love and care for one another very much, we politely ask for respect of our privacy at this time as we navigate this new phase of our lives," they said. A source also told the outlet that the former couple "have been growing apart for a while now and are taking some distance from each other to contemplate their future."
Vergara's birthday trip to Italy signaled trouble in paradise
Joe Manganiello's social media accounts aren't the only ones displaying warning signs that something was clearly off in their marriage. 
To celebrate her birthday, Sofia Vergara took a vacation to Italy with her family and friends. The stylish "America's Got Talent" judge appears to be having the time of her life. She has taken plenty of gorgeous pictures during her dream vacay and has been sharing her experience with her Instagram followers.
Yet, while the star has shared several dazzling selfies and photos of dinner parties and scenic cruises with her friends, there has been one key figure missing in every photo so far. Manganiello has been nowhere to be found, leaving many fans to guess that he didn't tag along for the birthday bash. "Where's Joe? I'm worried," one fan asked, and several others echoed the question. Sadly enough, the last photo Vergara shared of her and Mangianello together was of them on a previous vacation to Italy.