What Happened To The Cookie Dough Cafe After Shark Tank?
As kids, many of us couldn't wait until cookies got into the oven – we just had to sneak a spoonful of that dough. Yet, many cookie dough labels warn against eating before baking, since they contain raw eggs and could lead to salmonella infection. Sisters Joan Pacetti and Julia Clark's fun idea to sell edible cookie dough took them all the way to Los Angeles, where they pitched their vision to the Sharks. Illinois natives Pacetti and Clark founded The Cookie Dough Café in 2011 and appeared on Season 5 of "Shark Tank" in 2014.
While Costco's popular edible brownie batter didn't come onto the scene until 2020, at the time of filming, the Café was the only edible gourmet dough business on the market. From confetti to brownie batter to good ol' chocolate chip, the enterprising sisters came on "Shark Tank" with the goal to launch pints into supermarkets nationwide.
The Cookie Dough Café launched in 2011, with the sisters telling the Sharks that they hand-packed thousands of orders in their first year. Pacetti and Clark said they needed help connecting to a distributor to fulfill larger orders, as not having one had stood in the way of The Cookie Dough Café landing a lucrative placement in Walgreens stores. Overall, they requested funding for a range of production costs – from automated machinery to packaging to warehouse space (per Shark Tank Recap).
What happened to The Cookie Dough Café on Shark Tank?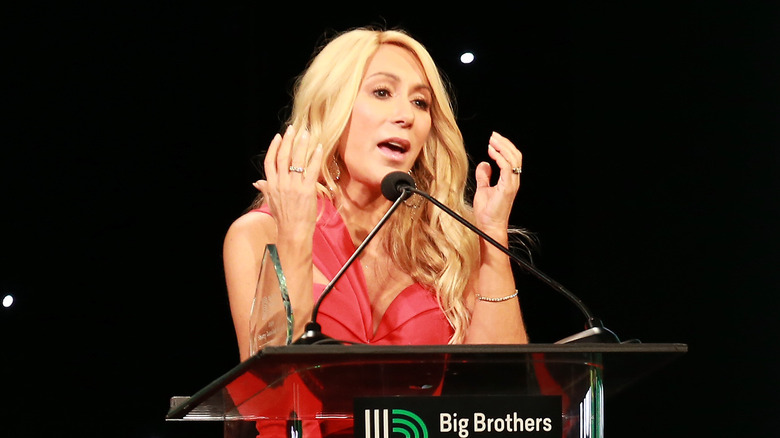 Leon Bennett/Getty Images
Joan Pacetti and Julia Clark came on the 'Tank seeking $50,000 for a 20% equity stake in The Cookie Dough Café. In their pitch, they explained how they had already invested $35,000 to get their business running, and saw $24,000 in sales in a year. But their product was only available in seven stores, and they needed to expand. While all of the investors were impressed by the dough, Lori Greiner took a strong interest in The Café.
Greiner is the investor behind some of Shark Tank's most successful products, such as Scrub Daddy and Squatty Potty. With ease, she successfully reeled another Shark into the deal. "I was also sitting here thinking, when you said it'd be good in stadiums... I've got a guy next to me, he's got some stadiums himself," she referred to Steve Tisch, guest investor and co-owner of the New York Giants.
Agreeing that pints would do well in sports venues and hotels, Greiner and Tisch decided to partner up. They doubled the original offer: $100k for a 40% stake. Much to their surprise, the sisters requested to stick to the original deal, as they didn't want to give up more than 20% of their company. Despite Kevin "Mr. Wonderful" O'Leary's urging them to take Lori and Steve's offer, the sisters doubled down. They eventually settled on $100,000 for a 30% stake, split equally between Greiner and Tisch.
The Cookie Dough Café After Shark Tank
Due to unknown circumstances, it appears that the deal for the Cookie Dough Café with Lori Greiner and Steve Tisch eventually fell through. However, the company still saw success after appearing on the series. In addition to continuing their expansion into local grocery stores, Joan Pacetti and Julia Clark were able to secure distribution deals with major retailers, landing in over 10,000 stores nationwide. As of June 2022, the Cookie Dough Café stands at $5 million in yearly sales (per Shark Tank Blog).
After raw cookie dough conveniently became a trend in 2017, the Cookie Dough Café saw continued success. So much so, that Pacetti and Clark opened a "Scoop Shop" in Portland, Oregon that same year. The brick-and-mortar café offers variations of its star product – layered jars, milkshakes, ice cream sandwiches, and more. They also snagged a licensing deal with Oreo, which is included in their signature cookies and cream flavor. In 2019, the café set out on a "tasting tour," taking their dough truck to festivals and markets around the Midwest.
Customers can pick up Cookie Dough Café pints at major retailers such as Walmart, Kroger, Harris Teeter, Aldi, and others. They also sell directly off of their website – charging $59 for eight mini cups of dough. The Cookie Dough Café has also amassed over 98,000 followers on Instagram, where they regularly update fans on new flavors, behind-the-scenes scooping videos, and more.