Why You Won't Find Emma Stone On Social Media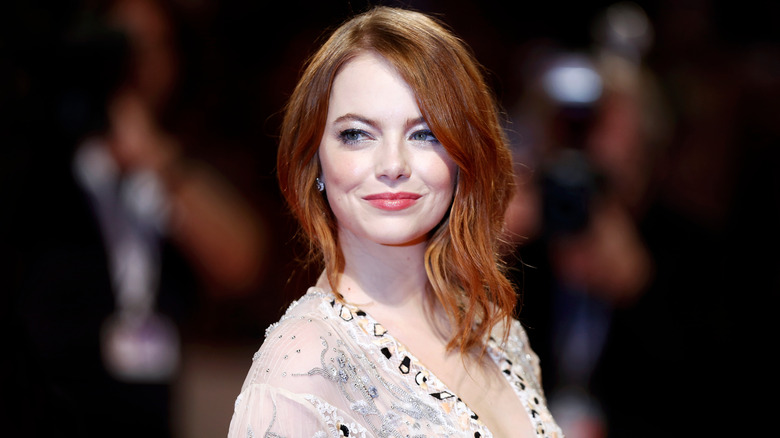 Andrea Raffin/Shutterstock
It's common for celebrities to take a break from the spotlight now and then, especially after consecutive years of churning out films. In fact, we've seen hiatuses from a number of actors for reasons public and private. Take a look at stars like Jennifer Lawrence, who felt like she was too much of a "commodity" after filming "The Hunger Games" franchise. Or Tom Holland, who recently took a break from acting after his latest project due to mental health concerns. Even Hailee Steinfeld, who opened up about her relationship with social media.
However, some stars aren't as worried about the direct limelight as they are about their social media presence. While there could be a handful of factors to an actor's media silence, one of poignancy is that social media insinuates a "keeping up with the Joneses" mentality. At least, that's what Emma Stone publicizes.
Perhaps most well-known for her Oscar-winning performance in "La La Land," Emma Stone shared in an interview with Elle (and Jennifer Lawrence) that she's not on social media because it wouldn't be a "positive thing" for her. "If people can handle that sort of output and input in the social media sphere, power to them," On a panel organized by the Los Angeles Times and EPIX (via Vanity Fair), Stone got to the (no pun intended) root of the issue: "the root of the desire to share aspects of one's life with strangers," which Stone doesn't like.
It's too perfect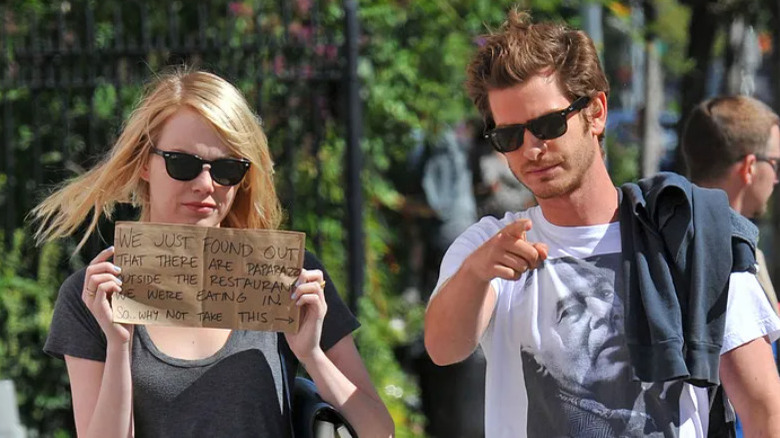 Rich Fury/Getty Images
Stone has been famously linked to anti-paparazzi and media activism and often is one step ahead of the cameras, using photo opts as an opportunity to support local charities often with her ex Andrew Garfield (per Huff Post). Stone has also been extremely vocal about her opinions of the social cyber world, telling Elle (in a separate interview than with Lawrence) that the "too perfect" Instagram life is completely false, adding that "when you see people like, 'This is the best life ever! I couldn't be happier, you're like, 'shut up, that is not true." The fact that Stone is radio silent on social media now is proof that the star will not budge on her anti-social media stance.
Stone has, in fact, no current presence on either Instagram or Twitter and is one of the celebrities who have no problem living without social media. Excessive time on social media has been linked to a variety of health concerns, which is why many suggest finding out how many hours you should be spending on social media. Stone even told Vanity Fair that she took a break from excessive scrolling because of validation from strangers."It's that need to be liked, that need to be seen, that need to be validated, in a way, through no one that you know," she noted. "It seems like everyone's cultivating their lives on Instagram or on different forms of social media."
No more hacks
Cindy Ord/Getty Images
Stone also divorced social media platforms after being hacked in 2013 on Twitter. She dished more about the episode in interviews with E! News and Ryan Seacrest, telling them that the Twitter hierarchies later locked her out of her account, which made it nearly impossible for her to access or even delete the infiltrated handle. "It's because they changed my email and my password," Stone had said, adding, "They tweeted an anagram about Shailene Woodley — who is one of my favorite human beings on the planet — and that was absolutely, I swear to you, not me." 
The 2013 hack involved mysterious, and concerning cryptic messages involving her close friend, and partner at the time. One message, when decoded, said: "Andrew and Shailene sitting in a tree." When asked again by E News if she would download the app or create another account at a later date, she responded, "I don't think so." So, if you're hoping to see a resurgence of the actor throughout the social media multiverse, we wouldn't bet on it any time soon.