Queen Elizabeth Was Never The Same After Her Dad Died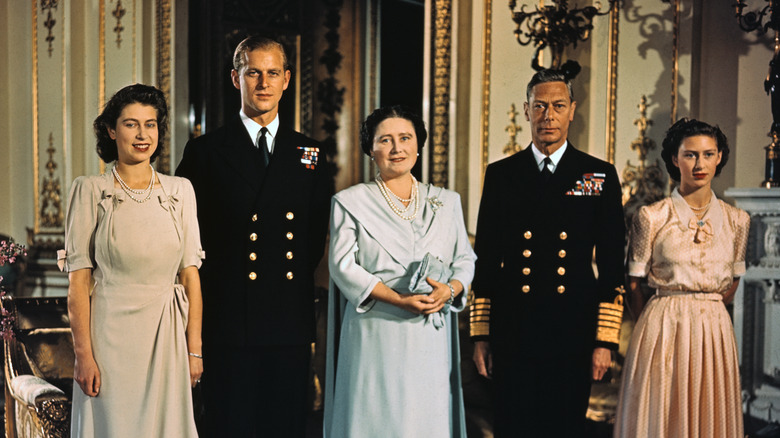 Bettmann/Getty Images
For the 70 years that she was on the throne, it was almost impossible to think of a royal family that existed before Queen Elizabeth II. For generations, she was the only monarch many had ever known, bringing a sense of stability to the throne that King Charles III has since replaced. Elizabeth was a force to be reckoned with — not only did she see Great Britain through decades of change and progress, but she maintained a levelheaded sense of decorum that is awe-inspiring, if not downright historic. But before she became queen at age 25, her father, King George VI, guided the Commonwealth alongside Queen Elizabeth, the Queen Mother. The two were thrust into the regnal positions with such haste that the entire course of their lives was changed — and the king's was tragically cut short.
Elizabeth was born to her parents in April 1926 and was soon followed by her younger sister, Princess Margaret. The two had a charmed childhood and enjoyed the splendors of royal life without much worry about monarchical responsibility — an entire family unit away from the throne, such a reality didn't seem particularly attainable. But when royal crisis rocked the monarchy and Elizabeth's father had to take on the duties of king, both his life and Elizabeth's changed forever. Her life changed yet again when her father died at the young age of 56, thrusting the newly minted queen into a sea of turmoil.
Queen Elizabeth and her father were unified by crisis, but his health quickly declined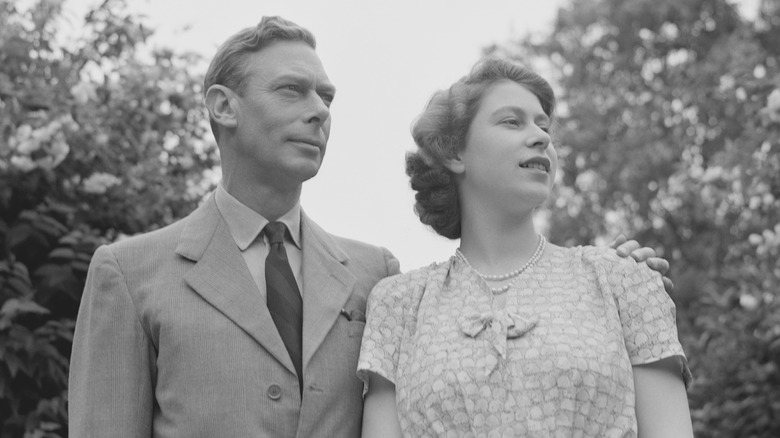 Lisa Sheridan/Getty Images
When we say that Queen Elizabeth II was technically never meant to be queen, we mean it. Her familial unit was once removed from the line of succession — her uncle, King Edward VIII, was her father's older brother and thus became king after their father, King George V, passed in 1936. However, Edward was a tortured soul — his heart belonged to American divorcee Wallis Simpson, who was not seen as a suitable spouse to the monarch. 
In a shocking move, Edward abdicated the throne on December 10, 1936, stepping down from his royal duties and taking any children he could have out of the line of succession. By doing so, the duties and responsibilities of the monarchy fell to his younger brother, and King George VI took the throne the next day.
Now king, George's family — and specifically his eldest daughter, Elizabeth — moved up quite a few pegs in line to the throne, unifying the father and daughter in crisis. A heavy smoker, however, George's health was precarious from the very start of his reign, resulting in a total removal of his left lung in 1951. Keeping his health struggles away from the public, doctors watched as the king made progress in his recovery, but clearly not enough. In a shocking turn of events, George died in his sleep at just 56 years old on February 6, 1952.
Elizabeth was in Kenya when her father died and had an interesting initial reaction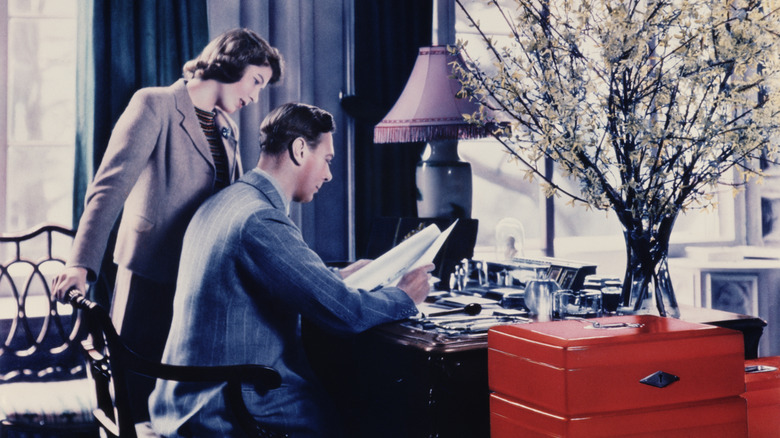 Lisa Sheridan/Getty Images
Working alongside her father as the then-heir to the throne, Queen Elizabeth II traveled with her husband, Prince Philip, to Kenya for an official tour in February 1952. What she didn't realize while leaving the United Kingdom as a princess, however, is that she would return as queen. King George VI died suddenly while Elizabeth was abroad, and the news was delivered to her in nothing short of a life-changing event.
The news would've sent many into shock, but Elizabeth reportedly had a measured reaction to her father's death, according to the author of "The Queen: A Life in Brief," Robert Lacey. "She was sitting erect, fully accepting her destiny," her then-private secretary Martin Charteris told Lacey as part of his pages, adding that she was not seen publicly crying in the wake of her father's death.
Giving an eyewitness account of the newly named queen as she left Kenya, the BBC's Frank Gillard noted, "How tragic to think that even this morning, as she sat at breakfast, talking about her father, and proudly describing how bravely he'd stood up to his illness, how well he'd recovered — sitting there in her yellow bush shirt and brown slacks — even at that moment her father was lying dead and she had succeeded to his vast responsibilities."
The new queen quickly issued a proclamation to the Commonwealth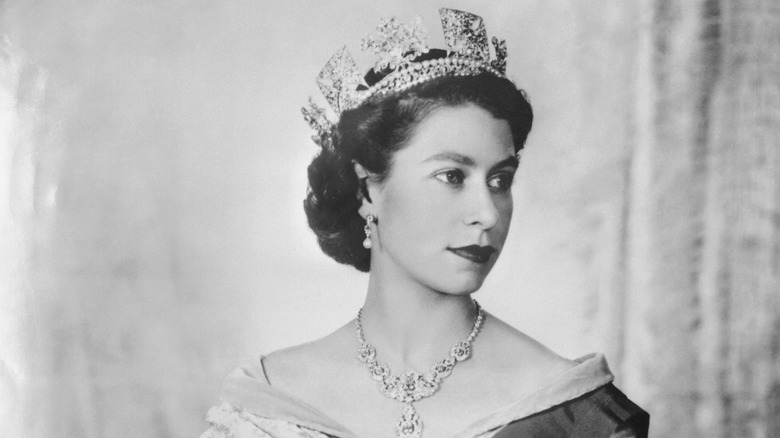 Bettmann/Getty Images
The news of her father's death took a little bit of time to reach Queen Elizabeth II in Kenya given that her location was so remote. Once it did, arrangements were quickly made to get her home, cutting her tour short and forcing the new queen into the very front and center of royal life. Just days after King George VI died, Elizabeth was formally proclaimed as queen in front of 150 Lords of the Council, with the new monarch issuing a proclamation to her new subjects.
"By the sudden death of my dear father I am called to assume the duties and responsibilities of sovereignty," she wrote. "My heart is too full for me to say more to you today than I shall always work, as my father did throughout his reign, to advance the happiness and prosperity of my peoples, spread as they are all the world over."
And then it was off to the races — still mourning her father, Elizabeth met with her counselors and conducted her inaugural Privy Council meeting. The transfer of monarchical power was overseen and the proclamation was signed by the prime minister, the Lord Chancellor, the Lord Mayor of London, and representatives of the Commonwealth. In the blink of an eye, Elizabeth's entire world changed.
It was not until flying home that Elizabeth truly reacted to her father's death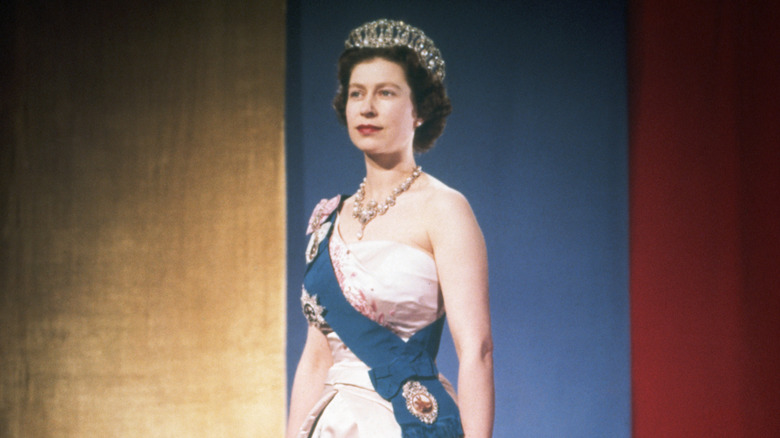 Bettmann/Getty Images
When Queen Elizabeth II was delivered the life-altering news that her father, King George VI, had died, she had to jump into action. Not only did she have to write to Kenyan leaders and cancel her tour, but she had to shift into a new head space — she was queen, and at 25 years old was expected to fulfill a position that was never supposed to be hers in the first place. Such a turn of events would put anyone into shock, but by all accounts, the queen charged ahead and did what she needed to do to cancel her Kenyan tour and head back home. According to Nicholas Best, however, she did finally break down while traveling back to Great Britain.
Best told The Guardian that it was only after she left the property and was on the plane that the newly-named queen sat with her emotions and processed what it was that had happened to her. Not only had she lost her father, but the course of her life was forever changed.
"The mask slipped once they were airborne," Best told the outlet. "The queen left her seat after a while. Her face was set when she returned, but it was obvious to the other passengers that she had been in the loo, having a good long cry."
Elizabeth became increasingly aware of optics in the immediate aftermath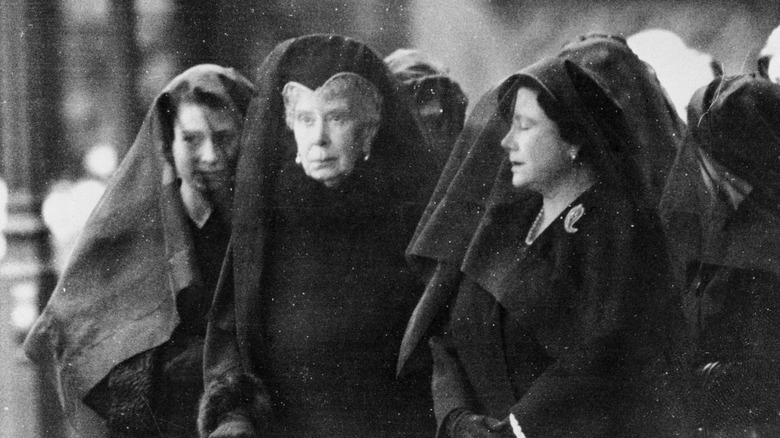 Bettmann/Getty Images
Thrust into a delicate situation, Queen Elizabeth II was not prepared to adjust to life-altering news from an optics perspective, and once her plane landed in Great Britain, she had to think quickly. Having not prepared to leave in such haste — and certainly not to the news of her father's death — Elizabeth didn't have a black outfit with her, an appropriate symbol of mourning in the wake of her father's passing. 
Wearing a light-colored dress and white shoes when leaving Kenya, Elizabeth knew that the optics of her leaving the plane in anything other than a black dress would not bode well. Former lady-in-waiting Lady Pamela Hicks recalled during an episode of The India Hicks Podcast that such adjustments had to be made, prompting quick thinking on behalf of the queen's team.
"A black dress was quickly smuggled on board, because we didn't have a black dress. So she quickly had to change," Pamela Hicks revealed. "Having got dressed, she passes by me and looks out of my window, looks over my head, and said, 'Ah.' She was looking for her car and she said, 'Oh, they've sent the hearses.' I realized she meant that the big royal limousines were all stacked up. I suddenly looked and thought, 'Here's this young woman of 25 with two small children, having just been leading virtually a normal naval officer's life in Malta, and now never going to be private again.'"
Elizabeth, and the Commonwealth, shut down for a week after George's death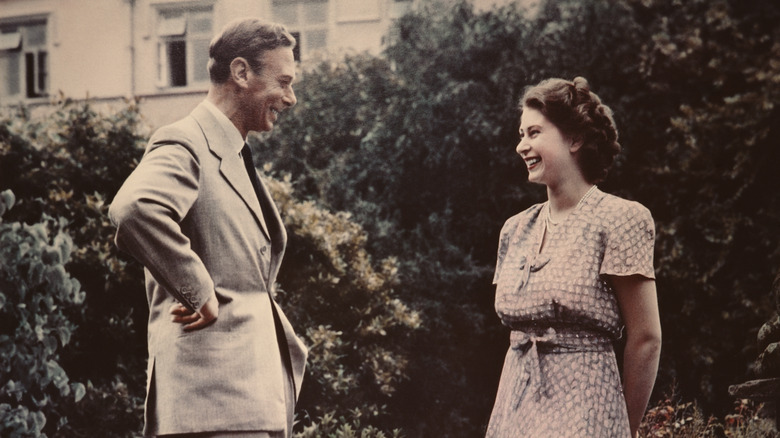 Lisa Sheridan/Getty Images
When Queen Elizabeth II died in September 2022, the newly-named King Charles III had to not only assume the responsibilities of the crown, but had to grieve largely in public. In his 70s, however, Charles spent the bulk of his life preparing to take the crown — his mother could not say the same. Named queen at just 25, Elizabeth had to guide Great Britain as it shut down for an entire week to grieve the passing of King George VI. According to Professor Vernon Bogdanor, such steps were taken to honor his life and legacy — and no doubt give the new queen time to adjust to the life-changing event that had just taken place.
"The country more or less closed down for about a week," Bogdanor told Express of the aftermath of George's death. "Of course, there was a much more deferential atmosphere then. Live programs on the radio and the television disappeared. Theaters closed for a day or two and cinemas and so on."
Such silence was only disrupted when the king's body was taken to Westminster Hall to lie in state. Roughly 305,000 mourners passed through the doors to pay their respects, before his official funeral was held on February 15. To say that it was the end of an era is an understatement, both for the Commonwealth and for his eldest daughter, who assumed the role much sooner than expected.
The new queen became a figurehead for progress after her father passed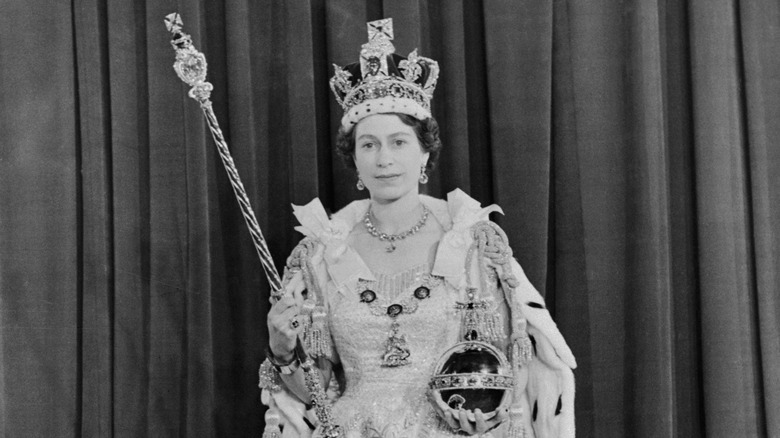 Bettmann/Getty Images
Though King George VI died on February 6, 1952, Queen Elizabeth II's coronation wasn't held until June 2, 1953. Though she was just 27 at the time and forging ahead in a new capacity, Elizabeth quickly made it clear to the Commonwealth that she would be a different kind of monarch than her father, representing modernity and change in a significant capacity. Such was the atmosphere when her coronation rolled around. 
In an effort to make the milestone celebration far more accessible, the queen decided to have her coronation televised, the very first modern move of its kind. Though the BBC was said to understand that many would tune in, the network did not anticipate the shift that the queen's coronation would come to represent when related to the age of broadcast television — Elizabeth was, in many ways, redefining the monarchy.
Though advised against it by her officials, Elizabeth moved forward with the broadcast plans and allowed the cameras to capture every angle of the coronation. On the day in question, commentary was provided by Richard Dimbleby and seven other commentators, speaking the day's comings and goings into the mic. Roughly 20 million people were said to have tuned in to watch the coronation, with 10.4 million watching in Great Britain alone. People gathered in public spaces, local movie theaters, pubs, and homes to watch Elizabeth formally take the throne, ushering in a new season of change.
Elizabeth put her role as a mother on pause in her early years as queen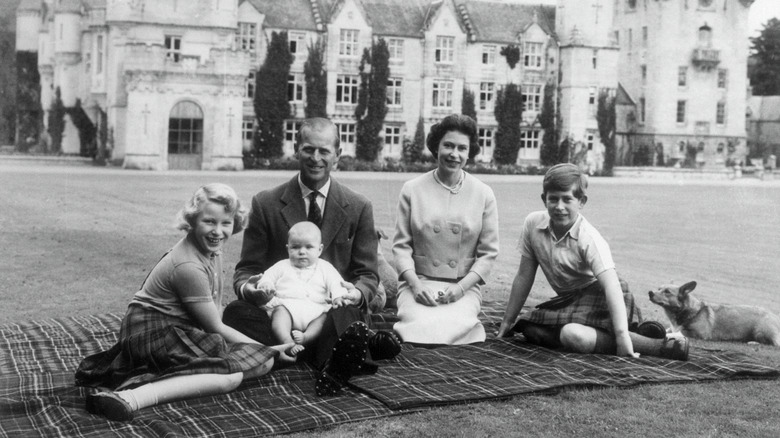 Bettmann/Getty Images
Perhaps one of the most profound ways Queen Elizabeth II's life changed after her father died was not only did she become queen, but she had to shift her own personal priorities. Having already welcomed her first two children — King Charles III and Princess Anne — Elizabeth felt obligated to prove her dedication to the throne and to the monarchy, unfortunately forcing her family life onto the back burner. 
According to royal historian Sarah Gristwood, the new queen was aware of the large shoes she had to fill. Not only was she a woman leading a country that was very much still abiding by traditional gender norms, but she was only in her mid-20s. So much pressure rode on her first few years of the job, forcing the queen to streamline her efforts solely into the monarchy, leaving her two eldest children largely with nannies and tutors.
"Having grown up in a loving, tight-knit family, things were slightly different when it came to Elizabeth's own children — at least for the elder two," Gristwood told Sky News, noting that it wasn't until about a decade later that Elizabeth felt secure enough in her role as queen to start balancing it out with her personal life. By the 1960s, Elizabeth and Prince Philip welcomed their two youngest children, Prince Andrew and Prince Edward, essentially giving the queen a redo when it came to parenting.
The queen became a new figurehead in British politics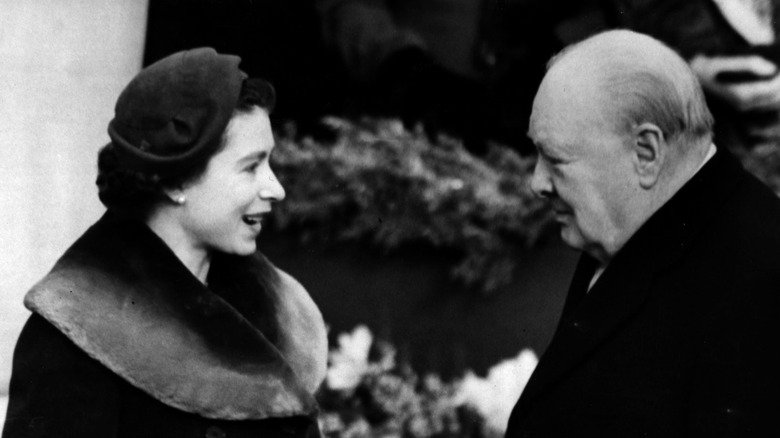 Central Press/Getty Images
For a young woman who didn't expect to take the throne so early on in her life, Queen Elizabeth II wasted no time establishing herself as the new figurehead in British politics. Meeting with Britain's prime ministers for regular audiences, sharing her thoughts with them privately, and maintaining decorum throughout decades of change, Elizabeth made it clear that while she would not make her own political thoughts public, she would support the vision of the leaders in front of her. 
Few prime ministers shared such a close relationship with her, however, outside the first PM to ever work with her: the great Winston Churchill. Famous for leading Great Britain throughout World War II, Churchill was in office when Elizabeth took the throne, and was even at the airport to welcome her home after leaving Kenya in such a hurry.
Commenting on their relationship, Churchill's grandson, Sir Nicholas Soames, told Times Radio that Churchill loved the queen, and she probably found him to be "a great comfort" as she began her reign (via YouTube). Elizabeth looked to Churchill as a leader she could trust and ask questions of, and when he died a decade later, the queen made the unexpected decision to attend his state funeral.
Elizabeth continued to defy expectations, measured by her father's legacy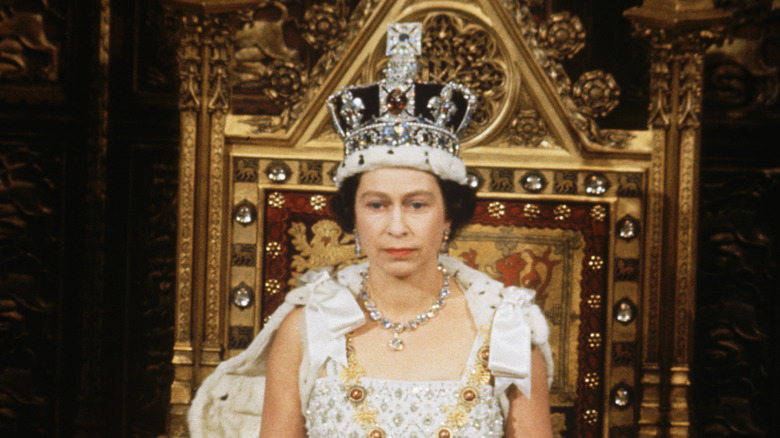 Hulton Deutsch/Getty Images
When King George VI was still alive, he famously said, "Lilibet is my pride. Margaret is my joy." His daughters, Queen Elizabeth II and Princess Margaret, couldn't have been more different in personality and charisma, and yet despite being the quieter and more reserved of the two, Elizabeth continued to defy expectations while on the throne. 
Heeding her father's advice and legacy, the queen kept her eye on the bigger picture — longevity. According to Lady Anne Glenconner, a good friend of the monarch's, Elizabeth's father drilled into her that duty was by far the most important element of being a royal. It was his example that carried her forward, charging ahead in her role one year at a time.
To put it into modern royal terms, Elizabeth and Margaret essentially held the same positions in the royal family as Princess Beatrice and Princess Eugenie do today. The daughters of Prince Andrew, the queen's second-eldest son, will likely never see the throne — unless something huge, like abdication, were to take place. Think of Beatrice, who isn't even considered a working royal, all of the sudden having to step into the role of monarch. It's quite unfathomable, and yet that was essentially who Elizabeth was before she had to face the unthinkable. Not only did she defy expectations, but she became the longest-ruling monarch in British history — talk about a legacy.
George remained an inspiration to Elizabeth until her last year on the throne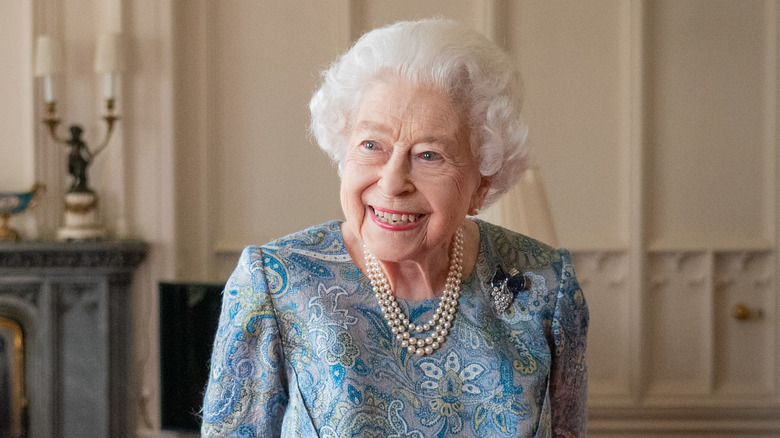 Wpa Pool/Getty Images
When summer 2022 came, Britain went into celebration mode. The season marked Queen Elizabeth II's Platinum Jubilee, her 70 years on the throne, a historic achievement that few are likely to see again. The celebrations were marked with concerts, speeches, and appearances by the royals, and yet it was Elizabeth's speech made from the comfort of her home that caught attention. Behind her, all these years later, was a framed photo of her father, King George VI, who reigned 70 years prior. His influence over his daughter was felt just as much then as it was when she first took the throne at 25, and Elizabeth paid tribute to her father while marking her own accomplishment.
"It is a day that, even after 70 years, I still remember as much for the death of my father, King George VI, as for the start of my reign," Elizabeth said, her father's picture prominent in the background of the shot. "As we mark this anniversary, it gives me pleasure to renew to you the pledge I gave in 1947 that my life will always be devoted to your service."
Just a few short months later in September 2022, the queen died at the age of 96, having completed seven decades on the throne. To say that her death marked the end of an era is a significant understatement, and we will likely never see the likes of her again.