Alison Sweeney Can't Pick Just One Favorite Hallmark Co-Star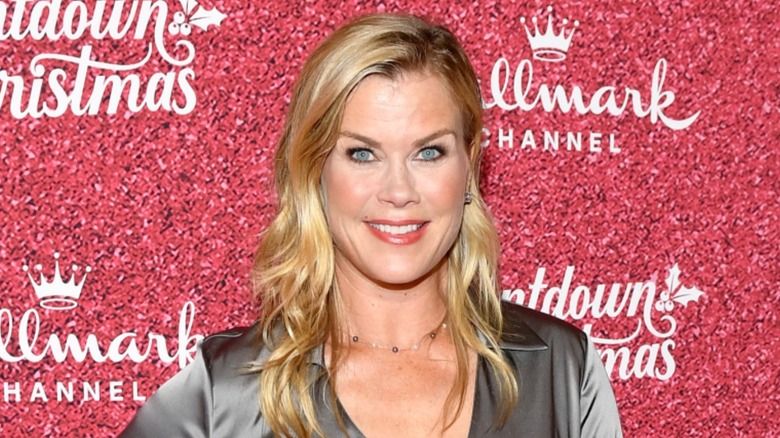 Noam Galai/Getty
Alison Sweeney has disclosed the one Hallmark star she's dying to work with — Andrew Walker, of "Three Wise Men and a Baby" fame. However, when asked to pick a favorite of the co-stars she's already worked with, Sweeney could not do it.
In a November 2022 interview with Us Weekly, Sweeney said, "How am I supposed to pick one? ... I feel [like] you're twisting my arm, and it's already a giveaway, but I've done a couple movies with Marc Blucas — and I can't even say this because he is, like, maybe my favorite, but also Cameron Mathison is my favorite. Whatever, they're all my favorites." She also said nice things about Luke Macfarlane, her co-star in 2022's "A Magical Christmas Village."
Sweeney and Blucas worked together on the Hallmark films "Good Morning Christmas!" and "The Irresistible Blueberry Farm." Sweeney and Mathison worked on the "Murder, She Baked" films on Hallmark Movies & Mysteries and now star in the spin-off, the "Hannah Swensen Mystery" series, and are working on a new installment.
Sweeney spoke highly of her Hannah Swensen co-stars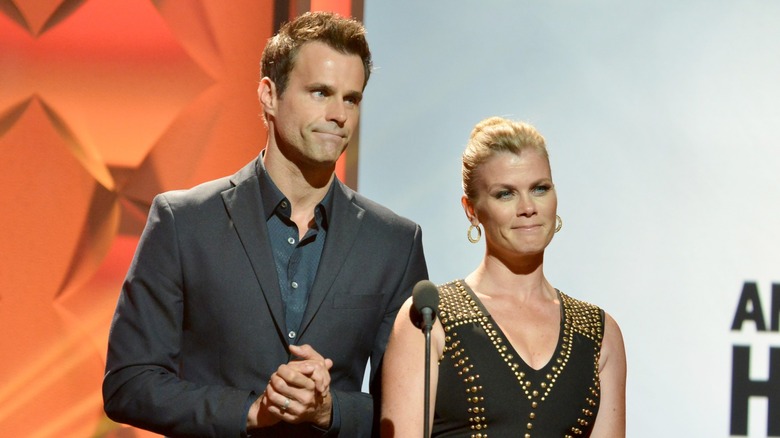 Araya Doheny/Getty
When Alison Sweeney spoke with the "Hallmark Happenings" podcast in May 2023 about "Carrot Cake Murder: A Hannah Swensen Mystery," she raved about working alongside Cameron Mathison and how great of a co-star he is. "I absolutely love working with [Mathison]," Sweeney said. "He is so much fun. Every time we start filming, it's as if no time has gone by. We just fall right back into the routine we have as Hannah and Mike ... I had a great time."
Gabriel "Gabe" Hogan is another one of Sweeney's co-stars in the "Murder, She Baked" and "Hannah Swensen" movies. He plays the character Norman Rhodes, and Sweeney told the podcast one of their scenes in "Carrot Cake Murder" might be the most fun scene she's ever shot. For the scene, Sweeney and Hogan got to improvise some lines, and she was delighted by his humor.
Sweeney had an emotional reunion working with a soap opera co-star again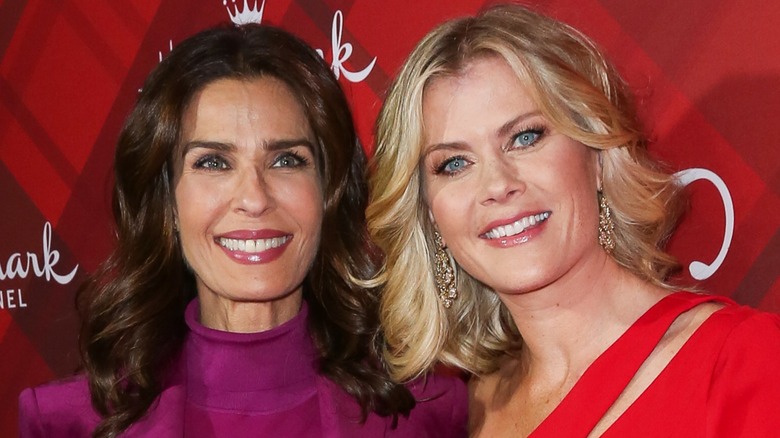 Paul Archuleta/Getty
An actor must commit to their role — no matter what. In Cameron Mathison's case, that meant eating sweet treats on the set of their "Murder, She Baked" and "Hannah Swensen" films. Since Alison Sweeney's character is a baker, she always has treats for Mathison's character Detective Mike Kingston. In an interview with Hallmark's Home & Family, hosted by Mathison and Debbie Matenopoulos, Sweeney said she laughed about how Mathison had to eat cookies "in almost every scene." Mathison claimed, "It could be worse, everybody! It could be worse."
Sweeney is also a soap opera actor and plays Sami Brady on "Days of Our Lives." While working on the "Chronicle Mysteries" series for Hallmark — which Sweeney developed, produced, and starred in — she reunited with a soap co-star. Sweeney asked Kristian Alfonso, who starred as Hope Brady on "Days," to be in the fifth installment of the series, and she said yes.
"[Alfonso's] an amazing, dear friend," Sweeney told "The Kelly Clarkson Show." "Like, because of the lockdowns and the quarantine, everything, I literally wept in her arms when I saw her on set for the first time."