The Connection Between Kaley Cuoco And Jennifer Aniston That Stems Back To 1997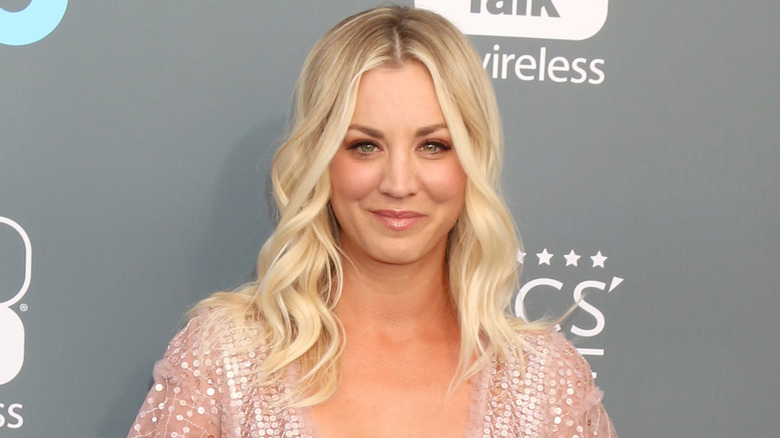 Kathy Hutchins/Shutterstock
Most people would consider Kaley Cuoco a big star. Her acting resume reads like a dictionary of primetime TV hits, including "8 Simple Rules," "Charmed," "The Big Bang Theory," and "The Flight Attendant." Off-screen, she has a pretty impressive list of voice-only roles in animated series like "Brandy & Mr. Whiskers," "Bratz," and "Harley Quinn." You can also add movies like "The Wedding Ringer" and "The Man from Toronto" to that list.
But even Cuoco has her fan-girl moments, especially when it comes to one of her favorite TV shows. Cuoco was 9 years old when "Friends" premiered in 1994, and she admits she's always been a fan. "I grew up with 'Friends.' That was my show," she told Seth Meyers during a "Late Night with Seth Meyers" appearance. Years later, during a tribute event for James Burrows, who directed episodes of both "Friends" and "The Big Bang Theory," Cuoco and her co-stars posed for a photo with most of the original cast of her favorite show. Per Entertainment Tonight, she commented on the pic in a since-deleted post on Instagram, "Ummm NIGHT MADE Can't breathe #friends meets #bbt . . . I died and went to heaven." 
The actor was particularly taken with one of the "Friends" stars, Jennifer Aniston. While it had been quite a while since the two had seen each other, the event wasn't actually the first time Cuoco met "The Morning Show" star. That specialness happened years earlier. 
As a kid, Cuoco had a bit part in an Aniston movie
While she's best known for her adult roles, Kaley Cuoco's acting career started long before "The Big Bang Theory" debuted in 2007. In fact, her first part dates back to 1992, when Cuoco starred in the TV movie "Quicksand: No Escape" when at just 7 years old. Five years later, she joined the cast of "Picture Perfect" – starring Jennifer Aniston.
Cuoco was reminded of the role when she saw the movie's poster hanging outside her dressing room on the set of "The Flight Attendant." In a since-deleted post on Instagram, the star wrote about her time on the film, as noted by Today. "Little known fact, this was one of the first 'parts' I was ever cast in as a kid. I was the last name in the credits . . . when I saw the movie, they had cut my one line." However, Cuoco wasn't focused on her script at the time, but rather the presence of Jennifer Aniston. "All I remember is spending the entire day convincing myself to tell Jen how much I loved her."
The Emmy-nominated actor also remembers how nice Aniston was, especially to a 12-year-old newcomer on her movie set, and an admitted fan. "She was a gem to me then and a gem to me now (and to everyone she knows)," Cuoco revealed. The professional adventure only solidified Cuoco's love for the actress, which she has no hesitation in sharing. 
Cuoco is a big fan of Jennifer Aniston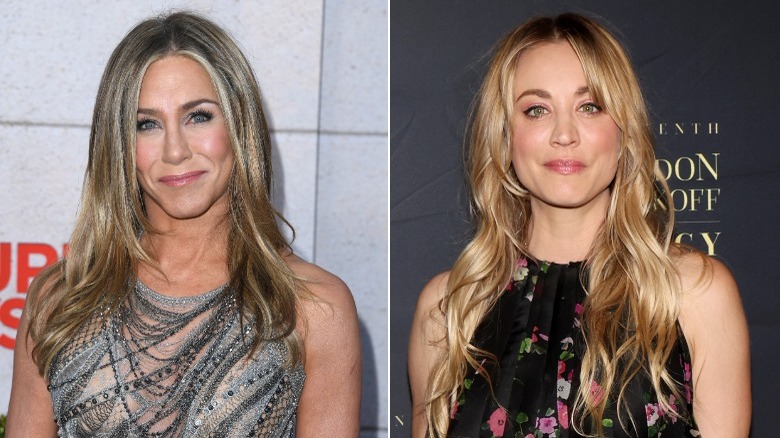 Steve Granitz & David Livingston/Getty & undefined
"I'm kind of like a secret, crazy, obsessed Jennifer Aniston fan," Kaley Cuoco confessed to Seth Meyers. The star shared how she approached the "Friends" actor during an event and was shocked to find out Aniston already knew her name. She revealed her emotional state upon meeting her idol as an adult. "It was like the skies opened up, and she smelled like a garden. And it was everything I dreamed it would be."
Cuoco has never been shy about her love for Aniston, and even said Brad Pitt's ex would have been her choice for a special guest on "The Big Bang Theory." "I love her so much," Cuoco told AOL Entertainment. "I'm obsessed with her, because she's always so effortless and cool. I don't want to say that it looks like she doesn't try, because she obviously tries, but she just looks like the coolest chick around."
Cuoco has continued to be a fan, showing support for Aniston in a myriad of ways. When Aniston shared her Emmy nod on Instagram for "The Morning Show," Cuoco was right there, commenting, "You are so epic." And when the actor opened up about her troubles with fertility, Cuoco, a new mom herself, took a stand in Aniston's corner with an Instagram story, noted People. "You never ever know what people are going through behind the scenes . . . stop assuming and judging every little thing! @jenniferaniston thank u for sharing this story!!!"