Royals Who Died Too Young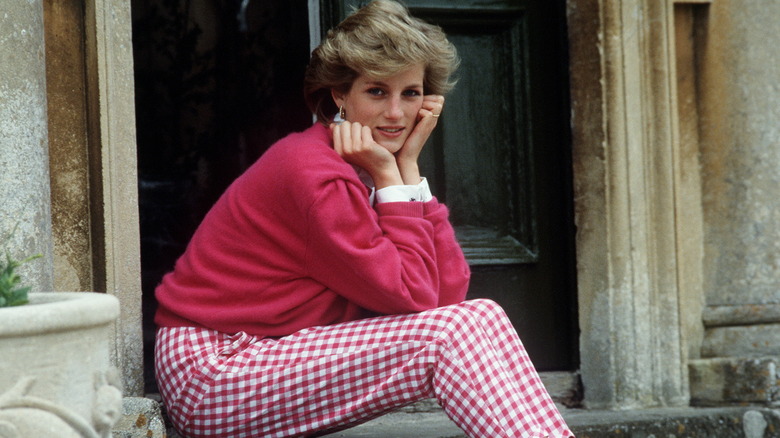 Tim Graham/Getty Images
Content warning: This article contains mentions of suicide, murder, child mortality, childbirth fatality, and pregnancy-related deaths.
It's safe to say that members of the world's various royal families are an extremely privileged class. They flit around on private jets, are dripping with jewels, and live in some of the most lavish estates on the planet. But even with palaces and a near-endless supply of money, they aren't above misfortune. Royals have their own devastating life changes such as dissolved marriages, family crises, and international scandals.
Titles can't exempt anyone from an untimely death either. Car crashes, illnesses, and suicides plague royal families in much the same way they plague everyone else. However, when a royal dies young, the grief spreads much further than just the immediate family members. Nearly everyone can remember at least one beloved royal who was taken too soon — even if their own country doesn't have a royal family. Here are some of the most tragic royal deaths that broke hearts around the world.
Philip Prospero, Prince of Asturias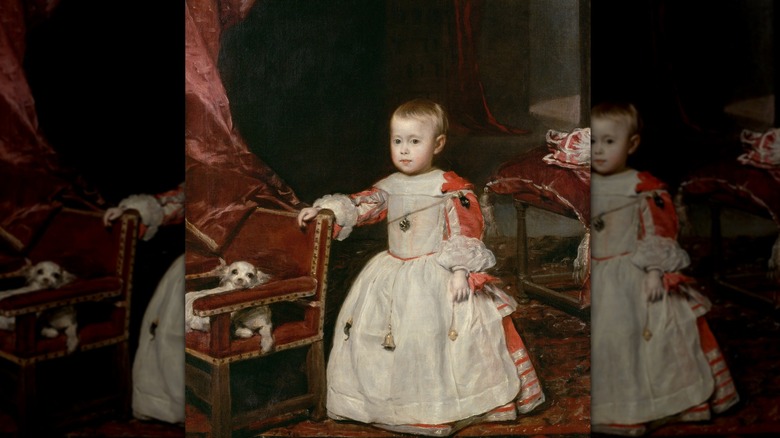 Heritage Images/Getty Images
Infante Philip Prospero was a Prince of Asturias — a principality in medieval Spain. He was born in 1657 to King Philip IV of Spain and Maria Anna, an Austrian archduchess originally betrothed to the king's eldest son from a previous marriage. Philip was one of five children produced by the union but died at just 3 years old. His siblings included Margarita Teresa, Maria Ambrosia, Thomas Karl, and Charles.
Philip, Maria Ambrosia, and Thomas Karl all died in childhood. Philip had been perpetually ill since birth and died in 1661. Maria Ambrosia likely suffered from epilepsy and survived about 15 days while Thomas Karl died at 4 months old. Margarita Teresa survived childhood and married her uncle Leopold I, however, she died at the age of 21 from complications after her sixth pregnancy.
Charles, Philip's youngest brother, would eventually take the throne, reigning from 1665 until 1700. However, his severe medical and cognitive issues left him at the mercy of those around him, and he was never more than a pawn in a power struggle between various factions including his mother, his illegitimate half-brother, and his wife.
Prince Alexander John of Wales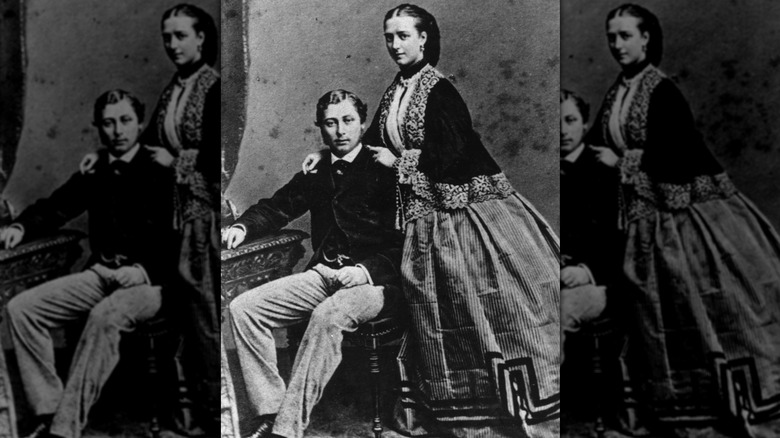 Hulton Archive/Getty Images
Prince Alexander John of Wales was born and died in 1871. He was the sixth child of Albert Edward, Prince of Wales, and Alexandra of Denmark. Albert held the title of Prince of Wales for 59 years and 45 days. He was the longest Prince of Wales to hold the title until King Charles III — Albert's great-great-grandson — broke the record, holding the title for 64 years and 44 days. Prince Albert Edward would later become King Edward VII of the United Kingdom, the second child and eldest son of Queen Victoria. 
His youngest child, Prince Alexander John, was born premature and in ill health. He died roughly a day after his birth, and the family buried him at Sandringham Church. The name "John" is actually considered bad luck in the British royal family due to the number of untimely deaths of members with that moniker. King George V and Mary of Teck's son as well as Princess Diana's brother are a couple of royal Johns to also die at a young age.
Prince Leopold, Duke of Albany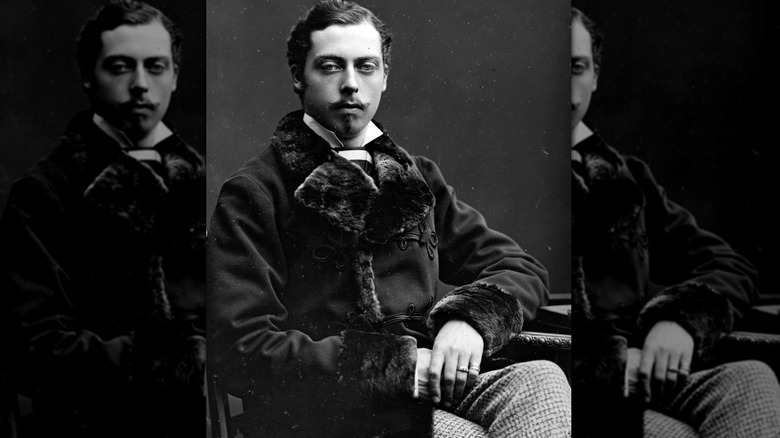 Hulton Archive/Getty Images
Prince Leopold died when he was just 30 years old. He was the eighth child of Queen Victoria and Prince Albert and held the titles Duke of Albany, Baron Arklow, and Earl of Clarence. He attended Oxford University and held the honorary title of Colonel-in-Chief for the Seaforth Highlanders. Leopold married Princess Helen of Waldeck and Pyrmont and had two children, Princess Alice and Charles Edward, Duke of Saxe-Coburg and Gotha — although, he died before his son was born.
Leopold died on March 28, 1884. He suffered from haemophilia which was diagnosed in childhood, a trait he inherited from his mother. He may have also had epilepsy. In February 1884, he was sent to Cannes to ease his joint pain. While there, he fell and injured his knee and head. He died the next morning, likely from a cerebral hemorrhage due to his haemophilia.
Before his marriage, Leopold was linked to Alice Liddell — the inspiration for Lewis Carroll's famous work. Leopold was the godfather to one of her sons, who was named after him.
Rudolf, Crown Prince of Austria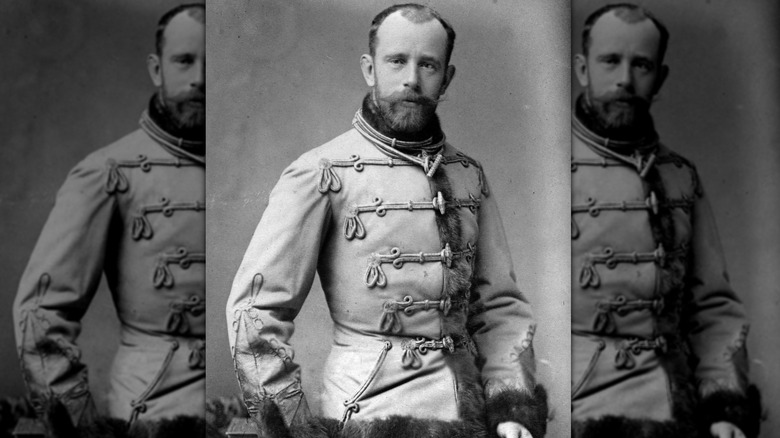 Apic/Getty Images
Prince Rudolf was 30 when he died by his own hand in 1889. His parents were Emperor Franz Joseph and Empress Elizabeth, and Rudolf was the only son making him the heir to the Austrian throne. In 1881, Rudolf's father arranged a marriage to Princess Stéphanie of Belgium, King Leopold II and Queen Marie Henriette's second daughter.
Prince Rudolf was highly educated and well-traveled, but his reformist political views clashed with those of his conservative father to the point where the emperor kept him out of government affairs. He had many political designs including ruling Hungary and bringing the Kingdom of Poland back to power. However, his political aspirations did not come to fruition and he began a relationship with Maria Vetsera, a 17-year-old baroness. The two possibly made a suicide pact and were found dead on January 30, 1889, at a hunting lodge. Other reports claim Prince Rudolf shot his mistress first before turning the gun on himself. He left behind one child, a daughter named Elizabeth Marie. However, female heirs were not eligible for the line of succession. Upon Rudolf's death, his uncle became heir. 
Princess Alexandra of Greece and Denmark, Grand Duchess of Russia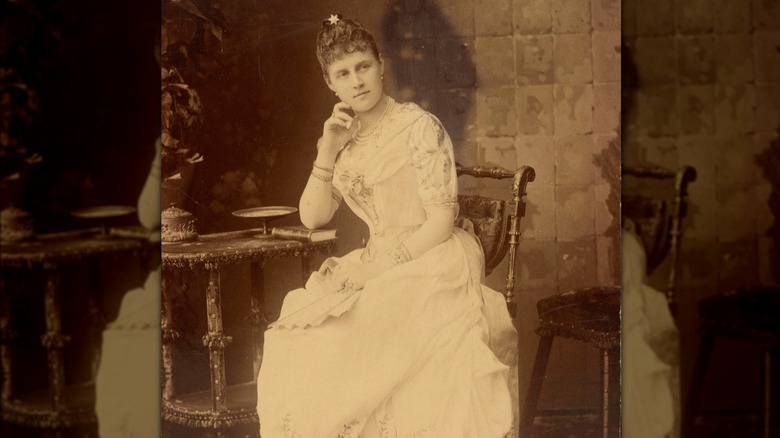 Heritage Images/Getty Images
Princess Alexandra was only 21 years old when she died. Born in 1870, Alexandra was the third child of King George I of Greece and Russian Grand Duchess Olga Constantinovna. She married the Grand Duke of Russia Paul Alexandrovich two years before her death, and had two children: Grand Duchess Maria Pavlovna and Grand Duke Dmitri Pavlovich.
Alexandra died in 1891 just days after the birth of her son Dmitri. At seven months pregnant, she collapsed at a ball due to severe labor pains. She gave birth shortly after but then fell into a coma, where she would remain until her death six days later. Her husband was apparently so distraught by her death, he had to be restrained from throwing himself in the grave alongside her.
Her son Dmitri, along with Prince Felix Yusupov and Vladimir Purishkevich, would grow up to be one of the nobles involved in the assassination of Grigori Rasputin.
Olga, Tatiana, Maria, Anastasia, and Alexei of Russia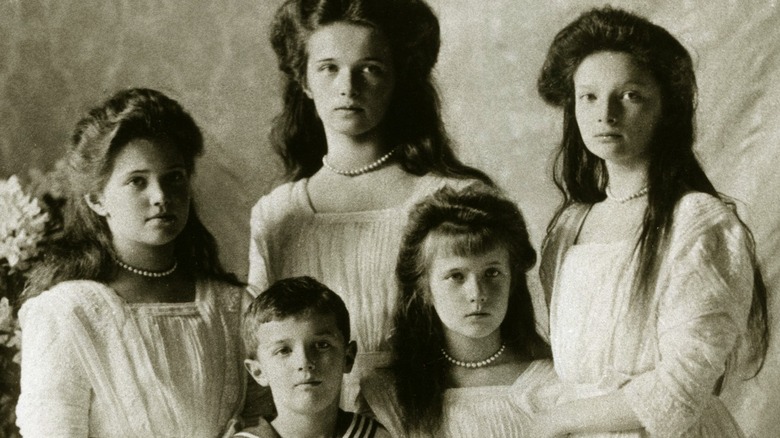 Laski Diffusion/Getty Images
The five children of Tsar Nicholas II and Princess Alix of Hesse were assassinated in 1918 along with their parents. Olga was 22, Tatiana was 21, Maria was 19, Anastasia was 17, and Alexei was 13. The family's fate started with the February Revolution of 1917. The people of Russia marched, protested, and eventually joined forces with the Russian Army and the Imperial Guard.
The Russian Army had lost faith in Nicholas and the people felt Alix was under the influence of Grigori Rasputin. The Revolution led to the family being put under house arrest, first in their country palace and then in Siberia. The whole family was shot on July 17, 1918.
The tsar's sister, Grand Duchess Xenia Alexandrovna, was able to escape Russia, feeling with her husband. Her granddaughter Princess Olga Romanoff is a cousin of Queen Elizabeth II and currently lives in England. She is a living link between the House of Windsor and the Romanovs.
Prince John of the United Kingdom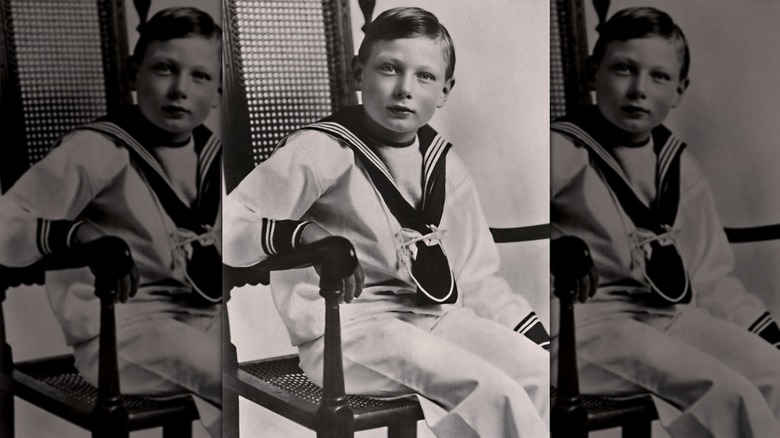 Print Collector/Getty Images
Prince John of the United Kingdom died when he was 13 years old. Born in 1905, he was the great-grandson of Queen Victoria. His parents were King George V and Mary of Teck. By the time the prince was 4 years old, his parent became aware of his medical issues. He started having epileptic seizures and showed signs of behavioral and cognitive issues. He was not sent to school and was rarely seen in public.
As the years progressed, John's seizures increased in frequency, and he was sent to Wood Farm with his nanny. Due to showing little educational progression, his tutors were dismissed. His grandmother, Queen Alexandra, provided a garden for his enjoyment and his parents arranged playmates for him to stave off loneliness. He rarely spent time with his own family as his increasingly frequent seizures reportedly upset his siblings.
On January 18, 1919, John had a particularly violent seizure, and he died in his sleep later that evening.
Prince Joachim of Prussia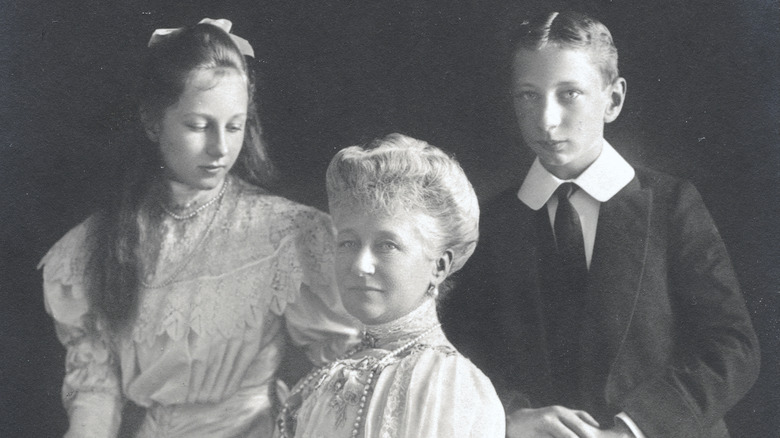 Michael Nicholson/Getty Images
Prince Joachim of Prussia died at just 29 years old. He was the youngest son and sixth child of Kaiser Wilhelm II and his first wife Augusta Victoria who ruled Germany from 1888 to 1918. Since he was so far down in the line of succession, it was unlikely that he would ever sit on the throne. Instead, Joachim focused on soldiering with the Imperial German Army earning the rank of second lieutenant of the First Regiment of Foot Guards.
In 1916, he wed Princess Marie-Auguste of Anhalt. The couple had one son which they gave a lengthy name: Prince Karl Franz Josef Wilhelm Friedrich Eduard Paul of Prussia. The marriage only lasted about four years and was dissolved in a secret divorce for unknown reasons.
At the close of WWI, the German empire was not faring well, and Joachim's father abdicated his throne thus ending 500 years of rule for Joachim's family. It was reported by the Associated Press at the time that the prince could not cope with the loss of royal status or the blow to his finances. He took his own life on July 18, 1920 (via UCR).
King Alexander of Greece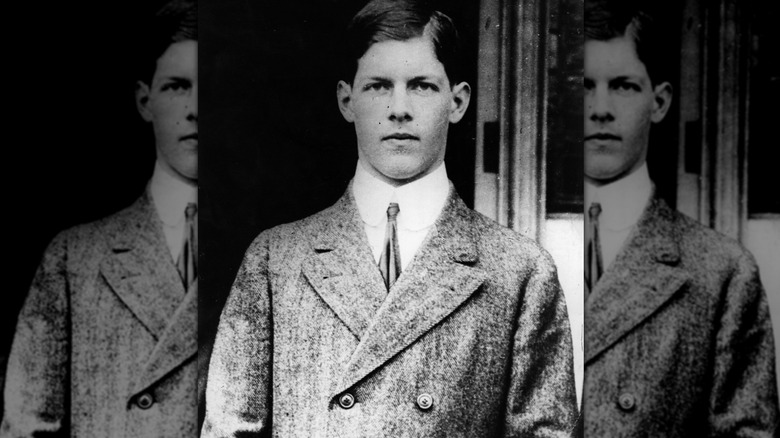 Hulton Archive/Getty Images
King Alexander of Greece died at the age of 27 after a monkey attack. Alexander was the son of King Constantine I and Princess Sophia of Prussia. He ascended to the throne in 1917, after his father and brother, Crown Prince George, were pushed into exile during World War I by Prime Minister Eleftherios Venizelos.
Alexander married Aspasia Manos, a commoner, in 1919 to much scandal. The marriage was opposed by his father and the prime minister. The two wed in secret, their fourth attempt at nuptials, in a ceremony officiated by the royal chaplain. Although he was sworn to secrecy, the chaplain confessed to the Archbishop of Athens which eventually led to the couple fleeing to Paris for many months.
On October 2, 1920, Alexander was walking around the family's Tatoi estate when he was attacked by a domesticated Barbary macaque. He received bite wounds on his torso and leg which he did not think were very serious. However, the bites became infected which led to sepsis. He passed away on October 25th, 1920.
Queen Astrid of Belgium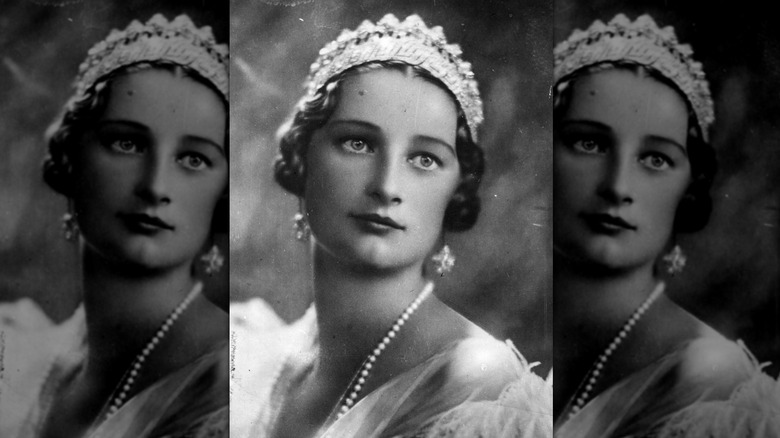 Hulton Archive/Getty Images
Born in 1905, Queen Astrid started her life as a princess of the Swedish House of Bernadotte. Her parents were Prince Carl, Duke of Västergötland, and Princess Ingeborg of Denmark. She had two sisters, Margaretha, Princess Axel of Denmark, and Märtha, Crown Princess of Norway, and a younger brother, Prince Carl Bernadotte. She was a very eligible young lady and was floated as a possible match for Edward VIII of the United Kingdom and Olav V of Norway. Astrid would eventually be wed to Prince Leopold of Belgium. Leopold and Astrid would ascend to the Belgian throne in 1934, upon the death of his father King Albert I.
The couple had three children. Princess Joséphine-Charlotte was born in 1927 and would become Grand Duchess of Luxembourg, and their two subsequent sons, Prince Baudouin and Prince Albert II, would both be crowned king.
Astrid died in 1935 while on vacation with her husband and two elder children. The couple was out for a drive on the morning of August 29th when the car went off the road. Astrid was thrown from the vehicle and her body struck a tree.
Princess Cecilie of Greece and Denmark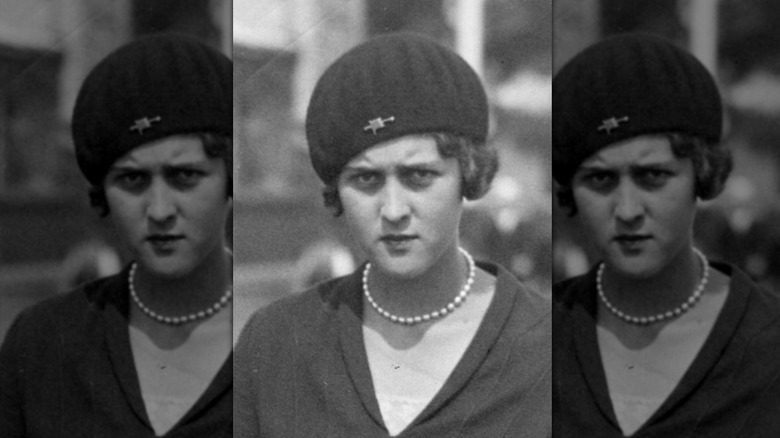 Hulton Archive/Getty Images
Princess Cecilie was the daughter of Grand Prince Andrew of Greece and Denmark and Princess Alice of Battenberg. Her brother, Prince Philip, married Queen Elizabeth II and became the Duke of Edinburgh. Cecilie married Georg Donatus, Hereditary Grand Duke of Hesse, in 1931 and had her first child within the year. Her second child was born in 1933, and her third in 1936. She was pregnant with her fourth at the time of her demise.
In 1937, Cecilie and her family took a flight to London to attend her brother-in-law's wedding. During the flight, the weather shifted and the pilot attempted an emergency landing. However, the fog was so dense, he clipped the wings on an unseen factory chimney causing the plane to burst into flames. Eleven people were on board, including Cecilie's husband, her two oldest children, and her mother-in-law. Nobody survived. According to The Evening Independent, a newborn infant was found in the wreckage. It is assumed that Cecilie gave birth during the flight.
Queen Alia of Jordan
Gerrard/Getty Images
Queen Alia was married to King Hussein of Jordan. She was his third wife, and they wed in 1972, five years before her death. Her father was a diplomat who was close with King Abdullah I, Hussein's grandfather, and became the country's first Ambassador to the United Nations.
Prior to her marriage, Alia worked for Royal Jordanian airline. She also helped oversee the First International Water Skiing Festival, a position Hussein requested she fulfill. He even taught her to water ski. "He was trying to get me up on the skis about four or [five] times," she told the New York Times in a 1973 interview. The two were married in a private affair at her father's house just a few days after Hussein's divorce from his second wife.
Alia was killed in a helicopter crash on February 9, 1977. She was returning from southern Jordan where she was inspecting the Tafileh Hospital. The military helicopter went down in a rainstorm also killing the pilot and Health Minister Dr. Mohammed Al-Bashir. In 1983, an airport was named in her honor: Queen Alia International Airport in Amman.
Diana, Princess of Wales
Princess Diana Archive/Getty Images
Princess Diana was 36 years old when she was killed in an automobile accident. She was the daughter of John Spencer, Viscount Althorp, and Frances Roche. Diana's family was close to the royal family for several generations, as her grandmothers had been ladies-in-waiting to Queen Elizabeth II. Diana married King Charles III, then Prince of Wales, on July 29, 1981, when she was 20 years old.
Known as the People's Princess, Diana was recognized for her philanthropy and support of humanitarian causes. At one time, she was linked to over 100 charitable efforts including work toward banning land mines and promoting AIDS relief. "Princess Diana invented the idea of the famous person who does good," Bidisha Mamata, a British journalist, told NPR.
Diana died in 1997 when the vehicle she was riding in lost control in a Paris tunnel. The driver, Henri Paul, was trying to evade the paparazzi. He was also killed in the accident along with Dodi Fayed, Diana's companion.
Princess Alya of Liechtenstein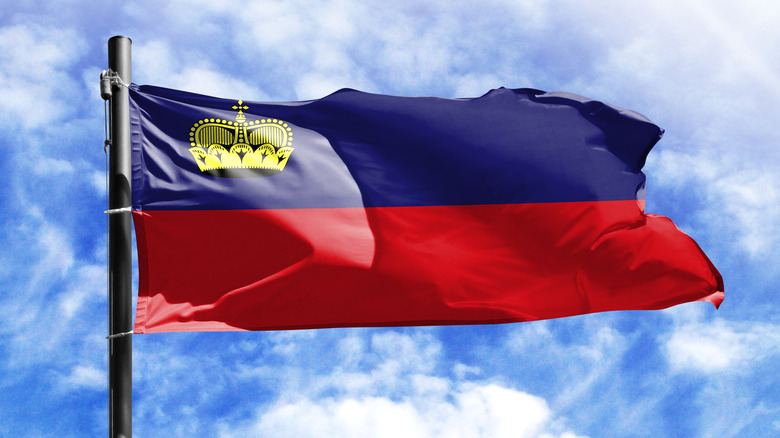 Millenius/Shutterstock
Princess Alya Nur (sometimes written as Aliénor) was only a toddler when she died in 2015. Alya was the daughter of Prince Rudolf of Liechtenstein and Princess Tılsım. Rudolph is the nephew of the current reigning monarch, Hans-Adam II, Prince of Liechtenstein. Tılsım's father is a wealthy Turkish businessman.
Since the couple are very private, little was reported in the media about Alya before her death. In fact, her birth was not even a well-known fact. Her death was announced in 2015, she was only a year old. The family was visiting the United States when Alya choked on her food which lodged in her trachea. Since Alya's death, Rudolph and Tılsım have had two more children, a set of twins named Laetitia and Karl Ludwig. They were born in 2016.
In 2021, Princess Alya's parents purchased a 13th-century castle in Switzerland that includes over a hundred hectares of land and is reportedly very well preserved.
Princess Maria Galitzine of Austria
Princess Maria of Austria died at 31 while living in Houston, Texas in 2020. She was the fourth child of Prince Piotr Galitzine and Archduchess Maria Anna of Austria. Her siblings include Princess Xenia, Princess Tatiana, Princess Alexandra, Prince Dimitri, and Prince Ionn Teimouraz. Maria was born in Luxembourg but grew up in Russia. She attended the College of Art & Design in Belgium and lived in various cities as an adult including Brussels, Chicago, and Houston. 
She married Rishi Roop Singh, a renowned chef at Hotel Derek a boutique hotel in Texas, in 2017. The pair lived in Houston where she worked as an interior designer and had one child, a son named Maxim. Her obituary published in the Houston Chronicle described Maxim as "the apple of her eye." Maria died suddenly on May 4, 2020, due to a cardiac aneurysm. 
Maria was buried at Forest Park Westheimer Cemetery in the Orthodox section in Houston.