Everything You Need To Know About Miranda Lambert's Anti-Selfie Concert Drama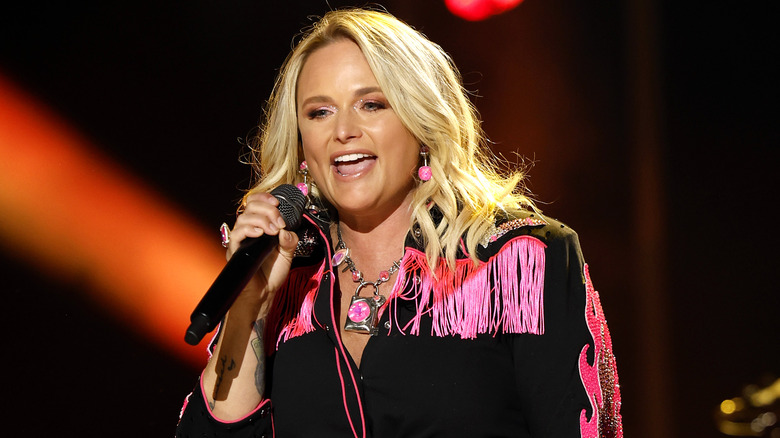 Jason Kempin/Getty Images
Miranda Lambert has been a country music darling since competing on "Nashville Star" in 2003. The singer has earned plenty of awards and recognition and even more fans since. Yet, her behavior toward her fans is what's had her in the headlines as of late, and this time, it's not in a good way. The star is currently in the middle of "Miranda Lambert: Velvet Rodeo The Las Vegas Residency," a residency at Planet Hollywood Resort & Casino. At her most recent Saturday night show, Lambert stopped mid-song to give some fans a piece of her mind, and the video of the event has gone viral and sparked quite a bit of controversy about both Lambert's behavior and that of her fans.
It's clear that Lambert has a bone to pick with folks who don't live in the moment and, instead, bury their faces in their phones — especially when the 39-year-old star is mid-performance. However, not all of Lambert's fans are taking her side in the aftermath. In fact, many audience members even left the show in response to her outburst. 
A selfie set Miranda Lambert off
'I don't like it - at all. We're here to hear some country music, and I'm singing some country damn music!'

Miranda stops Tin Man to call out girls who are more concerned with taking selfies than listening to the music 🫡 pic.twitter.com/6BKnUskeZz

— Miranda Lambert Fan (@ranfancentral) July 16, 2023
During a recent performance at musician Miranda Lambert's Las Vegas residency, the singer brought the show to a screeching halt as the band started to play her single from 2016, "Tin Man." "I'm gonna stop right here for a second; I'm sorry," Lambert declared to the audience. "These girls are worried about their selfie and not listening to the song. It's p***ing me off a little bit," she said, adding, "Sorry, I don't like it. At all. We're here to hear some country music tonight. I'm singing some country damn music." While some cheers can be heard from the audience in the video of the ordeal, many concert-goers headed home after the incident.
Lambert was clearly making a statement that was far bigger than simply calling out some audience members' behavior, and she likely thought that her fans would come to her defense in response. However, the reaction online has been quite the opposite. One Twitter user replied, "These people were in VIP and paid a lot of money to see her, who is she to stop the show and scold them like that??! You don't talk to fans like that, they can take pictures of themselves whenever they damn please. Ugh she's always rubbed me the wrong way." Even comments on Lambert's own TikToks from the night received backlash. One user replied, "I hope next concert everybody [takes] selfies lol," while another said, "taking [non-stop] selfies at ur next show."
Lambert's concert-goers speak out
The backlash has also caused some fans to speak out about their own experiences attending Miranda Lambert's concerts. One TikTok user commented, "Miranda didn't even talk to our Vegas audience between songs hardly. Always in a mood. Fans can enjoy however they want. They paid." Another added, "Imagine it was their favorite song and they were taking a video and [were] excited" with a crying emoji. 
In response to the popularity and controversy surrounding the video, one of the people on the receiving end of Lambert's reprimanding has spoken out. In an interview with NBC News, influencer Adela Calin recalled taking the selfie that stopped the show. "It was 30 seconds at most," Calin explained, adding, "We took the picture quickly and were going to sit back down." She went on to say, "It felt like I was back at school with the teacher scolding me for doing something wrong and telling me to sit down back in my place ... I feel like she was determined to make us look like we were young, immature, and vain. But we were just grown women in our 30s to 60s trying to take a picture." It's clear that plenty of folks are siding with Calin, and this unexpected ordeal just may have made some folks change their tune about supporting Lambert or attending her shows in the future.