6 Best And 6 Worst Hats Kate Middleton Has Ever Worn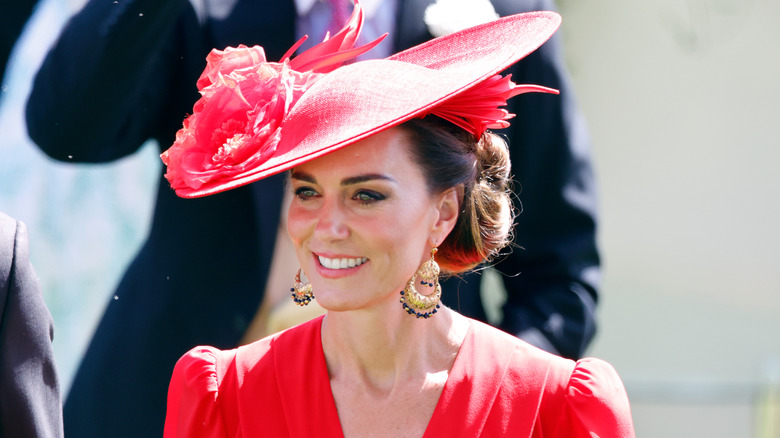 Max Mumby/indigo/Getty Images
In addition to being the wife of Prince William and the future queen of England, Princess Catherine is also known as a bona fide style icon who has inspired millions. Once upon a time, she was a commoner, but Catherine's dress sense really elevated when William proposed, with her elegant outfits becoming the stuff of legend. As every senior member of the royal family knows, a look is never complete without a hat to top it off — and Catherine's collection is quite impressive ... but that doesn't mean she always gets it right.
She may be at the top of one of the biggest dynasties in the world, but Catherine is only human. Even fashion goddesses make mistakes sometimes. Hats come in all shapes and sizes, from demure fascinators to huge, sweeping, wide-brimmed numbers that can be hard for even supermodels to pull off. While it could be argued that Catherine looks great in anything, some of her hat choices have gone down better than others. 
From picking the right one to wear to a celebratory occasion like Trooping the Colour or making a somber statement on Remembrance Day, Catherine hasn't been afraid to make daring choices that others may not like. Thankfully, her picks have (largely) gotten better as the years have rolled by. Let's take a look. 
Best: A vision in teal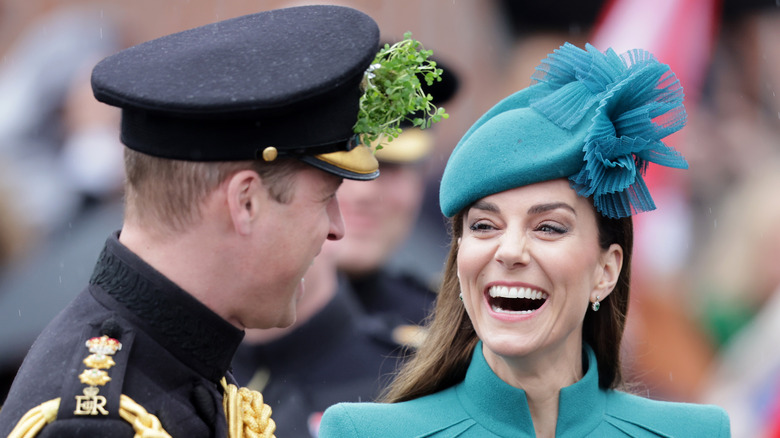 Chris Jackson/Getty Images
Princess Catherine has been a senior member of the royal family ever since she married Prince William in 2011, but her status elevated after Queen Elizabeth II's death in 2022. William took one step closer to the throne as the son of the current monarch, King Charles III, and took on the new title of Prince of Wales, making Catherine the Princess of Wales. Her fashion has been out of this world for some time, but ever since this transition, she has upped the ante. Case and point: she wore this stunning teal blue outfit to the St. Patrick's Day Parade at Mons Barracks in 2023. 
The gorgeous Catherine Walker coat dress was one thing, but the piece de resistance was really the Jane Taylor hat. Though relatively simple compared to some other hats Catherine has worn in the past, it was the perfect accessory to pull the entire look together — as was the princess' beaming smile. 
The entire event was a poignant one, as it marked Catherine's transition into her new role as the Colonel of the Irish Guards, a position formerly held by William. "I really couldn't be prouder to stand in front of you here today. It really is a true honor to be your Colonel," she said in her speech to the battalion, per Town & Country. "I am here to listen to you, to support you, and to champion you in all you do — this is a responsibility I do not take lightly."
Worst: A pop of color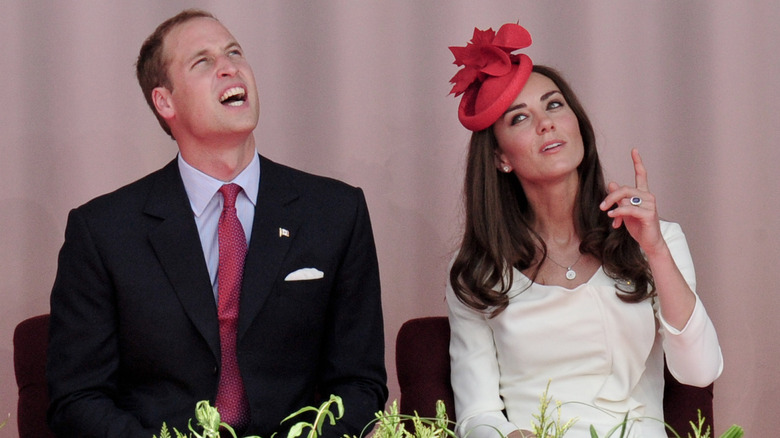 George Pimentel/Getty Images
It seems Princess Catherine has learned from her past fashion mistakes. Although she rarely makes a faux pas or finds herself on worst-dressed lists now, back in 2011 she was still trying to figure out her royal style. Shortly after marrying, the couple took their first official trip to Canada. The loved-up pair spent nine days traveling the Great White North, visiting major destinations like Quebec and Ottawa. Catherine made sure to pack several demure outfits for the occasion, but her Canada Day ensemble stood out the most. 
Catherine opted to match the Canadian flag colors, wearing a pure white dress by Reiss and a bright red hat with a maple leaf on the top. The piece, designed by Lock and Co, was definitely a head-turner ... but did it hit the right note? While the level of thought put into the outfit by Catherine is nothing short of respectful and sweet, the end result didn't quite work. 
There's something about the starkness of the dress coupled with the brightness of the headpiece that is slightly off beat, lacking the same flow that a lot of Catherine's most beautiful outfits have. What's more, it does nothing to complement William's blue shirt and dotted tie. Thankfully, Catherine's state visit outfits have definitely evolved over time and are much less try-hard.
Best: Off to the races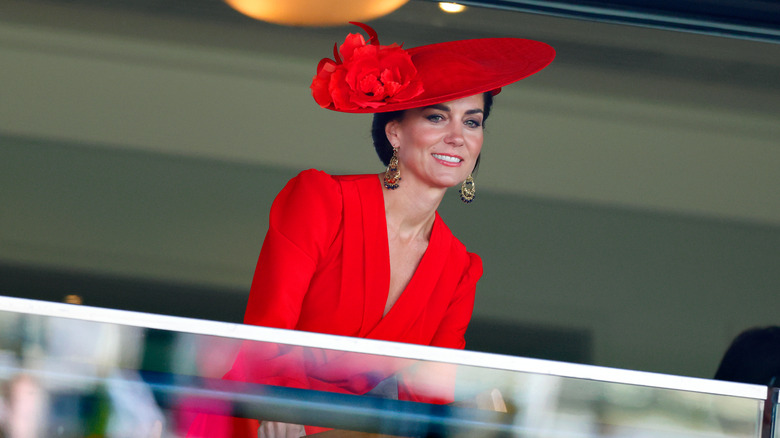 Max Mumby/indigo/Getty Images
The British royal family has a long, deep-seated history with equestrian sports. Princess Anne competed in the Olympics, as did her daughter, Zara Tindall. King Charles III even enjoyed a brief stint as an amateur jockey in his youth. Naturally, the royals are big fans of the Royal Ascot. Queen Elizabeth II went every single year from her coronation in 1953 up until 2021. Princess Catherine has also been a fixture at the race. 
As one of the biggest events in the British sporting calendar, many jockeys and trainers look forward to it, but it isn't just the horses that make the headlines. Fashion is just as important at Royal Ascot, with hats a vital part of every outfit. Attendees go all out, wearing outlandish creations that look more like alien lifeforms than chic examples of top-notch millenary. However, there are some revelers that opt to keep things sophisticated. Of course, Catherine is one of them. 
In 2023, Catherine wore a stunning bright red Alexander McQueen dress with matching red shoes, but the scene-stealer was this wide-brimmed hat with all-red floral detailing. The statement look was right on the money, with People dubbing it "her boldest Royal Ascot outfit yet." The headpiece was designed by royal favorite, Philip Treacy. Treacy was also the mastermind behind Princess Beatrice's famed "pretzel" hat that divided critics.
Worst: Dutifully dull?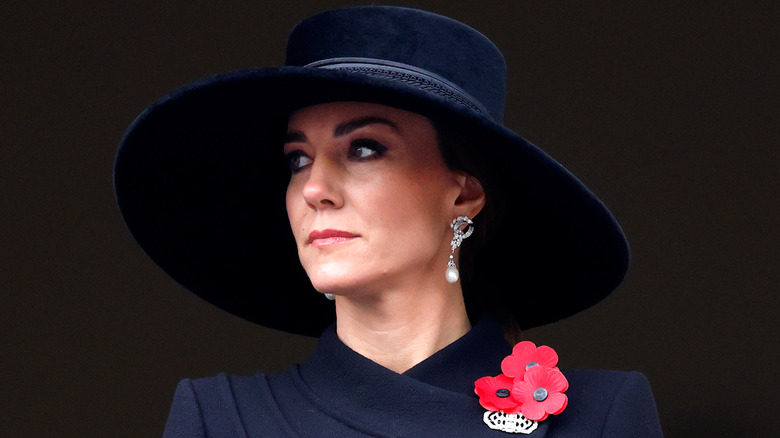 Max Mumby/indigo/Getty Images
Not every single outfit can be colorful and extravagant. There's a time and a place for black, including National Remembrance Day. Every year, Britain remembers the end of the First World War on November 11, with people across the nation respecting a two-minute silence in honor of fallen heroes. The reigning monarch lays a wreath of poppies to commemorate the occasion during a ceremony at the Cenotaph in London. Other senior members of the family are also in attendance to pay their respects, including Princess Catherine. 
It's usual for everyone to wear dark colors given the somber vibe, with royals typically choosing simple and low-key outfits. In the first ceremony since Queen Elizabeth II's death in 2022, Catherine stuck to the mission statement and wore a form-fitting coat by Catherine Walker with three poppies pinned to the lapel. She also wore another Philip Treacy creation, this wide-brimmed black hat. 
Although it's an undeniably chic combination that isn't overtly problematic, the overall look with the heavy smokey eye makeup created a much more severe visual than we're used to seeing from Catherine. It lacks her trademark softness and grace, instead giving classic Hollywood widow rather than people's princess — but she scraped back a few points by wearing Princess Diana's South Sea pearl earrings. But alas, even a little bit of sparkle wasn't enough to turn this look into a firm favorite, no matter how much we wanted it to.
Best: Pretty in pink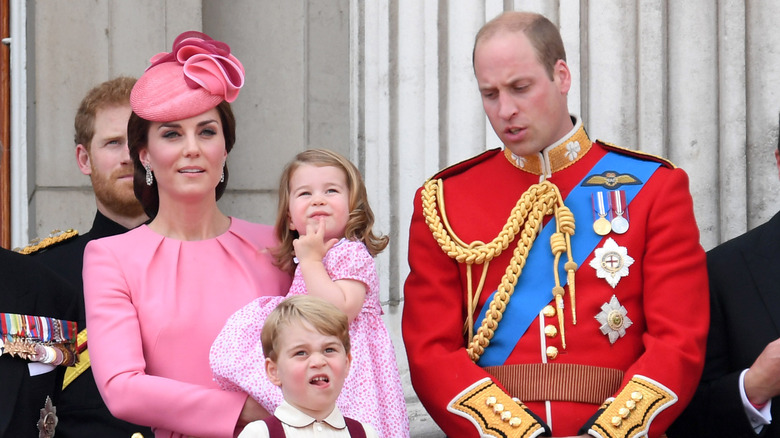 Karwai Tang/Getty Images
Every mom knows how precious it can be to match with their little ones, though there aren't usually that many occasions to do so. Luckily for Princess Catherine, she has more chances than most. Back in 2017, Catherine pulled out all of the stops for Trooping the Colour, the annual ceremony that celebrates the birthday of the sovereign. This event is big on pomp and circumstance, with plenty of well-wishers lining the streets as they try to catch a glimpse of the royal family's parade. 
Needless to say, such a joyous and momentous time requires a show-stopping outfit that reflects the upbeat atmosphere. Catherine wore a striking Alexander McQueen dress, while little Princess Charlotte wore a patterned pink dress to complement her mom's outfit. As always, Catherine topped off the look with a hat, this time a ruffled pink number by Jane Taylor. The different shades of pink mixed with Catherine's stunning fresh-faced makeup look was a surefire style win. 
From top to toe, this outfit totally embodied Catherine's signature style by also giving it a youthful, playful twist. It may have been Queen Elizabeth II's birthday celebration, but it was the queen-to-be that totally stole the show, standing out from the royal crowd as a radiant reminder of the future of the monarchy. After all, what's the point in being married to a prince if you can't wow the public every once in a while?
Worst: Sunday best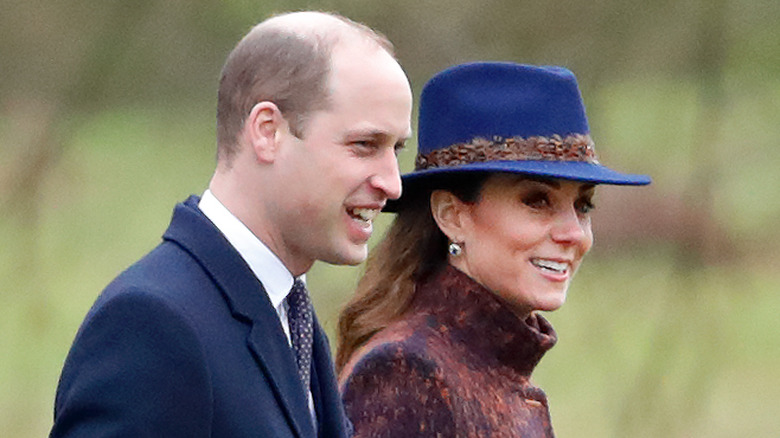 Max Mumby/indigo/Getty Images
Going to church means putting on your Sunday best and making sure every piece is in place. It's not necessarily the most formal of events, but it does require some effort. Every year around Christmastime, the British royals are pictured attending services in Sandringham, where they spend the holiday season. 2020 was no different, with Princess Catherine and Prince William photographed on their way to take a pew. Catherine's outfit was a departure from her usual public get-up. 
She wore a full-length winter coat in muted brown colors and chose to pair it with a navy blue fedora-style hat with feathers wrapped around the brim. The accessory, made by Hicks & Brown and retailing at around £95, didn't exactly scream princess. It could be argued that given the type of event, a more formal hat would have seemed out of place. However, both the color and the style of this choice don't seem to coordinate with the rest of Catherine's outfit at all. 
The cap's only saving grace is that it does come somewhat close to matching William's navy coat, but even then, it lacks merit. Catherine did add a little bit of glam to her look by choosing to wear diamond drop earrings, but overall, this hat has to go on the miss list. Let's hope Catherine gives it a miss in the future, too.
Best: The color of love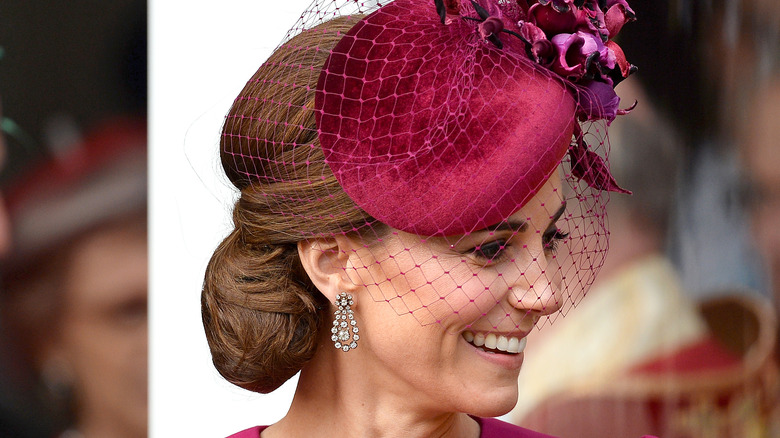 Pool/max Mumby/Getty Images
If you're not the bride or a member of the wedding party, trying to figure out what to wear to a wedding can be an arduous task. Especially if the wedding is a royal one. Thankfully, Princess Catherine has some of the best designers at her disposal. For Princess Eugenie's wedding to Jack Brooksbank in 2018, Catherine went with yet another Alexander McQueen dress. The jaw-dropping dark pink outfit was perfect for the romance-filled day, but it was made even better with a matching Philip Treacy hat in the same color. 
The hat, made up of dark pink velvet and complete with a matching veil, had added pink and purple flowers. It was a show-stopping piece, rounding off Catherine's immaculately put-together wedding guest look. Her brunette tresses were swept up into a stylish twisted bun. Of course, earrings were important too, with the princess opting for stunning diamond pear drops that gave the entire look a little extra magic. 
Even though all eyes were on Princess Eugenie in her beautiful Peter Pilotto and Christopher de Vos wedding dress, Catherine certainly dressed to impress. Many outlets reported on how different her eye-catching look was compared to the pale yellow ensemble she wore to the wedding of Prince Harry and Meghan, Duchess of Sussex, a few months prior. 
Worst: A hat or an ice cream?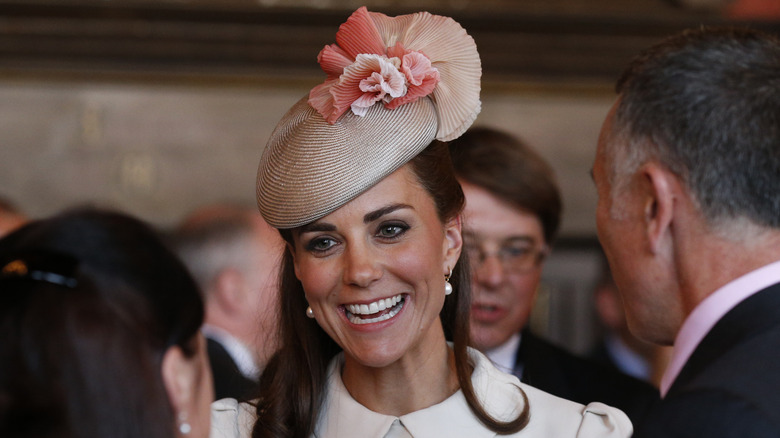 Pool/Getty Images
What exactly does one wear to a reception to commemorate the First World War in Belgium? Admittedly, it's a tough event to dress for, so we can cut Princess Catherine a little slack for the hat she chose in 2014. Catherine and Prince William joined Belgium's King Philippe and Queen Mathilde to attend a memorial, with all parties looking crisp, chic, and elegant. Catherine wore a neutral short coat with a peter pan collar and a matching skirt that sat just above the knee. 
Her hat was more of a fascinator with substance, as the beige sphere sat on the crown of her head at a tilted angle. While we can forgive the Neapolitan ice cream colorway, we're not ready to move on from the ruffles. The pop of pink would have been great if it wasn't arranged in a way that makes it look like it was shell plucked from the depths of the ocean — and not in a beguiling, whimsical fashion. 
Still, the strange choice of headwear didn't seem to put a damper on Catherine and William's visit, as the pair were photographed laughing and chatting with other attendees. Even Britain's then-Prime Minister, David Cameron, was there to pay his respects along with other leaders. 
Best: Gorgeous in green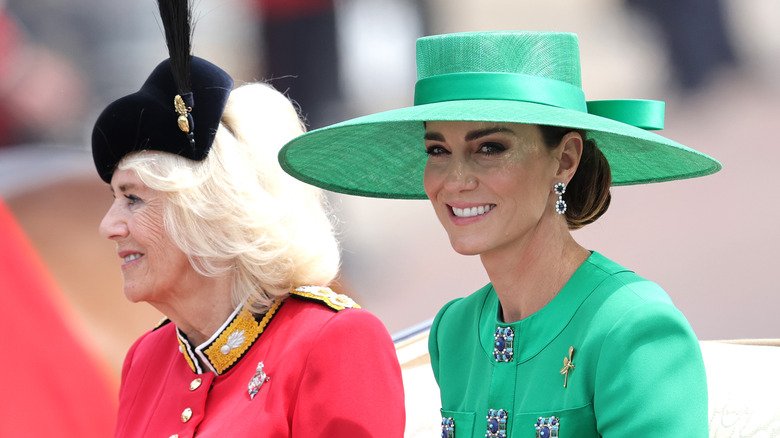 Chris Jackson/Getty Images
Public events are arguably Princess Catherine's fashion forte, but none more so than Trooping the Colour. The crowds look forward to seeing her outfits as much as the parade, wondering what look she will pull off next. For the first event of its kind since the death of Queen Elizabeth II in 2023, Catherine decided bold was the way to go — and she wasn't wrong. The future queen wore a coat dress by Andrew Gn in a breathtaking shade of green, with beaded buttons. This choice wasn't simply because Catherine liked the color; she wore it as a nod to her new position as Colonel of the Irish Guards. She even accessorized it with a dainty Cartier shamrock brooch, just to double down on the statement. 
Of course, the outfit wouldn't have been complete if it wasn't paired with a wide-brimmed Philip Treacy hat. The simple design was completed with a bow that sat at the back, giving it an Audrey Hepburn vibe that suited Catherine down to the ground. 
To round off the look, Catherine decided to wear her late mother-in-law's sapphire and diamond earrings. Princess Diana's diamonds look remarkably similar to her engagement ring, which Catherine also wears. All in all, this was a look for the ages that will go down in royal history for more reasons than one. 
Worst: Feather fail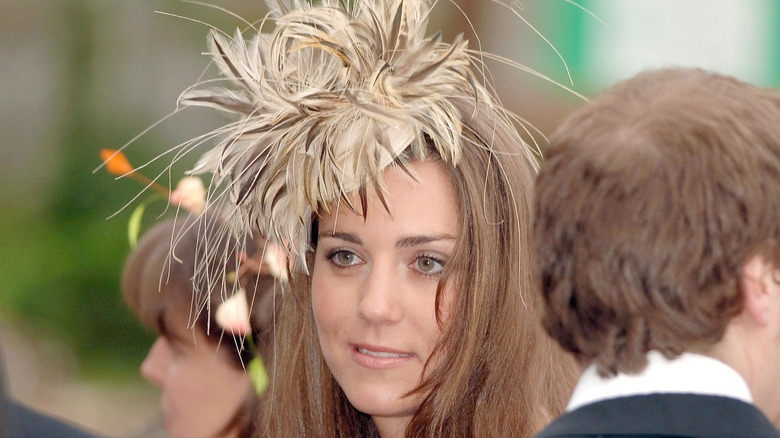 Anwar Hussein/Getty Images
Long before Princess Catherine was Prince William's wife and the future queen, she was Kate Middleton, William's university girlfriend. The pair started dating in the early noughties after meeting at the University of St. Andrews as students. It may have been a wonderful time for their romance to blossom, but it was a dire period when it comes to fashion. Like many other young people of the era, Catherine fell victim to style faux pas, from thin eyebrows to the dreaded color beige. 
Catherine wore this rather bold hat to the wedding of William's stepsister, Laura Lopes, in 2006. Even back then, Catherine wore a trademark coat dress in a pale cream color, which looked elegant and understated, giving us a glimpse of what her future aesthetic would become. If only the hat didn't look like a semi-plucked pheasant. 
Both the dull color and the sheer volume of the piece make it one of Catherine's less favorable style moments, but at least she made up for this style sin in the future by gracing us with so many fantastic looks we almost forgot about it ... almost. It was the noughties, so we can forgive this one and put it down to an error in judgment (and the fact Catherine had yet to have a stylist's guidance). 
Best: Polka dot princess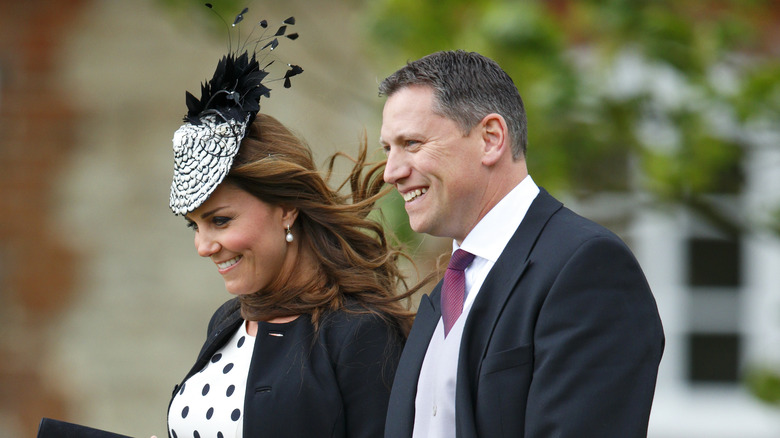 Max Mumby/indigo/Getty Images
Dressing a baby bump can take some getting used to. After all, your body completely changes and what previously felt comfortable might not work anymore. As you might expect, Princess Catherine has become an expert in pregnancy style. In 2013 while pregnant with her first child, Prince George, Catherine attended the wedding of William van Custem and Rosie Ruck Keene near Oxford. 
Interestingly, Catherine didn't opt for a designer dress (though she had plenty in her possession by this point) and instead chose a Topshop polka dot number. The princess paired it with a black blazer and a stunning black and white hat with an arrangement of black feathers. Her pearl drop earrings pulled the look together, adding a sweet detail to an already playful outfit. 
The black and white look may not be for everyone, but it was very of-the-moment fashion-wise. Catherine likely chose comfort as the basis for the outfit, given how far along she was at the time, but she didn't sacrifice style in the process. The pattern clash of the lines in the hat coupled with the dots on the dress somehow works, making for an interesting yet charming twist on an English rose aesthetic. All in all, Catherine gets top marks for this worthy ensemble that's perfect for a countryside wedding. 
Worst: Feathers do it again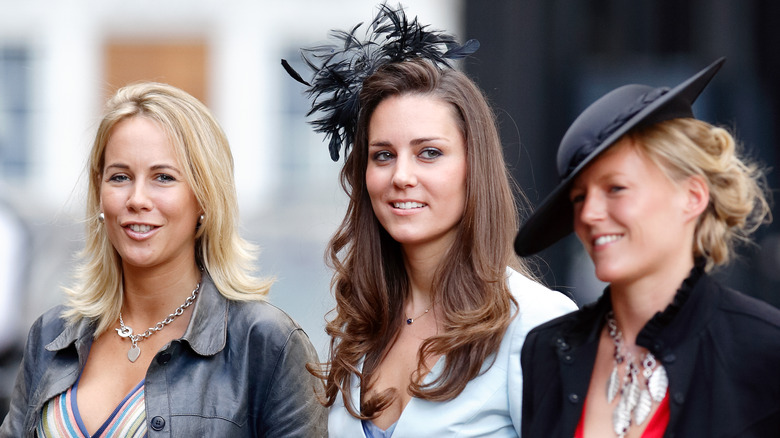 Max Mumby/indigo/Getty Images
Two years after wearing a feathered hat to the wedding of Laura Lopes, Princess Catherine opted to go for a similar look for the 2008 nuptials of Lady Rose Windsor and George Gilman. Although Prince William wasn't in attendance, other members of the royal clique were, including Princess Anne and her son, Peter Phillips. For the happy day, Catherine donned a cropped blue blazer and a patterned dress, complete with black shoes and a black clutch bag. 
The headpiece isn't quite a hat, but a fascinator, clipped tightly into Catherine's loose brunette tresses. The outfit itself looked demure, but the feathered plumes felt out of place. This was long before the future princess inherited pieces from Princess Diana's jewelry collection, meaning there were no luxe diamond earrings to divert the eye away from the fluffy mound on Catherine's head. 
At the time, Catherine was just 26, so this style choice can be chalked down to youthful naivety. If nothing else, it helped William's then-girlfriend to become more familiar with weddings within the royal circle, making this her second big wedding of the year (the first being Peter Phillips' wedding to Autumn Phillips just a few months prior). As we well know, Catherine has considerably upped her hat fashion in the years that have followed.