How Margot Robbie Enforced Her 'Pink Day' Rule On The Set Of Barbie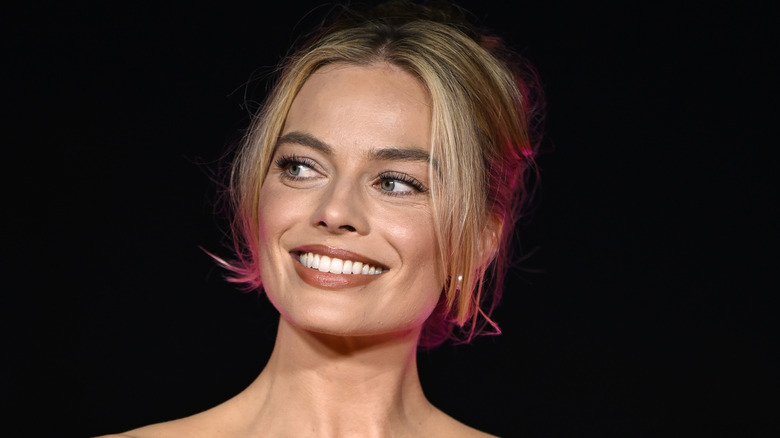 Gareth Cattermole/Getty Images
Unless you've been living under a rock, you may have heard about a little movie called "Barbie." The most anticipated flick of the summer is coming to theaters on July 21, and fans all around the world are buzzing with anticipation. They are fully embracing "Barbiecore," an ultra-feminine fashion aesthetic that lets us live out our childhood nostalgia (per Elle). However, it turns out that the star of the film is just as passionate about staying true to the doll's spirit.
Margot Robbie, who portrays Barbie, allegedly designated days to wear pink on set. Her co-star Ryan Gosling, playing a lovestruck Ken, spilled the beans about her weekly rule, which was complete with penalties. Gosling told People: "Margot had this pink day once a week, where everyone had to wear something pink. And if you didn't, you were fined. She would go around collecting the fines, and she would donate it to a charity."
Social media went abuzz upon hearing the news. Some fans even made a joke out of the headlines, in light of the recent WGA and SAG-AFTRA strikes challenging Hollywood's pay inequity. "I was the PA that paid over $3,600 in Margot's pink fines," one fan playfully tweeted. "I tried wearing coral & peach, nothing ... this was my job and now I'm living in my car." In addition to the "pink fines," Margot has been embodying her role perfectly, executing her best Barbie-inspired outfits at premieres around the globe.
Come on Barbie, let's go to set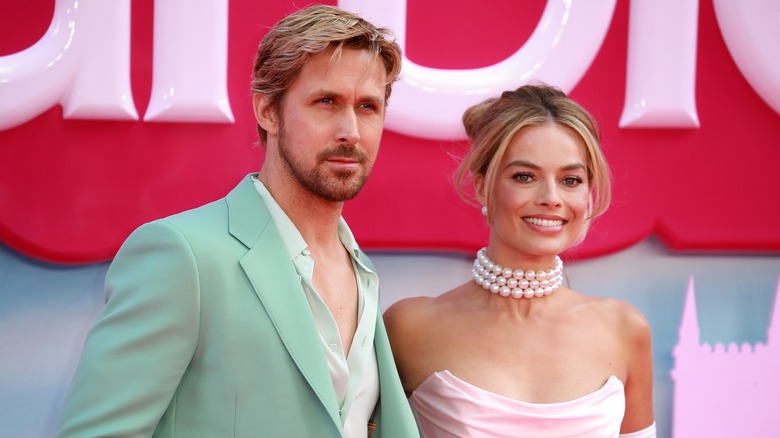 Fred Duval/Shutterstock
Even though Margot enforced a "pink fine," apparently the cast and crew got into the theme. "What was really special was just how excited the male crew members were. At the end of the film, they all got together and, with their own money, made pink crew shirts with rainbow fringe," Gosling shared (per People). "It was this opportunity for them to show their respect and admiration for what Margot and Greta were creating."
"Barbie" will explore the doll's journey as she leaves Barbieland, the perfect world she's always known. From multiple trailers, fans can see how Ken is the dedicated sidekick in Barbie's journey. The film's tagline, which has since gone viral, is "She's everything. He's just Ken." Speaking about her focus on the heroine, director Greta Gerwig explained to Vogue: "Ken was invented after Barbie, to burnish Barbie's position in our eyes and in the world."
In making the film, at first, Margot wasn't sure "Barbie" would even make it to production. But ultimately she got to fill the iconic role alongside Gosling, who she says is especially "comedically gifted." "He's known for his dramatic acting, and rightly so," the "Suicide Squad" actor told People. "But he is unbelievably gifted with comedy, and I ruined most of his takes because I was laughing through all of it."
Why the world is going wild for Barbie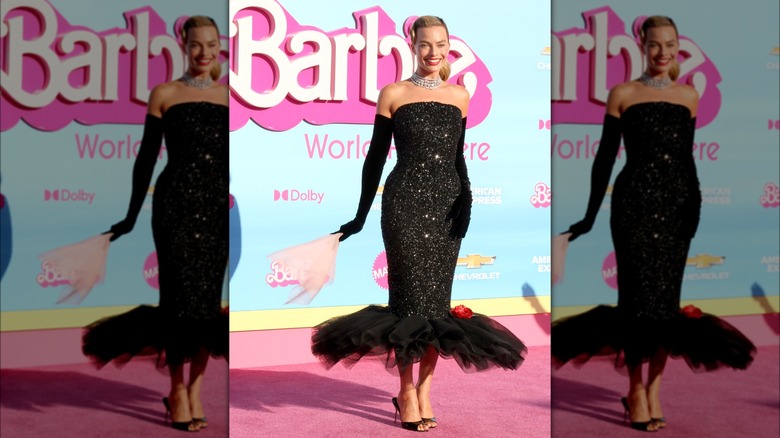 Kathy Hutchins/Shutterstock
One may wonder why there is so much hullabaloo surrounding one plastic doll. Barbie was invented in 1959, and she has since become an icon for generations of children. Even though Barbie has faced backlash over the promotion of unrealistic body and beauty standards, the brand has since evolved to include dolls of various shapes, abilities, and backgrounds.
This is reflected in the upcoming blockbuster, which also showcases Issa Rae, Simu Liu, America Ferrera, Ncuti Gatwa, and others as members of the Barbie universe. Co-writer and director Greta Gerwig weighed in on her approach to the film. "One thing we really wanted to do was look at this complicated icon from all angles, but always approach everything with a big heart," she told USA Today. "For every character, we wanted to give them a hug."
The "Barbie" marketing team has also received their due praise — Mattel's signature shade of pink is plastered everywhere. Within the past few months, "Barbie" has tapped into the realms of music, fashion, and food with over 100 partnerships in preparation for the film. Just some standouts include the Zara x Barbie womenswear collection, a remixed "Barbie World" featuring Nicki Minaj and Ice Spice, and even a "pink sauce" sandwich from Burger King.