Why HGTV's Erin And Ben Napier Had A Difficult Time Filming Hometown Takeover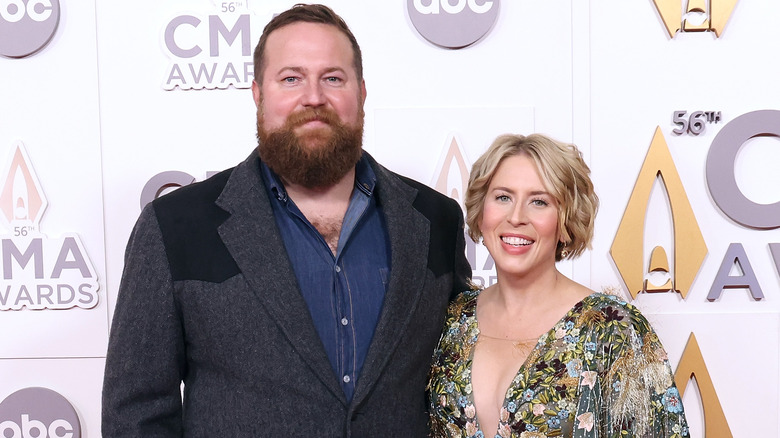 Taylor Hill/Getty Images
HGTV is known for its heartwarming yet light renovation and property shows that bring out the designer in each and every one of us. One of the hottest shows to hit the scene is "Home Town Takeover," which currently has two six-episode seasons under its belt. "Home Town Takeover" follows married couple Ben and Erin Napier, of "Home Town" fame, as they ambitiously travel to different small towns to makeover the entire community, giving it a fresh look. 
Each season, a different town is featured, which is picked based on the number of submissions it receives. The chosen town is typically one that is in major need of a facelift and some new life. To add to the splendor of this remarkable undertaking, celebrity guests frequently join in to help the process along. 
Season 1 was located in Wetumpka, Alabama, and was a total success, putting the town in the spotlight by giving it a full redesign, which resulted in booming business thanks to an increase in tourism. But even though the town has benefitted from the success of the renovation, the journey there was difficult at times. And it truly demonstrates that HGTV renovations may not be as amazing as they appear, or at least not as seamless.
The tough moments
With an undertaking this enormous, it's only natural that there were a few bumps in the road. The family got very close to the people of Wetumpka while they worked there over the course of four months, to the extent that it became a temporary home for the Napiers. During an interview, Erin Napier told Yahoo! Entertainment, "I just started thinking about, like, all these people that cared for us and took care of us when we're so far from home. We had a lot of hard moments while we were filming in Wetumpka."
The family of three: Ben Napier, Erin, and their daughter, Helen Napier, were getting ready to welcome a fourth member during filming. Being away from your home can be hard with a growing family, and Erin acknowledged, "I was really, you know, not feeling great and the pregnancy." Then, another, more unexpected complication happened when little Helen broke her leg when she stepped wrong at the end of a slide, cracking two long bones.
Another difficulty that affects every season of filming is the weather. In an interview with HGTV (via TikTok), Erin explained, "It dictates what we can film and what we can't film," prolonging projects as well as the shooting schedule itself. "The weather dictates our energy," Erin added, noting that some days are more difficult than others. 
The heartwarming moments
Despite the complications during filming for the family on a personal level, the town of Wetumpka took them under their wing and offered the Napiers some wholesome treatment throughout their stay, similar to the love Ben and Erin showed their beloved beaten-down town. As Erin told Yahoo! Entertainment, "There was a handful of people who knew that I was pregnant there and they just loved us and they took care of us. They brought us food."
And when little Helen broke her leg, Erin shared, "They helped us, you know, we needed a doctor. We didn't know who to call. They stepped up and stood in the gap where we really needed people." So although the Napiers were far from their country home in Laurel, Mississippi, the couple's generosity and commitment to helping the town of Wetumpka made it easy for them to form a family there. 
Naturally, though, this meant it was significantly harder for them to say their goodbyes at the end of filming. Both "Home Town Takeover" and its core values complement the biggest takeaways from Erin Napier's memoir, one of which confirms that it's okay to look for assistance when you need it, especially from friends and family, who represent a valuable time investment in life.