This Photo Of Angelina Jolie And Pax's NYC Outing Is A Reminder That Time Moves Way Too Fast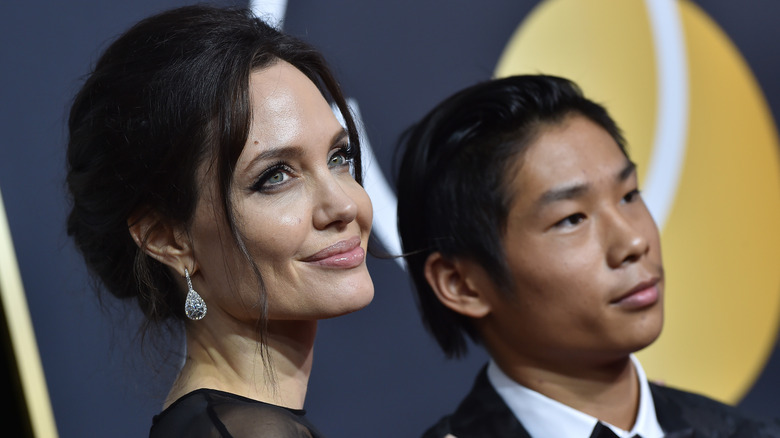 Axelle/bauer-griffin/Getty Images
Are we crazy, or was it only a couple of years ago that Angelina Jolie and Brad Pitt's relationship — and their adorable children — were taking the world by storm? For the sake of our sanity, we'll chalk it up to the too-fast passing of time because, apparently, it's been quite a while, and the Jolie-Pitt kiddos are no longer the cute tots we once knew. 
In case you need a recap from the cultural phenomenon that was the early 2000s Jolie-Pitt family, Jolie adopted her first child, Maddox, in Cambodia in 2002, followed by her daughter, Zahara Marley, in 2005. The "Maleficent" actress and Pitt welcomed their next daughter, Shiloh, in 2006, one year before Jolie traveled to Vietnam to adopt her son, Pax Thien. Finally, the A-list couple welcomed twins Knox Léon and Vivienne Marcheline in 2008. 
It seems like just yesterday, right? Well, prepare to feel old — according to a photo of Jolie and Pax in New York City, way more time has passed than you might've thought.
Pax and his siblings are (almost) all grown up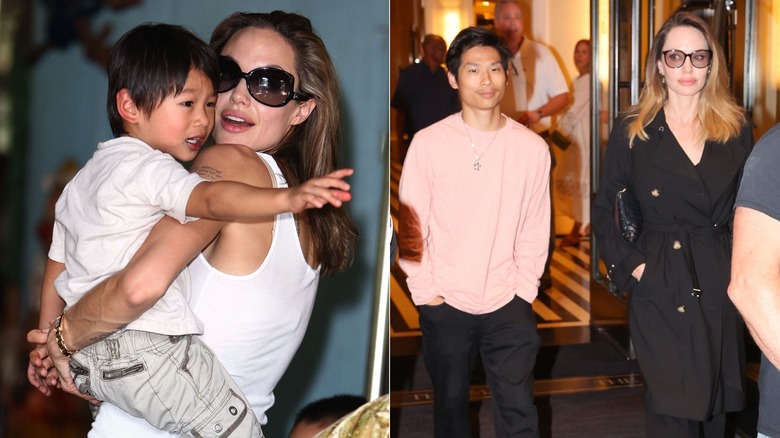 James Devaney/Getty, T. Jackson/Backgrid
Angelina Jolie and Pax Thien were spotted leaving a West Village restaurant together following a day of apartment hunting and quality time with Pax's sister, Zahara, per Entertainment Weekly. No longer the tiny tyke on Jolie's hip, Pax is now in early adulthood and nearly matches his 5'7" mother in height. And, let's be honest, her style factor, too — he is Jolie's kid, after all.
The lavish lives of Pitt and Jolie's children have seen Pax become interested in working in film, and in 2017, brothers Pax and Maddox worked alongside their mother during the shooting of the war drama "First They Killed My Father." Pax Thien also had an uncredited role in his mother's 2014 film "Maleficent" and a voice acting role in "Kung Fu Panda 3" in 2016. 
A lot has happened since we first watched the Jolie-Pitt kids following their famous parents around, including Pitt and Jolie's highly publicized divorce and, more recently, Pitt's new lawsuit against Jolie. But all things considered, the Jolie-Pitt kids appear to be growing up into ambitious, thoughtful, and just plain cool young adults. We'll just be over here resisting the urge to say, "I remember you when you were this tall!"