How Amy Robach's Ex Andrew Shue Really Feels About Their Divorce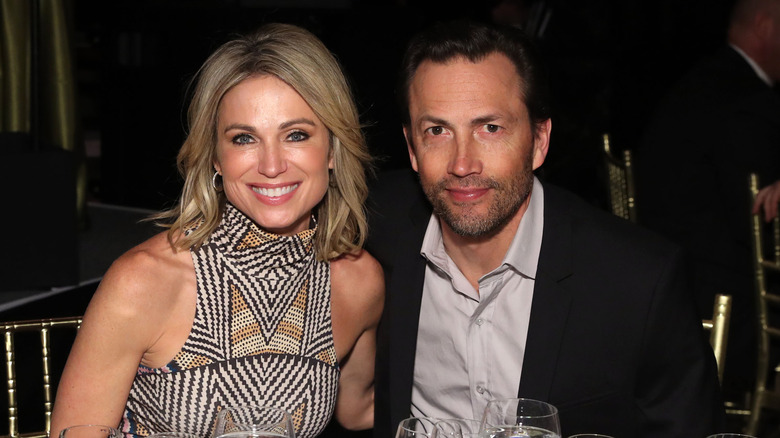 Cindy Ord/Getty Images
Andrew Shue was hit a hard blow when his wife Amy Robach was caught in a months-long affair with her "GMA3" co-host TJ Holmes in November 2022. The "Melrose Place" star had been married to Robach for 12 years at the time of their public split. They tied the knot in 2010 after one year of dating, but by 2015, the pair was opening up to People about the hard time they experienced in their marriage while Robach was being treated for breast cancer. The television reporter shared how they learned to co-exist together after she endured a bilateral mastectomy and multiple rounds of chemotherapy. "We knew that if we could just get back to what our connection was about and just be honest about the fears, then we could get through it," Shue said.
One year before they reportedly separated in August 2022, Robach and Shue released a children's book inspired by their blended family of "ShueBachians" called "Better Together." They attended the ADAPT Leadership Awards at Cipriani in New York City in March 2022 where they received the highest honor. But it wasn't until Robach was caught on a romantic vacation with Holmes that reports revealed the divorce she and Shue were nearly done finalizing. Sources told Page Six the couple "constantly had problems over the years and finally broke up." Shue noticeably wiped his Instagram clean of Robach, hinting at how hard the actor might've been taking the divorce and how quickly his wife moved on.
Why Andrew chose to distance himself from Amy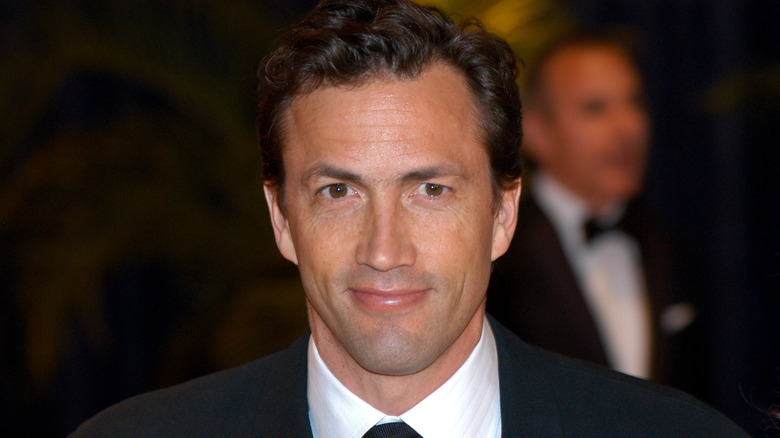 Rena Schild/Shutterstock
Andrew Shue has remained noticeably silent about his public divorce from Amy Robach and her affair with TJ Holmes. Weeks after Robach and Holmes' secret romance was revealed and word on their respective divorces hit the press, insiders told Us Weekly how Shue was dissociating himself from his estranged wife and would likely never make a public statement on the affair scandal. The actor was "doing well, moving forward and staying positive" as Robach and Holmes continued dating after their removal from ABC. Shue was also getting support from his sons, Nate, Aidan, and Wyatt, whom he welcomed with his first wife, Jennifer Hageney. The family received an onslaught of warm messages on Instagram under a family photo Nate shared in December 2022 amid the drama. 
Nate remained cryptically vocal amid his stepmom's infidelity scandal and shared a video at the start of 2023 reflecting on the year that had just come to an end, The U.S. Sun reports. "2022 was a doozy. Not sure what I'm wishing for in '23 but I've got a little faith it'll come. Love my people," he captioned the post. One day after news broke of Robach and Holmes' firing from ABC, Us Weekly captured a Jimmy Fallon GIF Nate posted saying "Let's just move on." While Nate was seemingly shading his estranged stepmom's affair, friends of Shue told Page Six the actor was too much of a gentleman to get involved in the hubbub surrounding Robach and Holmes.
Andrew is doing awesome without Amy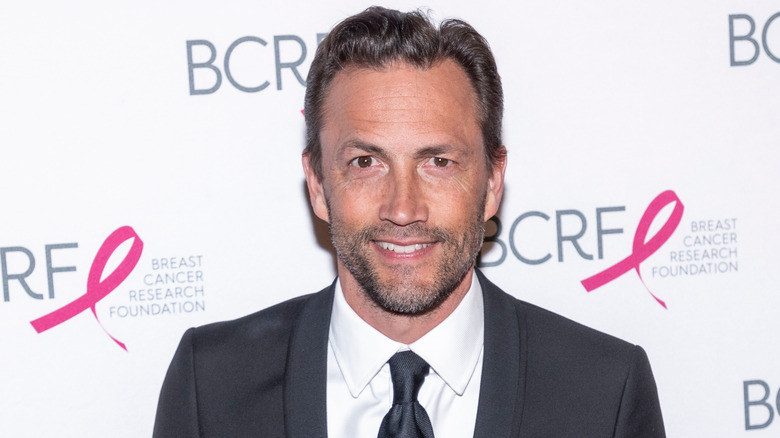 Sam Aronov/Shutterstock
In March 2023, the Daily Mail revealed Amy Robach and Andrew Shue finalized their divorce eight months after the "Today" alum filed to dissolve the marriage and pursue a relationship with TJ Holmes. Shue and Robach agreed to share custody of their dog Brody, whom Shue was seen picking up from Robach's daughter at the same time news of the settlement was revealed. Friends of the former couple noted how disappointing it was to see them part ways since "Andrew was so into her." But while Shue was keeping a low profile and remaining a family man, Robach and Holmes were photographed out and about looking happy and completely unbothered by their divorces and work terminations. 
Robach's children seem to have a better relationship with their former stepdad, though. In April, Robach's daughters enjoyed a Bruce Springsteen concert with Shue and his sons. Robach may not be able to say the same, as the axed news anchor hadn't been seen with Shue or his sons. In June 2023, Shue's sister Elisabeth shared how well her brother was doing after the public divorce and Robach's infidelity. "He is doing really good," Elisabeth told Page Six. With the support from his family and the general public, Shue has seemingly moved on from Robach in peace and not pieces.