Why Erin Krakow Is The Best Star On Hallmark, Period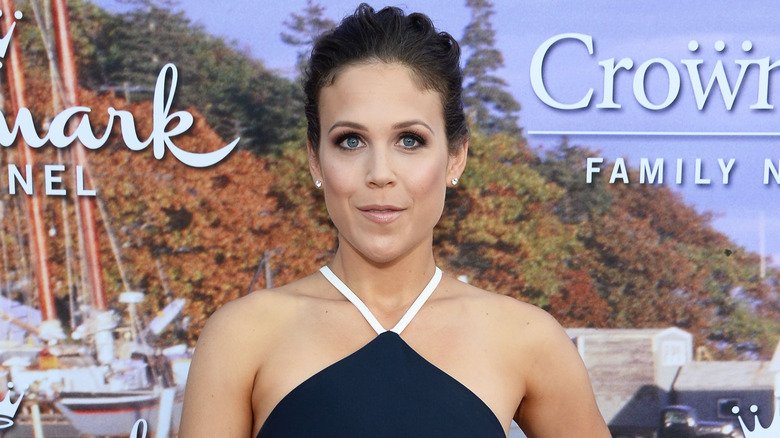 Matt Winkelmeyer/Getty Images
Erin Krakow is one of the Hallmark Channel's most well-known leading ladies, and as far as we're concerned, she's the best of the bunch. Not only does she star in the network's popular series, "When Calls the Heart," but she's also graced the screen in many of the channnel's famous rom-coms. The Philadelphia native and Juilliard alum joined the Hallmark Channel after playing Tanya Gabriel on Lifetime's series "Army Wives." 
These days, fans and folks involved with the Hallmark Channel simply can't imagine the network without Krakow, and it seems that she is in full agreement. Krakow is active on her Instagram account where her bio boats "proudly playing pretend on the prairie!" and features tons of photos of her and her cast mates having a blast on set. So, what is it that makes Krakow and Hallmark such a match made in TV heaven? Between the actor's skill, charisma, and just how beloved she is by everyone who sees her work, Krakow is the ultimate Hallmark star.
When calls the heart
Erin Krakow first broke onto the Hallmark scene in 2014 when she took on the role of Elizabeth Thatcher in the original series, "When Calls the Heart." Since then, this series has become Hallmark's longest-running, and with Krakow at the helm, it's clear that the show and the network simply couldn't do it without her. The series was based on the Hallmark original film of the same name, and filling the original Elizabeth's shoes was a big task –– especially for a Hallmark newcomer.
In an interview with From the Desk, however, Krakow explained, "I just approached the role in the way that felt right and truthful to me . . . Luckily, those in power liked what I brought to the table and the rest is history." Krakow has now brought her skillful acting, full embodiment of Elizabeth, and infectious charisma to the series for ten seasons, and through the ups and downs, Elizabeth has remained true to herself and endlessly compelling to watch. 
Luckily for her, her fans, and her costars, Krakow never gets bored with "When Calls The Heart." Consequently, the star and now executive producer of the series is ushering it into its tenth season. And, she promises music, babies, and romance ahead on "When Calls The Heart" Season 10, as well as some serious drama. The series has now become the longest-running show in Hallmark history and has taken home MovieGuide Awards, Joey Awards, and more, which is unarguably due, in part, to its leading lady. 
Erin Krakow's other Hallmark ventures
Erin Krakow made such an impact on "When Calls the Heart" that it earned her a place as one of the network's go-to rom-com leads. In 2014, she played the starring role in "Chance at Romance," followed by "A Cookie Cutter Christmas." She then led the beloved "Finding Father Christmas" franchise. Since then, she's appeared in four more hit films for the network. Krakow has a knack for bringing a fresh take and a bit of herself to every role. Consequently, each of her characters has the warmth and familiarity that Hallmark fans crave.
According to Brendan Penny, her costar in "The Wedding Cottage," "Erin makes me laugh very hard, very, very hard," per Fangirlish. Yet, Penny added, "Once it's time for action, we're professional. Mostly. Behind the scenes, it's very loose. Very fun." To watch her amazing, dramatic performances, we'd never know just how much she was making everyone laugh behind the scenes.
As some Hallmark stars have left to join competitor network, Great American Family, others stay loyal. And, as far as Hallmark EVP of programming, Lisa Hamilton Daly, is concerned, with Krakow on board, the network is golden. "We have, I think, retained almost everybody that we're really excited to have," Hamilton Daly explained before the execs promised that "When Calls the Heart" would return for Season 10 (via Variety). It's clear that whether you're a Hallmark executive, a costar, or a longtime fan, Krakow's hard work and talent have become vital to Hallmark's success.