Who Is TODAY's Jill Martin?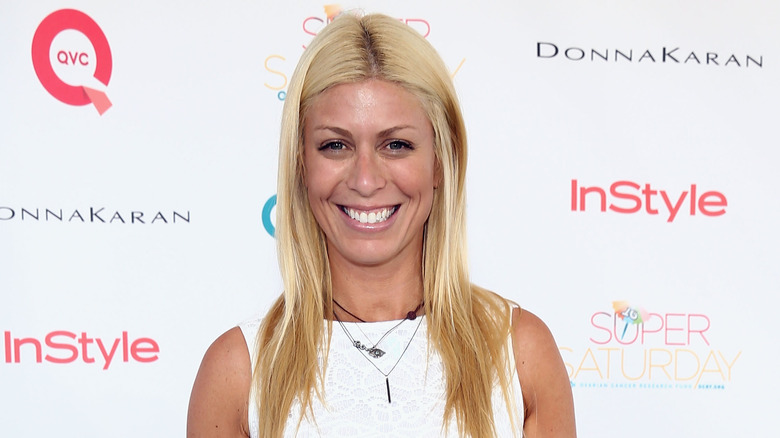 Neilson Barnard/Getty Images
Recently media outlets have been reporting on Jill Martin's breast cancer diagnosis. But who is Jill Martin of NBC's "Today"?
Along with the regular cast of "Today," which include names such as Savannah Guthrie, Hoda Kotb, Al Roker, Jenna Bush, and others, other contributors also join the show to talk about topics within their expertise. In Jill's case, she discusses everything from the latest trends to how to expand your fall wardrobe on a budget in her segment entitled "Deals and Steals."
From adding some color to your life to a drugstore eye cream replacement that's comparable to luxury brands to oversized water bottles, Martin is always on top of the items that are hot and most sought-after, and you can find all of the items she talks about in the shop on "Today's" website. It was a total shock to audience members when she put shopping on the back burner and delved into a topic that was a lot more serious than the best cast-iron skillet for your buck. 
Jill Martin's diagnosis
On July 17, 2023, Jill Martin shared the news of her breast cancer diagnosis on "Today" with her co-hosts and fans. Her emotional revelation was not only surprising to fans of the show but also garnered her support as she shared details of the last few weeks. Martin also wrote a piece for Today.com that went live on the same day she spoke about her diagnosis on the show. It began, "June 26 at 3:30 p.m. I remember saying to myself, 'My life is never going to be the same.' It was the day I was told I had breast cancer."
Concerned about her family history, Martin mailed in a saliva sample to a genetic testing company, explaining to her fans in her piece, "My grandmother passed away from breast cancer. And my beautiful mother — who is healthy now — had a double mastectomy in her late 40s after being diagnosed with ductal carcinoma in situ, often referred to as stage 0 breast cancer." The testing of her genes impacted Martin's diagnosis, as she was referred to get an MRI, which is when they discovered the cancer was present. 
The 47-year-old is undergoing a double mastectomy and is staying positive and empowered despite the heartbreak. In her piece, she writes, "Let me be clear: I am heartbroken for so many reasons, but mostly watching my parents watch me go through this... I am devastated and empowered, all at the same time."
Jill's support system and message to her audience
Jill Martin's courageous attitude concerning her diagnosis received supportive feedback from her fans and co-hosts. Especially after she became a spokesperson for genetic testing and urged her fans to be proactive and act on preventative health through testing, with the knowledge that there are breast cancer symptoms every woman needs to know – and some of them can only be discovered through genetic testing. On her Instagram, fans left comments encouraging the "Today" star and thanking her for her honesty. One user wrote, "Three years ago today, I had my double mastectomy! You have this, Jill" and "Thank you for going public with this. You have already helped so many people! From a 14-year survivor!"
But her support system doesn't stop there. Despite Martin's sorrow for the fact her parents have to witness her fight this battle with cancer, they, too, have been great supports. Martin writes in her piece, "I trust my father with every morsel of my being, and he told me, 'We got this, and we will fight this together,'" helping her remain strong. 
Along with her parents, Martin has a husband and stepchildren that she treats as her own to help her through this health journey into the unknown.