Prince Harry And Meghan Markle's Marriage Remains Strong Despite Rumors, Insider Claims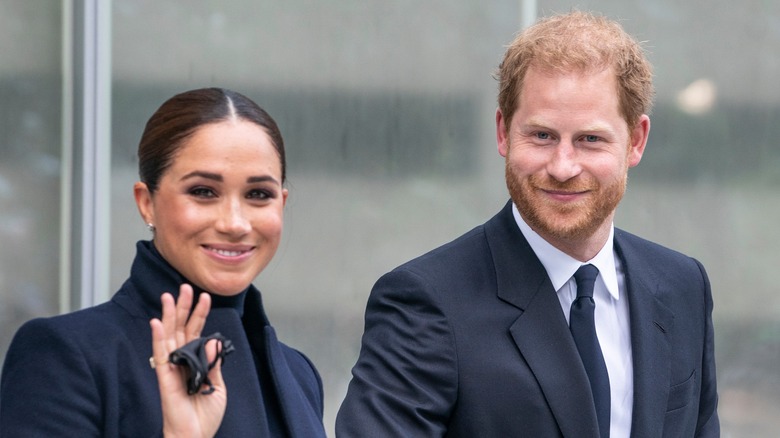 lev radin/Shutterstock
Prince Harry and Meghan Markle are known to put on a united front for the cameras, and they even shared intimate details of their fairy tale love story with fans in their Netflix docuseries "Harry & Meghan." Now living in Montecito, California, RadarOnline reported in July 2023 that the Duke and Duchess of Sussex's marriage was crumbling. A source told the news outlet, "They're trying to figure out what hit them." They added, "Harry doesn't fit in Meghan's tacky Tinseltown world." Moreover, the source alleged that the couple is taking a break while Harry travels to Africa to film a documentary for Netflix.
Nevertheless, a source told Page Six that these rumors were just that; rumors. They told the publication, "It's not true, it's literally made up." What is true, however, is that Harry and Meghan have publicly struggled with their careers since leaving behind Buckingham Palace in 2020.
RadarOnline alleged that this has caused the couple turmoil, with the source claiming, "The Sussexes are under tremendous financial pressure to fund their lavish California lifestyle, including their $14 million mansion and huge security costs." The publication notes that much of Prince Harry and Meghan Markle's rumored marriage woes are rooted in their PR and business failures that have transpired in the first half of 2023. It's no wonder that Harry and Meghan feel repeatedly unlucky as they deal with blow after blow in their professional lives.
Prince Harry and Meghan Markle's public image keeps getting worse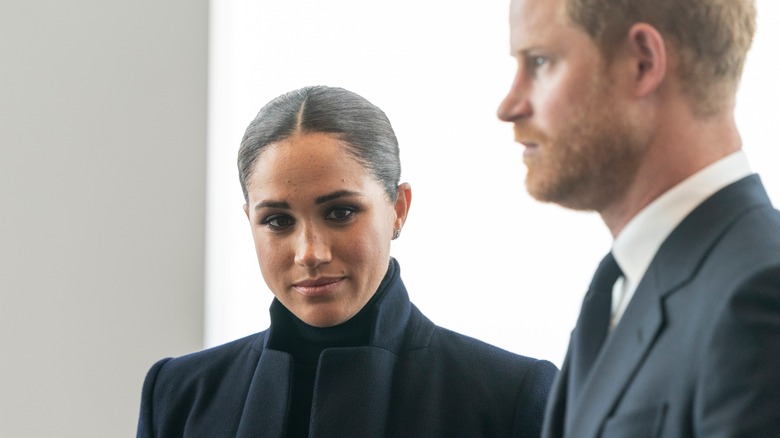 lev radin/Shutterstock
In January 2023, Harry released his anticipated memoir "Spare." Harry divulged startling details in the book, including his strained relationship with his brother, Prince William, and father, King Charles III. Per a Newsweek poll, the book's release backfired on Harry and Meghan and led to a decrease in public support for the couple.
In May, Harry and Meghan revealed that the paparazzi had chased them in New York City. The former royals described it in a statement (via NBC News) as a "near catastrophic car chase." However, Harry and Meghan were criticized for their lack of security planning, and some alleged that this incident was for publicity. A spokesperson for Harry and Meghan denied this claim. Shortly after this, Harry and Meghan announced that their $20 million deal with Spotify, which resulted in only one podcast, "Archetypes," had ended. Per CNN, Spotify exec Bill Simmons subsequently called the couple "F*****g grifters."
While their docuseries "Harry & Meghan" was a massive success for Netflix and received a Hollywood Critics Award nomination, it was not nominated for an Emmy award. So what's next for Harry and Meghan? The couple is trying to pick up the pieces with separate projects. While Harry films his Netflix documentary in Africa, royal expert Daniela Elser told RadarOnline that Meghan is "looking to establish her own brand and make millions."