Whoopi Goldberg Walks Off The View In Defense Of Miranda Lambert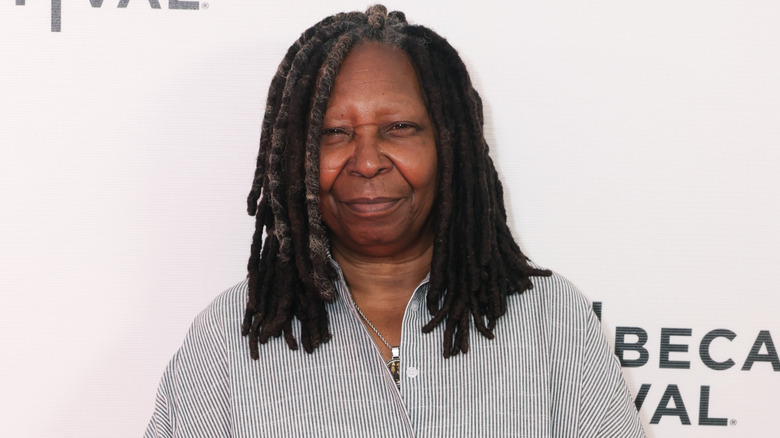 Michael Loccisano/Getty Images
One selfie gave the term, "showstopper," a whole new meaning last weekend when country music star, Miranda Lambert, now-famously paused her concert to scold some fans for shifting focus away from her performance and onto their own photo-taking. In the wake of the incident, the public hasn't shied away from giving their opinions on the country star's unexpected actions, and overwhelmingly, popular opinion isn't exactly in Lambert's favor.
One star, however, has come to Lambert's defense –– so much so, in fact, that she was willing to walk off the stage of her own show in solidarity . . . sort of. Whoopi Goldberg made a rather public show of fleeing her seat at the head of the table on "The View" to make a point about Lambert's concert incident. And, while this display was clearly part of a joke, it seems that Goldberg was still steadfast in her belief that if you're going to distract from a concert by taking selfies, rather than enjoying the music, then in Goldberg's words, "Stay home."
Miranda Lambert's mid-show statement is one hot topic
'I don't like it - at all. We're here to hear some country music, and I'm singing some country damn music!'

Miranda stops Tin Man to call out girls who are more concerned with taking selfies than listening to the music 🫡 pic.twitter.com/6BKnUskeZz

— Miranda Lambert Fan (@ranfancentral) July 16, 2023
Miranda Lambert's anti-selfie concert drama has certainly been talked about frequently in recent days, so it was no surprise that it was up for discussion during the "Hot Topics" segment on "The View." The hosts of the popular daytime show discussed their personal feelings about how Lambert handled some audience members who were taking selfies while she was performing on one night of her Las Vegas residency. Across the internet, Lambert has received her fair share of backlash for pausing the song and saying "I'm gonna stop right here for a second; I'm sorry," before calling out the selfie-takers, adding, "These girls are worried about their selfie and not listening to the song. It's p***ing me off a little bit. Sorry, I don't like it. At all. We're here to hear some country music tonight. I'm singing some country damn music."
Plenty of audience members and folks who've watched the viral video of the incident, alike, have taken issue with Lambert's approach. Per Entertainment Weekly, "The View" cohost, Sunny Hostin, agrees with the criticism. She shared that she's  "going to take as many selfies as I want if I paid $757 for tickets." This seems to be a popular opinion, but cohost Whoopi Goldberg vehemently disagreed with this take, and she wasn't afraid to share her side –– even if it meant storming off the stage.
Whoopi Goldberg's silly selfie moment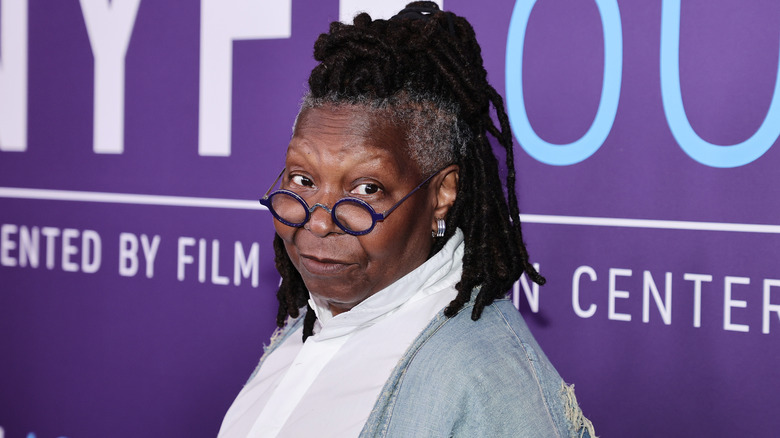 Jamie Mccarthy/Getty Images
In response to her cohosts' criticism of Miranda Lambert's behavior, Whoopi Goldberg came to the country singer's defense. "You know what? Stay home," Goldberg urged potential concert-goers who may get distracted by the temptation to take selfies (via Entertainment Weekly). "If you're going to spend $750 to come to my concert, then give me the respect of watching me while I do my thing, or don't come," she explained. Sunny Hostin argued that taking photos and videos at concerts is a vital way of preserving memories to look back on in the future. "Turn on the television, girl," Goldberg retorted before getting up from her seat and exiting the stage. When her cohosts asked where she was going, Goldberg replied, "I'm leaving y'all!" 
While viewers and Goldberg's cohosts, alike, may have feared that the host had actually gotten too heated about the "hot topic," she was actually making a playful joke. Instead of leaving the studio, Goldberg approached an audience member and said, "I want to take a picture with this marvelous woman, who is 91. So, we're going to do a selfie. Just me and you." She asked the audience member to click the button for the photo before saying "We'll be right back" and ushering the show to a commercial break. While Goldberg may have reminded us just how selfies can bring people together, this selfie remains divisive.