What Amber Heard Has Been Up To Since The Johnny Depp Trial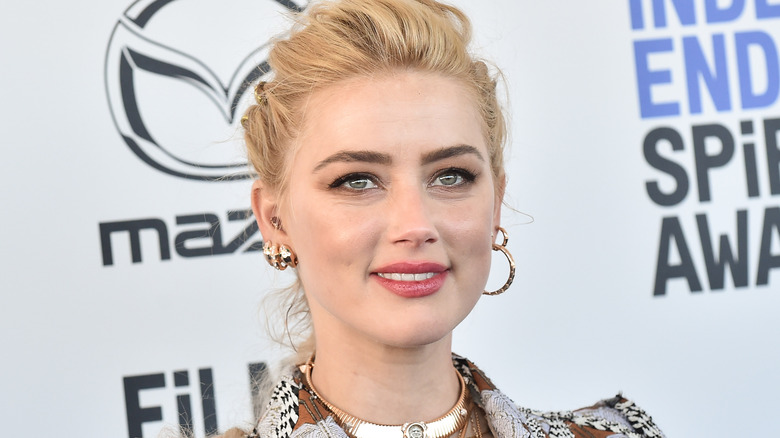 DFree/Shutterstock
The following article includes allegations of domestic abuse and sexual assault.
The Johnny Depp Amber Heard trial, which took place over the summer of 2022, has already inspired a TMZ documentary series, billions (yes, billions) of TikTok views, and a larger cultural conversation surrounding domestic violence. What's more, it forever affected Amber Heard's life. After a six-week televised trial, Johnny Depp was awarded a combined $10.35 million in damages and Heard just $2 million. By all accounts, the "Pirates of the Caribbean" star came out ahead, both financially and in the court of public opinion. As an anonymous source told People, "[Amber Heard] couldn't wait to leave the U.S. with her daughter" when the proceedings came to a close.
Reportedly, the "Magic Mike 2" actor took refuge in Madrid, Spain, where she isn't recognized quite so much. "She spends every day with her girl [Oonagh]. They stroll around, visit parks and enjoy family time. Amber is a great mom," said another source in a conversation with People. She's also done her best to return to acting, starring in 2023's "In the Fire" and continuing work in DC's upcoming "Aquaman and the Lost Kingdom" despite massive public backlash.
Amber Heard thinks her 2022 trial is an example of social media gone haywire and is standing by her 2022 testimony.
Amber Heard felt disconnected from her humanity during the trial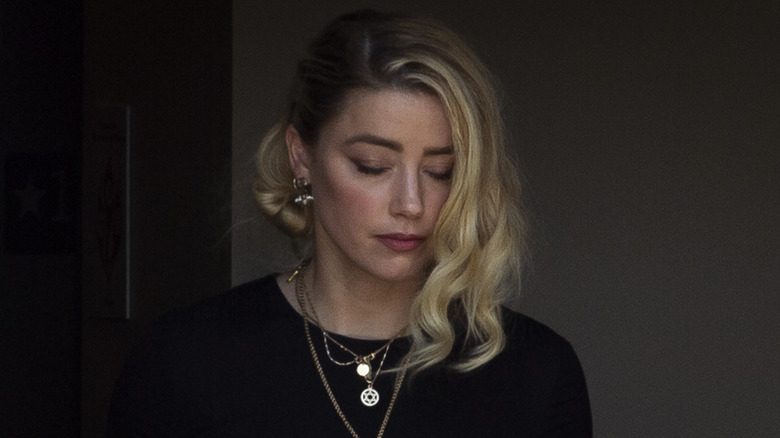 Consolidated News Pictures/Getty Images
Followers of the massively-popular defamation trial were quick to express their support for Johnny Depp, with many poking holes in Amber Heard's testimony on social media and compiling montages of so-called funny moments. "Every single day I passed from three, four, sometimes six blocks, city blocks, lined with people holding signs that said 'burn the witch,'" the actor remembered on "Today," saying that she felt disconnected from her personhood during the trial. These signs, whether intentionally or purely coincidental, seemed to reference Johnny Depp's infamous texts to friend Paul Bettany. "Let's drown [Heard] before we burn her!!!" He wrote, adding, "I will f*** her burnt corpse afterwards to make sure she's dead," per Insider. 
Although the couple's former marriage counselor claimed their relationship was an example of mutual abuse, Heard said she never had to instigate violence, simply responded to it (via Today). In December 2022, months after the "Aquaman" star filed for an appeal, she decided to settle, bringing all legal proceedings to an end. "I defended my truth, and in doing so, my life was destroyed," Heard announced on Instagram, adding, "I have made no admission. This is not an act of concession." She hopes to move on with her life.
Several months after the trial, dozens of women's rights activists signed an open letter about Amber Heard, critiquing the final verdict and claiming it spoke to larger tropes surrounding victim-blaming. 
If you or someone you know is dealing with domestic abuse, you can call the National Domestic Violence Hotline at 1−800−799−7233. You can also find more information, resources, and support on their website.
Johnny Depp has been pursuing other art forms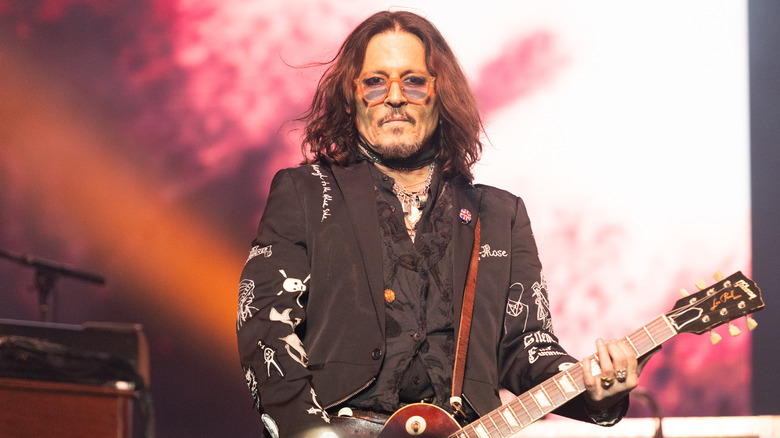 Roberto Ricciuti/Getty Images
Since the trial ended, Johnny Depp has been busy exploring a music career, taking on new acting roles, and even painting. "Johnny started working on a new film project, and he's been touring with his band [The Hollywood Vampires]," a friend of Depp's told CNN, adding that "Everything is going really great" for the actor. Not only was Depp treated to hundreds of adoring fans outside the Virginia courthouse where he battled it out against Heard, but he also got a standing ovation at the 2023 Cannes Film Festival for his role in "Jeanne du Barry." Since the trial, he's appeared in Rihanna's Savage X Fenty show, signed a $20 million deal with Dior to promote their men's fragrance line, and is scheduled to direct "Modi," a movie about Italian artist Amedeo Modigliani. Shortly after the defamation trial wrapped up in June 2022, Johnny Depp also made $3.6 million selling his artwork. He knows how to stay busy.
"Cancelling someone only works when the public wants to cancel you," BCC Communications founder Mitchell Jackson told Dazed, addressing the evolution of "cancel culture" in this post-#MeToo era. In other words, many long-time fans of the "Pirates of the Caribbean" star believe in their favorite actor's innocence.